BWW Review: FIDDLER ON THE ROOF Remains at the Peak of the Musical Pile at the Cincinnati Aronoff Center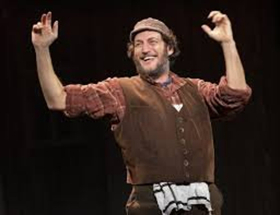 Fiddler on the Roof is the show that started it all for me. The teen-aged, predominantly Lutheran cast of my Iowa high school production, of course, had no chance of really understanding the deeper subject matter as we belted out "Tradition!" to the adoring parents in the audience. But Fiddler's gloriously memorable songs, humor, and love stories kept our mis-guided little troupe afloat. My 16-year-old Yenta the Matchmaker complete with gray wig and horribly injudicious dialect was a hit! (Insert Emma Stone Golden Globes-style apology here.) I was hooked. To this day it might be my favorite on-stage experience
Last night's opening of Fiddler on the Roof at Cincinnati's Aronoff Center was very much the Fiddler I remember, and very much the Fiddler that flew over my immature little head 30 years ago. Originally opening on Broadway in 1964, the show won an amazing nine Tony awards and ran for over 3000 performances (a record at the time). It was adapted into a terrific film in 1971 and has enjoyed numerous Broadway revivals and countless high school and community productions. What can I say? It's popular. And this touring production is bound to keep it balanced at the peak of the musical pile.
Based on a series of tales written in Yiddish by Sholem Aleichem between 1894 and 1914, Fiddler on the Roof tells the story of Tevya, a poor and pious dairyman living in Anatevka, an Eastern European shtetl. Tevya is a charming, fair, and affable fellow with five daughters, three of which are of marrying age. On its surface, it's a cute story about the relationship between fathers and daughters and of making do in a world of not-so-plenty buoyed by winsome and optimistic tunes like, "If I were a Rich Man" and "Matchmaker, Matchmaker."
But, as it progresses, the story finds a precarious balance as it weaves together an enormous braid of familial love, romantic love, love of traditions, hatred of traditions, fear of change, duty to family, duty to God, anti-Semitism, persecution, exile - I mean, there is a lot of very rich materiel here. A LOT. And this latest production, instead of re-imagining the show, almost seems to be trying to strike the same balance between the traditional and the progressive as the characters within it by picking and choosing which parts can break with tradition and which can receive an update.
The new choreography from the 2015 Broadway production, by Hofesh Schecter, is being touted in sexy television advertisements as making this Fiddler new and fresh, and, I have to say the dancing does deliver, but the freshness ends there. Don't get me wrong, the show, aside from a bit of a first act lull, was still super-high on the enjoyment scale, but the direction by Bartlett Sher just doesn't seem to go quite far enough. Of course, when does messing with a classic cross the line and become too radical?
With a terrific cast, led by the humorous Israeli TV and film star, Yehezkel Lazarov, this production made me think, made me ask newer and more interesting questions, and, oh, those gloriously memorable songs, the humor, the love stories. For me, Fiddler on the Roof remains perched firmly at the top.
Fiddler on the Roof runs at the Aronoff through January 27th. Go here for tickets!
Photo: Company members of the new Bartlett Sher directed national tour of Fiddler of the Roof. Photo by Joan Marcus.
Related Articles View More Cincinnati

Stories

Shows