Williams Street Rep Announces Casting For THE ADDAMS FAMILY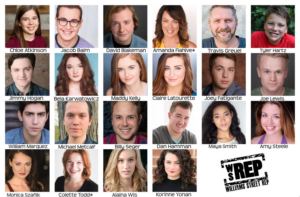 Williams Street Repertory, McHenry County's only professional theater company, is excited to bring the kooky, upside-down world of "The Addams Family" to Raue Center For The Arts this fall! This new musical comedy opens on September 27, 2019, and runs select dates through October 20, 2019.
"The amazing artistry assembled under Kevin Wiczer's direction should yield one of the best musicals WSRep has ever produced. Kevin, Bryan McCaffrey, and Kristine Burdi have been working in pre-production for months," says Founding Artistic Director Richard Kuranda.** "The casting is superb, the creative team is spectacular and the producing team is beyond confident that the magic of 'The Addams Family' will astound and delight audiences of all ages!"
In the kooky, upside-down world of the Addams family, to be sad is to be happy, to feel pain is to feel joy, and nightmares are the stuff of their dreams. Nonetheless, this quirky family has to deal with many of the same challenges faced by any other family, none more frightening than this... Wednesday Addams, the ultimate princess of darkness, has grown up.
What's worse, Wednesday has fallen in love with Lucas Beineke, a sweet, smart, young man from a respectable family. When she invites the Beinekes over for dinner to meet her family, secrets will be revealed, relationships will be tested, and the Addams family will face up to the most horrible thing they can imagine... Change.
"This show promises to be a creepy, kooky, mysterious and spooky, and all-together ooky night at the theater," says Director Kevin Wiczer**. "Come see what's in store at the Addams' house September 27th through October 20th!"
WSRep has assembled a cast including Amanda Flahive* (Morticia Addams); Colette Todd* (Alice Beineke); William Marquez (Gomez Addams); Claire Latourette (Wednesday Addams); Tyler Hartz (Pugsley Addams); David Blakeman (Uncle Fester); Monica Szaflik (Grandma Addams); Jacob Baim (Lurch); Joe Lewis (Lucas Beineke); Travis Greuel (Mal Beineke); Chloe Atkinson (Dead Child Ancestor); David Daskalov (Pugsley Addams Understudy); Joey Fatigante (Puritan Ancestor); Dan Hamman (Soldier Ancestor); Jimmy Hogan (Conquistador Ancestor); Bela Karwatowicz (Courtesan Ancestor); Maddy Kelly (Saloon Girl Ancestor); Michael Metcalf (Gambler Ancestor); Billy Seger (Caveman Ancestor); Maya Smith (Flapper Ancestor); Amy Steele (Flight Attendant Ancestor); Alaina Wis (Bride Ancestor) and Korinne Yonan (Pilgrim Ancestor).
"This cast! Bryan McCaffrey, Kristine Burdi, and I are so excited about the talent we were so fortunate to get for 'The Addams Family,'" says Wiczer. "This incredible and fearless group of risk-taking, comedic geniuses are going to put a new, unique and special stamp on the classic characters created by Charles Addams."
In addition to Wiczer, the production team for WSRep's production of "The Addams Family" includes:
Musical Director: Bryan McCaffrey
Stage Manager: Caitlin I. Quinn*
Assistant Stage Manager: Jessica Urban*
Choreographer: Kristine Burdi
Scenic Designer: Adam Crinson
Costume Designer: Victoria Jablonski
Lighting Designer: Mickie Marie
Sound Designer/Audio Engineer: Kyle Schneider
Props Master: Andrew Gray
Master Electrician: Matt Claypool
WSRep's production of "The Addams Family" opens on September 27, 2019 and runs select dates through October 20, 2019 at Raue Center. For more information, please visit wsrep.org.
More Hot Stories For You