The Agency Theater Presents World Premiere TRES BANDITOS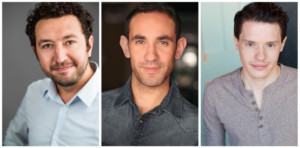 The Agency Theater Collective will produce their ninth world premiere play with Tres Bandidos, written by Cody Lucas* and directed by Cordie Nelson* and Jack Schultz*, running at The Heartland Studio (7016 N Glenwood Ave.) August 24 - September 15, 2018.
In Tres Bandidos, Shep, David, and Luke get lost on the way to a planned bank robbery and hole up in a dingy Texas motel. As a storm roars outside, past demons and a ticking clock put the heist in jeopardy and push the outlaws toward the breaking point. Written with rapid-fire, cutting dialogue, this contemporary western places cowboy mentality in the crosshairs.
"It recontextualizes old west mythology and morality to see what those tropes mean in 2018 America," says playwright Cody Lucas.
According to co-director Cordie Nelson, "The play puts everything in a pressure cooker and explores the effects of toxic masculinity on men in rural areas."
Tres Bandidos will star Guy Wicke (Shep), Joe Lino (David), and Cody Lucas* (Luke). Understudies include John Miraglia, Joseph Mangels, and Erich Peltz.
The artistic and production staff includes Cordie Nelson* (Co-Director), Jack Schultz* (Co-Director), Audrey Gladson* (Assistant Director), Teryl Thurman (Stage Manager), Ethan Walles* (Production Manager), Ellie Humphrys* (Lighting Designer), Marie Weigle* (Set Decoration/ Executive Producer), Cristian Esparza (Costume Designer), Ryan Wiechmann (Sound Designer), Chas Mathieu (Set Designer) Manuel J. Ortiz (Technical Director), Hannah Tarr* (Fight Choreographer), Edward Karch (Weapons Master), Susenna Turner* (Marketing Assistant), and Troy Rumans (Marketing Assistant).
*Denotes member of The Agency Theater Collective
Tres Bandidos Written by Cody Lucas Directed by Cordie Nelson and Jack Schultz
Preview Performance August 23, 2018 at 8pm Performances August 24 - September 15, 2018. Thursday - Saturday at 8pm. Sunday at 3:00pm. Additional performances 9/2, 9/10, and 9/12 at 8pm and 9/8 at 2:30pm. Performances to be held at the Heartland Studio, 7016 N Glenwood Ave. All tickets are Pay-What-You-Can (Suggested $20). https://dime.io/events/tres-bandidos
About Cody Lucas
Cody is an actor, playwright, director, and company member of The Agency Theater Collective. He is a graduate of the University of North Texas where he received his BA in Theatre Arts. While in college, Cody co-founded Sundown Collaborative Theatre, a successful non-profit theatre company, and served as Artistic Director for five years. Cody has written, directed, produced, and acted in dozens of shows appearing on stages in DFW, New York, and Chicago. As a playwright his work has been seen at the Out Of The Loop Fringe Festival and the New York International Fringe Festival. His play, Truth in Context, was nominated for Best New Wok by the Jeff Committee.
About Cordie Nelson
Cordie is an actor and director with The Agency. She received her BA from The University of Southern Mississippi, where she assistant taught Meisner under Sean Boyd (3 out of the 4 years she studied there.) She has been teaching Meisner Levels 1-5 at Green Shirt Studios since 2016. Cordie has written, acted, directed, and stage managed all over the Chicago since she arrived in 2012. For The Agency, she has performed in Mackerel Sky as part of The Basement Series, and directed I'm Falling In Love All The Time. She will also be directing The Agency's 2018 production of Hellcab.
About Jack Schultz
Jack is a proud member of The Agency where he serves as the Co-associate Artistic Director. Performance credits with The Agency include I'm Falling In Love All The Time, I Wish to Apologize to the People of Illinois, The Spirit of '76, and Hellcab (2017). Jack is an instructor at Green Shirt Studio and on staff with Sideshow Theatre Company.
About The Agency Theater Collective
The Agency Theater Collective creates extraordinary theatrical experiences by fostering new work and fresh takes from dynamic points of view.
Now in their seventh year, The Agency was born from a Meisner acting classroom at Green Shirt Studio, a storefront training center in Chicago founded by Gallant and Sommer Austin. Since 2011, The Agency has produced eight world premieres, including the acclaimed I Wish To Apologize To The People of Illinois and the Jeff nominated Truth in Context. In 2017, they produced the first ever female led production of the Chicago classic Hellcab.
For the past six years, The Agency has also hosted No Shame Theatre, a weekly theatrical open-mic series that focuses on immediacy, originality and brevity, and provides a platform for the creation of new work. In 2016, The Agency launched The Basement Series, a spiritual companion to No Shame which stages monthly events allowing artists to explore short and long form pieces of any style.