Stage Manager Malcolm Ewen Named Steppenwolf Ensemble Member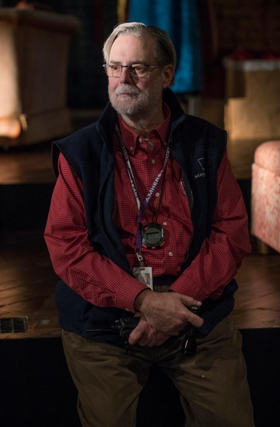 Steppenwolf Theatre Company announced today the addition of longtime stage managerMalcolm Ewen into the world-renowned Steppenwolf ensemble. Ewen has worked at Steppenwolf since 1987 and has stage managed more than 40 shows and taken four Steppenwolf productions to Broadway-including The Grapes of Wrath and Edward Albee's Who's Afraid of Virginia Woolf? both of which won Tony Awards. He has been at the helm of Steppenwolf shows that transferred to the Royal National Theatre in London; His Majesty's Theatre in Perth, Australia; The Kennedy Center in Washington, D.C.; and many regional theaters. Ewen serves on the Council of Actors' Equity Association. Last spring, he was awarded the Del Hughes Award for Lifetime Achievement in Stage Management by the Stage Manager's Association.
"There is no one who embodies what it means to be a company member more than Malcolm Ewen. We all know the lie of the theatre is that it's made by the people you can see. For more than 30 years, Malcolm has been a pillar of Steppenwolf contributing immensely to the honor, to the legacy and to the spirit of this company. Malcolm has touched the lives of every single member of our ensemble and it's time for the world to know the impact he has made-and continues to make-on us all," shares Artistic Director Anna D. Shapiro.
Steppenwolf co-founder Gary Sinise shares, "Malcolm Ewen is our brother, he's our dear friend, he's our gifted steady hand ensuring, in so many instances over the years, that our productions sailed into port without hitting the rocks. Malcolm has been a part of our Steppenwolf family and his officially becoming a member is simply a formal way to tell him we love him, we appreciate him, we're grateful for him and that he has been a member of our ensemble living within our hearts for decades."
"I feel like I'm a lucky guy. I have been given the opportunity for over 30 years to work at one of the greatest theatres in the world. I've had the chance to work with hundreds of extraordinarily talented people-those onstage, on the creative teams, on the production staff and backstage; with many wonderful artistic and executive directors to those on the front of house and administrative staffs through to the parking lot attendants. I'm fortunate to attain a goal that I thought wasn't even a possibility-to be the first stage manager to be invited to join the Ensemble," shares Malcolm Ewen.
Formed by a collective of actors in 1976, Steppenwolf's ensemble features the best in American Theatre. Since Anna D. Shapiro began as Artistic Director in 2015, Cliff Chamberlain, Carrie Coon, Celeste M. Cooper, Glenn Davis, Audrey Francis, Rajiv Joseph, Sandra Marquez, Caroline Neff, Karen Rodriguez and Namir Smallwood have also been welcomed into the ensemble.
Malcolm Ewen (Production Stage Manager) has worked at Steppenwolf Theatre Company since 1987 and his Steppenwolf credits include Familiar, The Doppelgänger (an international farce), BLKS, The Christians, Mary Page Marlowe, John Steinbeck's East of Eden, Airline Highway, Russian Transport, after the quake, American Buffalo, The March, The Tempest and Man From Nebraska. He has taken four Steppenwolf Theatre Company shows to Broadway including The Grapes of Wrath and Edward Albee's Who's Afraid of Virginia Woolf? both of which won Tony Awards. Also on Broadway, he was the Production Stage Manager of Paul Simon's musical The Capeman. He has been fortunate enough to take Steppenwolf productions all around the country and the world.
Malcolm Ewen is proud to serve on the Council of Actors' Equity Association. He is a recipient of the Del Hughes Award for lifetime achievement in stage management given by the Stage Manager's Association of the United States and of the Robert Christen Award for Technical Collaboration presented by the Michael Merritt Awards. He was an adjunct faculty member at the Theatre School at DePaul university for five years in the early 1990s. A graduate of Amherst College, he has returned to Vermont during summers for more than 30 years to direct at the Weston Playhouse Theatre Company, where he is one of the Founding Directors. He has also worked at The Goodman Theatre, Northlight Theatre, Remains Theatre, Berkeley Rep., Arena Stage, Long Wharf Theatre, Crossroads Theatre and the La Jolla Playhouse.

Related Articles View More Chicago

Stories

Shows
More Hot Stories For You