Sideshow Theatre Company Presents YOU FOR ME FOR YOU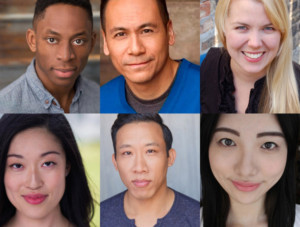 Sideshow Theatre Company is pleased to launch its eleventh season with the Chicago premiere of Mia Chung's absurdly inventive smash-hit YOU FOR ME FOR YOU, directed by ensemble member Elly Green*, playing March 4 - April 8, 2018 at Victory Gardens Richard Christiansen Theater, 2433 N. Lincoln Ave. in Chicago. Casting will be announced shortly. Tickets are currently available at www.victorygardens.org, by calling (773) 871-3000 or in person at the Victory Gardens Box Office. The press opening is Thursday, March 8 at 8 pm.
YOU FOR ME FOR YOU features Sideshow ensemble member Katy Carolina Collins* with Patrick Agada, Gordon Chow, Helen Joo Lee, John Lu and Jin Park.
Two North Korean sisters plan an elaborate escape from the "Best Nation in the World," only to be separated at the border. Now in two strange and separate worlds filled with outrageous characters, they must navigate barriers of language and bureaucracy, reckon with the ways that culture and country can shape us, and discover that survival requires sacrifice. Playwright Mia Chung weaves myth and striking imagery into a deeply affecting and surprisingly funny adventure, portraying the endless lengths to which two sisters will go to find one another again.
Artistic Director Jonathan L. Green comments, "Mia's play is one we've been chasing for a few years. You for Me for You is fast-moving, funny and daring; in the hands of Sideshow's Elly Green, it's going to be a tour de force."
The production team for YOU FOR ME FOR YOU includes: William Boles* (scenic design), Izumi Inaba (costume design), Cat Wilson (lighting design), Christopher M. LaPorte* (sound design), Jessica Mondres (properties design), Ben Chang (dramaturg), Chad Hain (technical director), Ellen Willett* (production manager) and Jean E. Compton (stage manager).
PRODUCTION DETAILS:
Title: YOU FOR ME FOR YOU
Playwright: Mia Chung
Director: ensemble member Elly Green*
Cast (in alphabetical order): Patrick Agada (Man from the South), Gordon Chow (Doctor, Well, Rice Musician), Katy Carolina Collins* (Liz), Helen Joo Lee (Minhee), John Lu (Smuggler, Frog, Yongsup) and Jin Park (Junhee)
Location: Victory Gardens Richard Christiansen Theater, 2433 N. Lincoln Ave. in Chicago
Dates: Previews: Sunday, March 4 at 2:30 pm and Wednesday, March 7 at 8 pm
Press Performance: Thursday, March 8 at 8 pm
Regular run: Friday, March 9 - Sunday, April 8, 2018
Curtain Times: Thursdays, Fridays & Saturdays at 8 pm; Sundays at 2:30 pm
Tickets: Previews: Pay-what-you-can (online or at the door). Regular run: $20 - $30. Students/seniors/industry: $15 for all performances (excluding opening). Tickets go on sale Monday, January 22, 2018 at www.victorygardens.org, by calling (773) 871-3000 or in person at the Victory Gardens Box Office.
*Denotes Sideshow Company Member.
About the Creative Team:
Mia Chung's (Playwright) plays include You For Me For You, Catch as Catch Can and This Exquisite Corpse. She recently received the Stavis Playwright Award, the Frederick Loewe Award in Music-Theatre, and a Playwrights' Center Jerome Fellowship. You For Me For You had a UK premiere at The Royal Court Theatre, a U.S. premiere at Woolly Mammoth Theatre, and multiple productions around the U.S., including Company One (Boston), Crowded Fire Theater (San Francisco), InterAct (Philadelphia), Mu Performing Arts/Guthrie Theater (Minneapolis), Portland Playhouse (Oregon); the play is published by Bloomsbury Methuen Drama. In 2018, the play will run in Chicago, Michigan, and upstate NY. Mia's work has been supported by awards, commissions, fellowships, residencies and workshops, including BAPF, Berkeley Rep Ground Floor, Blue Mountain Center, Civilians' R&D Group, Hedgebrook, Huntington Theatre, Icicle Creek, Inkwell, JAW, LAByrinth, Ma-Yi Writers Lab, NEA, Playwrights Realm, RISCA, South Coast Rep, Southern Rep, Stella Adler Studio, and TCG. During the coming year, she will develop work with the support of the Orchard Project, P73, NYTW and the Playwrights' Center. She is a New Dramatist.
Elly Green (Director) is a freelance director, whose previous work with Sideshow includes the co-world premiere of Hansol Jung's No More Sad Things and a Freshness Initiative workshop series of Janet Burroway's Boomerang. She recently directed The Distance by Deborah Bruce for Haven Theatre and After Miss Julie by Patrick Marber for Strawdog Theatre. Other Chicago credits include: The Woman Before (Trap Door), Rabbit (Stage Left - Jeff nominated), Happy (Redtwist), Unwilling and Hostile Instruments (Theatre Seven) and The Tomkat Project (Playground Theatre & NY Fringe). Elly was assistant director on Henry V (Chicago Shakespeare Theater) and Proof (Court Theatre). She is an artistic associate with Stage Left theatre and a reader for Steppenwolf Theatre. Elly originally trained in London on the MFA in Theatre Directing from Birkbeck College. Her UK directing credits include: Our Country's Good, My Balloon Beats Your Astronaut, Beyond Therapy, About Tommy, Copenhagen, Skylight, The Beach and The Zoo Story. ellygreendirector.com.
About Sideshow Theatre Company:
Sideshow Theatre Company: Theatre for the Curious. It is the mission of Sideshow Theatre Company to mine The Collective Unconscious of the world we live in with limitless curiosity, drawing inspiration from the familiar stories, memories and images we all share to spark new conversation and bring our audiences together as adventurers in a communal experience of exploration.
Over its 10+ year history, Sideshow is proud to have distinguished itself as a vital member of the Chicago theatre community. Sideshow was awarded the 2016 Broadway In Chicago Emerging Theatre Award by the League of Chicago Theatres. Sideshow is a multiple Jeff Award-winning theatre and has been listed on the "Best of" lists in 2012, 2013 and 2014 by Time Out Chicago and the Chicago Sun-Times. Sideshow continues its multi-year residency at Victory Gardens in the historic Biograph Theater in the 2017/18 season.
Sideshow is also the producer of Chicago League of Lady Arm Wrestlers (CLLAW), a wildly popular fundraiser held in benefit of Sideshow Theatre Company and other local community organizations. CLLAW has been featured in local and national press, including The Washington Post, Reuters, Penthouse Magazine and the Chicago Sun-Times and on WGN Morning News, ABC 7's Windy City Live and CBS 2. The next CLLAW will be held Saturday, February 3, 2018 at Logan Square Auditorium. For more information about CLLAW, visit cllaw.org.
For additional information on Sideshow Theatre Company, visit sideshowtheatre.org.
PHOTO CREDIT: The cast of Sideshow Theatre Company's Chicago premiere of YOU FOR ME FOR YOU (top, l to r) Patrick Agada, Gordon Chow and Katy Carolina Collins (bottom, l to r) Helen Joo Lee, John Lu and Jin Park.