Review Roundup: Drury Lane Theatre Presents BEAUTY AND THE BEAST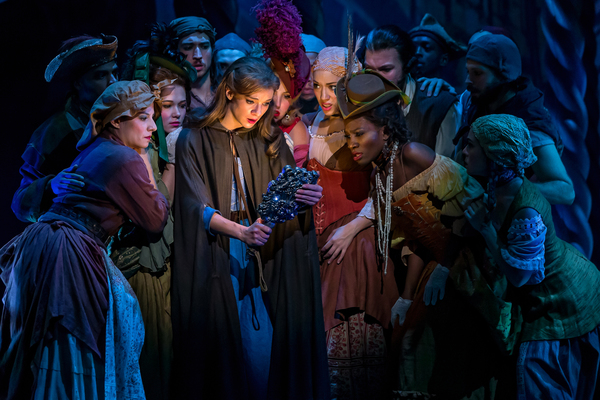 Drury Lane Theatre's Disney's Beauty and the Beast, with music by Alan Menken, lyrics by Howard Ashman and Tim Rice, book by Linda Woolverton, direction by Alan Souzaand choreography by Ron De Jesus runs November 9, 2018 - January 27, 2019, at Drury Lane Theatre, 100 Drury Lane in Oakbrook Terrace. Get a first look at the cast in action!
The cast of Disney's Beauty and the Beast includes Brandon Contreras (Beast), Erica Stephan (Belle), Mark Banik (Gaston), Sophie Ackerman (Chip), Graham Carlson (Chip, at certain performances), Tony Carter (Lumiere), Nick Cosgrove (Cogsworth), Mark David Kaplan (Maurice), Catherine Smitko (Madame de la Grande Bouche), Bri Sudia (Mrs. Potts), Allison Sill (Babette), and Paul Michael Thomson (Lefou). The ensemble includes Jeremiah Alsop, Anthony Avino, Greg Blackmon, Isaiah Silvia-Chandley, Liz Conway, Shantel Cribbs, Timothy P. Foszcz, Samuel Gardner, Maya Kitayama, Ivory Leonard IV, Omar Madden, Courtney Martin, Conner Wayne Milam, Zach Porter, Emma Rosenthal, Billy Rude, Monica Thomas, and Shanna VanDerwerker.
The creative team includes Kevin Depinet (Scenic Design), Ryan Park (Costume Design), Ryan O'Gara (Lighting Design), Ray Nardelli (Sound Design), Cassy Schillo (Properties Design), Claire Moores (Wig & Hair Design), and Amber Wuttke (Makeup Design).
Based on the beloved Academy Award-winning Disney film, this nine-time Tony nominated musical continues to win the hearts of people all over the globe. Trapped in her provincial town life, an intelligent, young beauty risks everything to become the heroine of her own story and break a wicked spell imprisoning a castle full of enchanting misfits and a terrifying beast.
Beauty and the Beast is suitable for all audiences but most enjoyable for ages 5 and up.
Subscriptions for the 2019/2020 Season are priced from $157 to $187 and are currently on sale. Subscribers receive special offers on dining, flexible ticket exchanges, and early notification and priority seating for added events and concerts. For more information, visit DruryLaneTheatre.com.
Let's see what the critics have to say!
Chris Jones, Chicago Tribune: This "Beast" seemed determined not to traffic in the colors of the daytime - it seems always to be dusk in this particular staging, which does not make enough use of its choreographer, Ron De Jesus. And - with all due respect to the overall creativity and risk-taking, the uniformly excellent singing from the entire ensemble and the truly epic costumes from Ryan Park - I deeply missed that sunlit image of Belle running through her beloved little French provincial town, reading books, trampling on idiots, loving her wacky dad and living her best life.
Caroline Linden, Daily Herald: That said, in the dramatic scenic design from Kevin Depinet, the main set piece -- a revolving curved grand staircase -- at times was a distraction. When the staircase was downstage, some of the action behind it (the Beast fighting the wolves) was difficult to see. With the staircase moving throughout scenes and a lack of defining props at some points (a small stool and a wardrobe were the only objects to distinguish Belle's "room" in the castle), it was hard to get a sense of where the action was happening.
Catey Sullivan, Chicago Sun-Times: Kevin Depinet's set design is also underwhelming. It's an Escher-print's array of staircases that revolve throughout. The staircases are omnipresent, no matter which part of the turntable is featured. There are staircases in the castle. There are staircases in the village square. There are staircases in the woods. They allow for dynamic blocking. But, after the third rotation or so, they start to feel repetitive. And a magic rose that plays a crucial part in both the plot and the set is a towering neon configuration that calls to mind a tattoo-parlor sign on the fritz.
Emily McClanathan, BroadwayWorld: As the Beast, Brandon Contreras gives a powerful vocal performance that leaves one wishing he had more solos. He also brings humor and sensitivity to the role, sharing light-hearted moments with the castle ensemble as he attempts to learn gentlemanly behavior and displaying endearing shyness as he gets to know Belle. His makeup and wig, designed respectively by Amber Wuttke and Claire Moores, assist in humanizing the Beast by leaving much of his face uncovered, allowing for more visible facial expressions than many productions. Souza's staging also includes some unusual choices that emphasize the Beast's inner torment. For example, he remains on the periphery of the stage during the opening of Belle's solo, "Home," meaning that he actually overhears her calling him a "monster." Later, the Beast sings the beginning of "If I Can't Love Her," in which he laments his lost humanity, as a direct address to Belle. Both songs are typically delivered as soliloquies, so these subtle shifts evoke compassion for the Beast and add nuance to the story arc between him and Belle.