BWW Review: BEAUTY AND THE BEAST at Drury Lane Theatre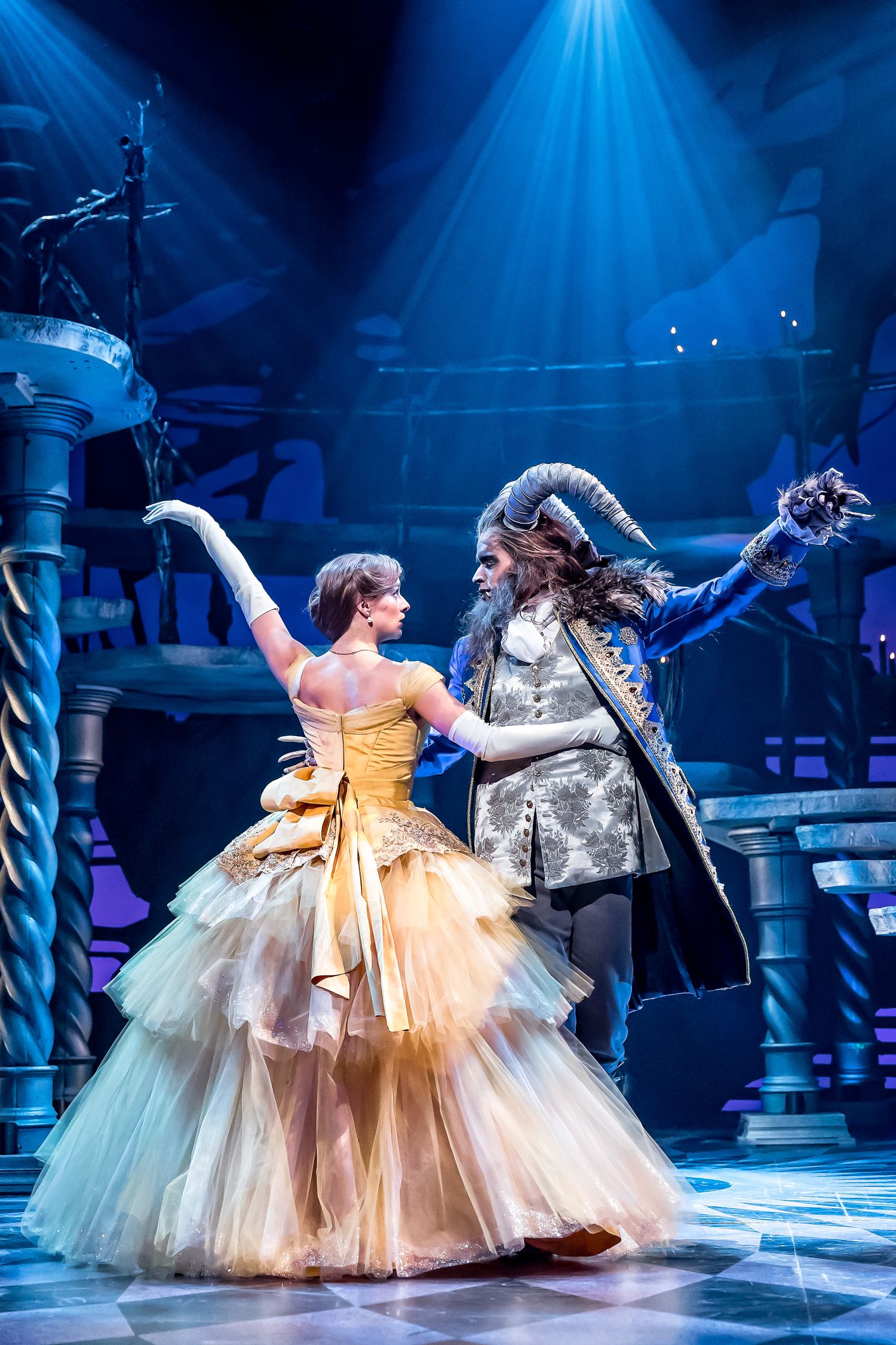 In an era when stage adaptations of animated films are seemingly a dime a dozen, BEAUTY AND THE BEAST has stood the test of time, and for good reason. When the 1991 Disney film was adapted for Broadway in 1994, composer Alan Menken nearly doubled the number of songs, and the additions that he wrote with lyricist Tim Rice are every bit as stunning as the originals (with lyrics by the late Howard Ashman). Further, Linda Woolverton's book for the musical lends depth to characters previously left underdeveloped in her film screenplay, especially the Beast and his household. Drury Lane Theatre's new production honors both the film and Broadway versions, but director Alan Souza and his creative team deliver a refreshingly original vision, giving the talented cast space to breathe new life into familiar characters. The result is a beautifully designed, thoughtfully staged, and strongly acted fairy tale that should delight audiences of all ages.
The standout performances from this ensemble are nearly too many to mention, but I'll begin with the inhabitants of Belle's poor provincial town in France. Erica Stephan makes a sympathetic Belle, and her father-daughter bond with eccentric inventor Maurice (Mark David Kaplan) is not only sweet, but also establishes the emotional stakes for the sacrifices she later makes for him.
Mark Banik and Paul Michael Thomson drive the comedy of the village scenes as Gaston, Belle's conceited suitor, and his fawning sidekick, Lefou. Banik's athletic yet slim physique is an unusual look for Gaston, who sings entire refrains about his bulging muscles, and costume designer Ryan Park leans into this irony by giving him a close-fitting leather jacket without the typical aids of shoulder or chest padding. Thomson brings impressive physicality and dance skills to the role of Lefou, heightening the slapstick comedy of his scenes.
When Belle leaves her village, willingly becoming a prisoner to save her father, the action shifts to the Beast's enchanted castle. Kevin Depinet's set consists of an elegant, staggered spiral staircase supported by ivy-grown pillars and framed by a giant rose, with a vine and petals that electronically light up. The same staircase and pillars rotate to accommodate scenes in the village, forest, and pub, with the effect that the castle is always looming in the background.
And with the castle comes a delightful new set of characters: the Beast's staff, who are under a spell that gradually transforms them into household objects. Tony Carter charms as Lumiere, the debonair candelabra, and his antics keep the audience in stitches even before he leads the cast through Ron de Jesus's show-stopping "Be Our Guest" choreography. Nick Cosgrove makes an excellent Cogsworth, the high-strung clock, and he delivers a well-timed stream of banter opposite Carter's Lumiere. Catherine Smitko brings a manic energy reminiscent of Lucille Ball to Madame de la Grande Bouche, the diva-turned-wardrobe, while Bri Sudia is suitably warm and motherly as Mrs. Potts. On press night, Sierra Schnack and Sophie Ackerman rounded out the stellar castle ensemble as Babette, the flirtatious feather duster, and Chip, the young son of Mrs. Potts. In addition to capitalizing on the humor of these roles, this production highlights their struggle to retain their human qualities as time runs out for the Beast to break the enchantment by learning to love Belle.
As the Beast, Brandon Contreras gives a powerful vocal performance that leaves one wishing he had more solos. He also brings humor and sensitivity to the role, sharing light-hearted moments with the castle ensemble as he attempts to learn gentlemanly behavior and displaying endearing shyness as he gets to know Belle. His makeup and wig, designed respectively by Amber Wuttke and Claire Moores, assist in humanizing the Beast by leaving much of his face uncovered, allowing for more visible facial expressions than many productions. Souza's staging also includes some unusual choices that emphasize the Beast's inner torment. For example, he remains on the periphery of the stage during the opening of Belle's solo, "Home," meaning that he actually overhears her calling him a "monster." Later, the Beast sings the beginning of "If I Can't Love Her," in which he laments his lost humanity, as a direct address to Belle. Both songs are typically delivered as soliloquies, so these subtle shifts evoke compassion for the Beast and add nuance to the story arc between him and Belle.
This top-notch cast and creative team have created a gem of a fairy tale for the holiday season. As Souza observes in his director's note, BEAUTY AND THE BEAST is about the power of learning to see past surface differences and find true community in our common humanity. It's a beautiful message to embrace, now as much as ever, and this production makes the journey thoroughly entertaining, moving, and ultimately uplifting.
BEAUTY AND THE BEAST runs through January 27 at Drury Lane Theatre, 100 Drury Lane, Oakbrook Terrace, IL 60181. Tickets are available at 630-530-0111 or drurylanetheatre.com.
Review by Emily McClanathan
Photo credit: Brett Beiner