Click Here for More Articles on STUDENT CENTER - HIGH SCHOOL EDITION
Photos: Chicagoland Jewish High Presents CJ FACTOR: A SHOWCASE OF TALENT, 3/17
By Shira Harris
On March 17, 2013, Chicagoland Jewish High School will be presenting CJ FACTOR: A SHOWCASE OF TALENT at the Skokie Theatre in Skokie, IL. BroadwayWorld brings you a look at the students in rehearsal for performance night!
The one night only performance will feature singing, dancing, poetry, instrumental music, and monologues. Tali Shapiro, CJHS Junior and featured vocalist says, "I'm so excited to represent this amazing school and show everyone the diverse talents that the students possess."
Over thirty Jewish students from all across the Chicago area have come together to show their talents through the arts. "I'm excited to see my peers preform and show off their talents. This is the first time I will see some of them perform their talents that I have heard about for so long," David Steinberg, CJHS Sophomore reports.
Featured Actors/Dancers/Musicians in CJ FACTOR are Talia Canter, Sarah Comar, Jacqueline Geraty, Shira Harris, Talia Horwich, Arielle Kaye, Madeleine Mynatt, Natalie Nedvetsky, Tali Shapiro, Alana Spellman, and Jonathan Tupper. The Jazz Band members are Jacqueline Geraty, Jonah Glick-Unterman, Evan Gorstein, Joe Kupferberg, Aitan Licht, Yadid Licht, Jack Rubinstein, Steven Sacks, Alon Spevak, Josh Swatez, Zahava Vales and Aaron Zell. Starring in the vocal ensemble are Rebecca Abrams, Elizabeth Barras, Talia Canter, Sarah Comar, Matthew Dulberg, Eleanor Dunietz, Remy Kaskel, Arielle Kaye, Hana Leiber, Gabrielle Pretekin, Rachel Rubinstein, Orly Schlessinger and Jonathan Tupper.
For tickets and more information, click
here
.


Shira Harris (Junior) and Arielle Kaye (Junior) rehearsing 'Glitter and be Gay'

Jacqueline Geraty (Junior) and Tali Shapiro (Junior)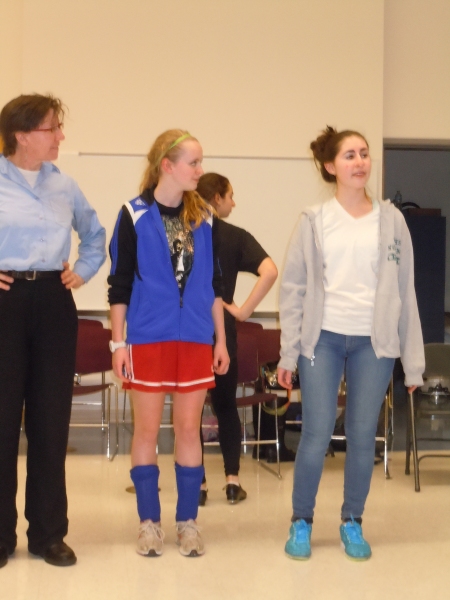 (left to right) Danielle Brothers (Director), Jacqueline Geraty (Junior), Shira Harris (Junior), Tali Shapiro (Junior) rehearsing 'Bei Mir Bist Du Shon'

Tali Shapiro (Junior) rehearsing 'Good Morning Baltimore'

Related Articles
More Hot Stories For You