Photos: Underscore Theatre's Hit Musical HAYMARKET Transfers to Theater Wit for Additional Four Weeks Of Performances
Following a successful five-week run at The Den Theatre's Heath Main Stage, Underscore Theatre Company, in association with Theater Wit is pleased to announce a transfer and extension of its hit musical HAYMARKET, the true story of Chicago's infamous Haymarket riot. HAYMARKET will play an additional four weeks of performances featuring the full original cast from August 3 - September 2, 2018 at Theater Wit, 1229 W. Belmont Ave. in Chicago. Tickets for the extension are currently available are available at underscoretheatre.org, by calling (773) 975-8150 or in person at the Theater Wit Box Office. Performances continue at The Den Theatre, 1331 N. Milwaukee Ave. in Chicago through Sunday, July 22, 2018.
With book, music and lyrics by Alex Higgin-Houser and David Kornfeld, twelve actors accompany themselves to a stirring folk-infused score. Following its world premiere in 2016 as Haymarket: The Anarchist's Songbook (Jeff Award nomination, Best New Musical) the authors, alongside director Nick Thornton and musical director Robert Ollis, have crafted an all-new theatrical experience - creating new songs, overhauling the book, and like the union workers from the show, building on a strong foundation.
The full original cast returns for the extension: Bridget Adams-King as Lucy Parsons, Erik Pearson as Albert Parsons, T.J. Anderson as August Spies, Joey Harbert as Louis Lingg, Josiah Robinson as Adolph Fischer, Mike Mazzocca as George Engel, Sarah Beth Tanner as Jane Engel, Amanda Giles as Nina Van Zandt, Melanie VItaterna as Joanna Fischer and Kelan M. Smith, Eric Loughlin and Elleon Dobias as the Pick Chorus.
Based on historical events, HAYMARKET tells the dramatic story of labor unrest in Chicago, 1886, where striking workers clashed with a brutal police force, resulting in an act of terror, a corrupt trial and the death of five innocent men. Told by a cast of twelve actor-instrumentalists, HAYMARKET is a folk, bluegrass and Americana adventure.
Comments Laura Stratford, recently named Underscore's sole Artistic Director, "Haymarket is a story of the power of people working together to change the world. I'm thrilled that, through the hard work of our staff and ensemble, we are able to partner with Theater Wit to bring this story to a larger audience. The timing is especially meaningful to Underscore because this extension is a fitting send-off to our Founding Artistic Director Alex Higgin-Houser, the production's book writer and lyricist, who begins his MFA in Musical Theatre Writing at NYU Tisch in the fall. Since our founding, Alex has encouraged Underscore to think big, work hard and take risks. I can imagine no more appropriate time for our first transfer and extension than right now, and no more fitting project to do it with than his passion project and love song to the Chicago labor movement."
The production team for HAYMARKET includes: Eric Luchen (scenic designer), Christina Leinicke (costume designer), Erik Barry (lighting designer), Brandon Reed (sound designer), Kate Cuellar (dramaturg), Jena Sugay (assistant director), Andy Lynn and Ellen Domonkos White (co-production managers) Josh Prishing (technical director) and Kristin Mazzocca (stage manager).
Photo Credit: Michael Brosilow


Erik Pearson and Bridget Adams-King with (l to r) Sarah Beth Tanner, T.J. Anderson, Mike Mazzocca, Kelan M. Smith, Josiah Robinson, Amanda Giles, Joey Harbert and Melanie VItaterna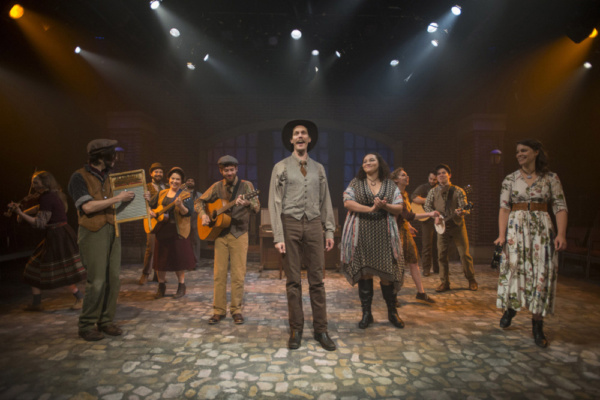 Elleon Dobias, Joey Harbert, Mike Mazzocca, Sarah Beth Tanner, Eric Loughlin, T.J. Anderson, Erik Pearson, Bridget Adams-King, Melanie VItaterna, Josiah Robinson, Kelan M. Smith and Amanda Giles

Bridget Adams-King with (left to right) T.J. Anderson, Sarah Beth Tanner, Joey Harbert, Amanda Giles, Melanie VItaterna and Mike Mazzocca