Photo Flash: Porchlight Music Theatre Revisits 1776
Porchlight Music Theatre begins its sixth season of Chicago's "lost" musicals in staged concert series with Porchlight Revisits 1776, music and lyrics by Sherman Edwards and book by Peter Stone with direction by Artistic Director Michael Weber, musical direction by Jeremy Ramey and musical staging by Michelle Lauto. Porchlight Revisits 1776 is presented for only three performances Wednesday, Nov. 14 at 7:30 p.m. and Thursday, Nov. 15 at 2 and 7:30 p.m. at The Ruth Page Center for the Arts, 1016 N. Dearborn Street. Tickets for 1776 are available now for $37, subscriptions to the three performance series including 1776, Can-Can, March 6 and 7, 2019 and Minnie's Boys, May 22 and 23, 2019 are $90/per person and available at porchlightmusictheatre.org or by calling the Porchlight Music Theatre box office at 773.777.9884.
Celebrating the 50th anniversary of the 1969 Tony Award-winner, Porchlight Music Theatre brings to Chicago the impassioned arguments and world-changing visions that were fought over in those sweltering summer days in Philadelphia nearly 250 years ago. The historic players will be present in the characterizations of Benjamin Franklin, Abigail Adams, Thomas Jefferson and others, showcasing the compelling debate of what are we willing to compromise to build a new country will ring out louder than the toll of the Liberty Bell.
With special permission from the rights holders, the approach to this production, which has been frequently presented with a primarily Caucasian and male identified cast playing the signers of the Declaration of Independence and the congressional staff, will be an inclusive company of actors, expanding the casting potential both in ethnic and gender identities, in modern dress.
Every Porchlight Revisits begins with Behind the Show Backstory, an entertaining and informative multimedia presentation, created and hosted by Artistic Director Michael Weber, introducing the evening's production including the show's creative history, juicy backstage gossip and much more.
Featuring a cast of 26, the largest ever for a Porchlight Revisits production, the 1776 company includes: Micha Astala, "Dr. Josiah Bartlett;" Frankie Leo Bennett, "George Reed;" Jeff Bouthiette, "Samuel Chase;" Erica Chinn, "Col. Thomas McKean;" Cynthia Clarey, "Rev. John Witherspoon;" Jazmín Corona, "Andrew McNair;" Richard Costes, "Leather Apron;" Ryan Dooley, "James Wilson;" William Dwyer,"Edward Rutledge;" Joseph Foronda, "Dr. Benjamin Franklin;" Kim Fukawa, "Charles Thomson;" Lucy Godinez, "Martha Jefferson;" Randolph Johnson, "Stephen Hopkins;" Christopher W. Jones, "Lewis Morris;" Teressa LaGamba,", "Richard Henry Lee;" Michelle Lauto, "Abigail Adams," Anne Marie Lewis, "Joseph Hewes;" Cari Meixner, "Dr. Lyman Hall;" Robert Quintanilla,"Thomas Jefferson;" Nolan Robinson, "Courier;" Kelvin Roston Jr., "John Adams;" Jenny Rudnick, "Caesar Rodney;" Peter Ruger, "Robert Livingston;" Heather Townsend, "John Dickinson;" Jessica Vann, "Roger Sherman" and Nancy Wagner, "John Hancock."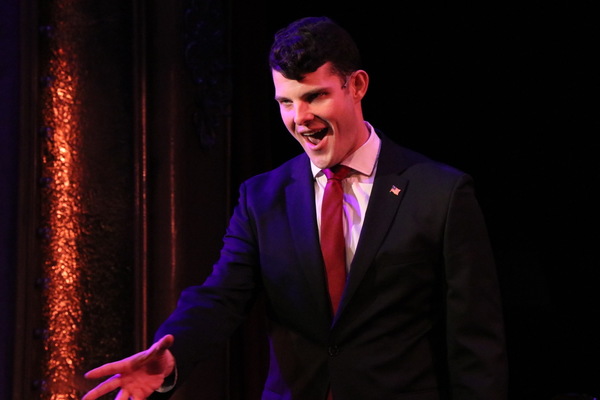 William Dwyer as Edward Rutledge in Porchlight Revisits 1776

Lucy Godinez as Martha Jefferson and Robert Quintanilla as Thomas Jefferson in Porchlight Revisits 1776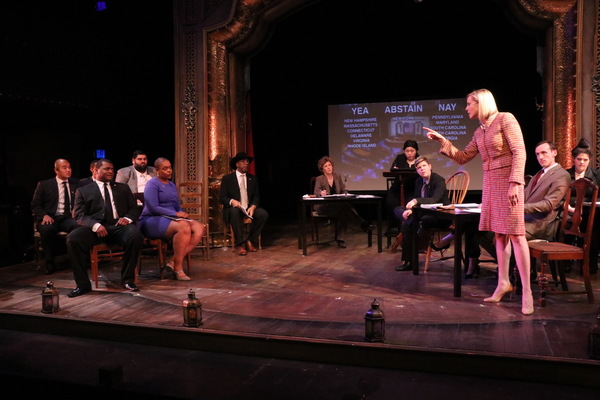 The ensemble cast of Porchlight Revisits 1776

Joseph Anthony Foronda as Benjamin Franklin, Kelvin Roston Jr. as John Adams and Robert Quintanilla as Thomas Jefferson in Porchlight Revisits 1776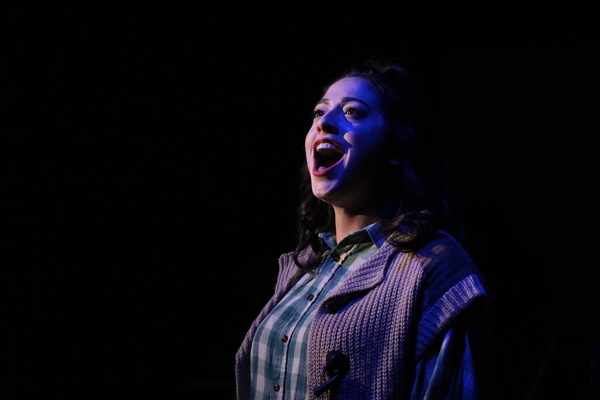 Michelle Lauto as AbiGail Adams in Porchlight Revisits 1776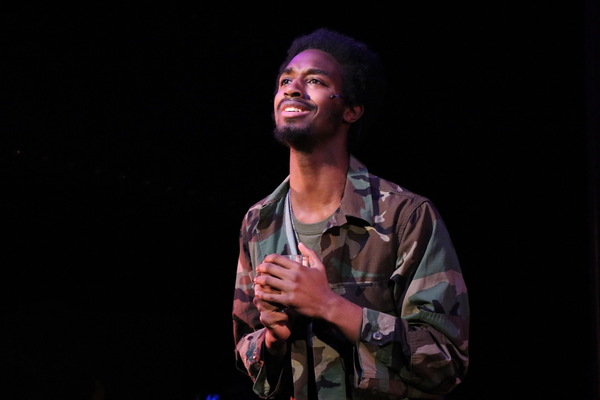 Nolan Robinson II as Courier in Porchlight Revisits 1776

Kelvin Roston Jr. as John Adams and the ensemble cast of Porchlight Revisits 1776