Photo Flash: Porchlight Music Theatre Breaks Records For Attendance And Fundraising At Its Annual Icons Gala
As Porchlight Music Theatre is set to launch its 25th Anniversary Season as Chicago's center for music theatre, it celebrated 24 years and announced its 25th Anniversary co-chairs at the 2019 ICONS Gala Sunday, March 31 at the Ritz-Carlton Chicago, 160 E. Pearson. The 2019 ICONS GALA set a new attendance record with 300 guests in attendance and raised more funds that directly benefit Porchlight's artistic and educational programs than previous events. The elegant Gala Brunch, chaired by Tamara Sims, included performances from Chicago's leading talents celebrating the legendary career of Jerome Robbins, the presentation of The Luminary Award to Jean Klingenstein, introduced the 25th Anniversary chairs: RIck and Deann Bayless and Bill Kurtis and Donna La Pietra and silent and live auctions.
In addition to The Luminary Award winner and the 25th Anniversary co-chairs, the record-breaking capacity crowd included Oak Park residents, Tom and Deb Abrahamson; Jim and Ellen Dalton from Evanston; Streeterville residents Brenda and Jim Grusecki and from the Gold Coast Art Garwin, Joyce Saxon, Elaine Cohen and Arlen Rubin.
The 2019 ICONS gala at the RItz-Carlton began with guests bidding on silent auctions and enjoying the complimentary mimosas and brunch-themed passed, hors d'oeuvres. Silent auction items included everything from trips to all over the United States, staycation and sports packages and others.
Since it was a Porchlight special event, music and performances took center stage with David Fiorello, pianist and vocalist, serving as music director for the brunch with Yulia Block on the drums and Lara Regan on reeds. Fiorello and the band performed Jerome Robbins-inspired numbers beginning the day with one of the stars of Porchlight's recent hit A Gentleman's Guide to Love & Murder Andrés Enriquez singing "Something's Coming" from West Side Story. Executive Director Jeannie Lukow then welcomed all with a recap of the stellar year Porchlight has enjoyed with its 2018 - 2019 season including the critical, audience and financial successes of Gypsy starring E. Faye Butler and the aforementioned A Gentleman's Guide; the highest number of subscribers in Porchlight's history and the expansion of its educational programming in Chicago's public schools.
The Commissioner of the City of Chicago Department of Cultural and Special Events Mark Kelly then spoke about the Year of Chicago Theatre and how Porchlight and its productions reflect Chicago's place as a performing arts leader on a global scale saying Porchlight is truly a "national treasure."
Artistic Director Michael Weber, throughout the brunch, spoke about Robbins' storied life and career including videos and photos of Jerome Robbins and the many productions with which he was affiliated including "On the Town," which was the next performance featuring stars of the upcoming A Chorus Line Clayton Cross, Richard Strimer and Matthew Weidenbener dancing and singing to "New York, New York."
Board Vice Chair Tony Gibson shared the new initiatives that Porchlight has undertaken in the last year including the Christopher Tisone and Rachel Rockwell funds supporting positions and people behind the scenes at Porchlight. Before brunch was served the "first act" of the ICONS Gala concluded with a "Jerome Robbins Medley" performed by Porchlight alumni Neala Barron, Katherine Bourné, Mark David Kaplan and Yando Lopez.
Post-brunch, the "second act" began with Board Chair Keith Olenik thanking all who attended and made this event a success including the Anniversary committee, the Board and the Porchlight staff.
The 25th Anniversary Co-Chairs Rick and Deann Bayless and Bill Kurtis and Donna LaPietra then took to the stage to celebrate the next milestone in Porchlight history: its 25th Anniversary to be celebrated during the 2019 - 2020 season. Rick Bayless apologized for his pun before he said he had to "sing the praises of Porchlight" and Deann Bayless said she and Rick love to support all theatre but Porchlight and its music theatre productions "move her to the core." Donna and Bill shared the excitement of productions and special events to come and encouraged all to "take part in this special anniversary."
Husband and wife performers Justin Brill and Shanna VanDerweker then sang and danced to "I Still Get Jealous"/"Papa, Won't You Dance With Me" from High Button Shoes. This rousing number set the stage for the presentation of The Luminary Award" to Jean Klingenstein, a long time supporter of Porchlight Music Theatre and the Chicago theatre community.
The tribute to Klingenstein began with multi-Jeff Award-winning Donica Lynn singing "One," from A Chorus Line with the 300+ crowd joining in a musical salute to this year's Luminary Award recipient. Klingenstein reflected on being honored with the award and her lifelong dedication to experiencing the arts beginning as a young child in New York City. Klingenstein said she still sees productions in New York but she always is happy to come back and see the vibrant offerings on Chicago's stages. She thanked Porchlight for The Luminary Award and ended with a line from the song, "I Wouldn't Have Missed It for the World."
Always a highlight of the ICONS Gala, this year's live auction was overflowing with star-studded special, nights out including a guacamole class with Rick Bayless and a cocktail class hosted Bayless' daughter Lanie, followed by dinner at Topolobampo; dinner with Bill Kurtis and Donna La Pietra before a taping of WBEZ's "Wait Wait...Don't Tell Me;" Porchlight Board Member Steve McDonagh and his Hearty Boys Catering partner Dan Smith hosting a dinner prepared by them and featuring special desserts by Gale Gand and others. La Pietra and Kurtis playing a game from "Wait Wait" to the audience's delight with Kurtis singing his answers introduced each item. Auctioneer Greg Dellinger then auctioned the items with his own flair and enthusiasm.
Jeff-Award winner and star of Porchlight's Gypsy E. Faye Butler then took to the stage to perform "Everything's Coming Up Roses" from the Robbins musical, about the famous stage mother, that enjoyed an extended run this past winter at Porchlight. Butler's performance brought the crowd to their feet and was a great introduction to the paddle raiser.
The paddle raiser, hosted by La Pietra, Kurtis and Dellinger provided an opportunity for the Gala audience to donate directly to the advancement of Porchlight's artistic, educational and institutional growth.
Lucy Godinez and Michelle Lauto, the final performers of the brunch, left the crowd wanting more with their rendition of "A Boy Like That" from West Side Story. With this moving performance, the 2019 ICONS Gala came to a close.
Photo Credit: Michael Courier

Tricia Needham and E. Faye Butler of GYPSY from Porchlight Music Theatre 2018 -2019 season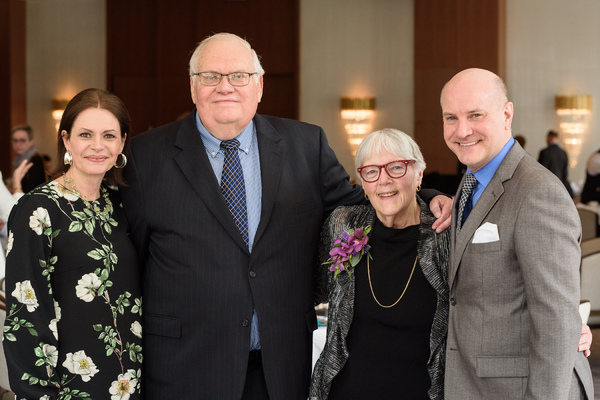 Porchlight Music Theatre Executive Director Jeannie Lukow, 2018 Luminary Award Recipient Jim Jensen and 2019 Luminary Award Recipient Jean Klingenstein and Porchlight Music Theatre Artistic Director Michael Weber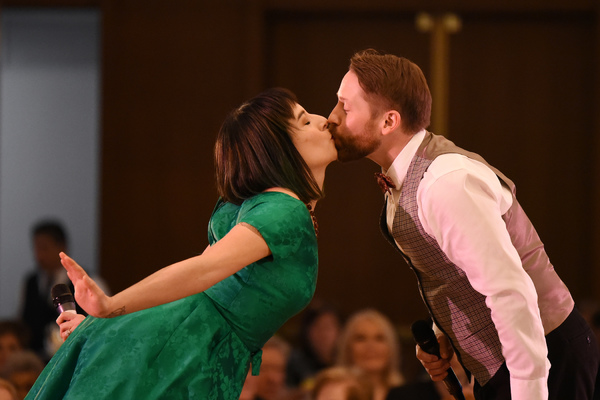 Husband and wife performer duo Shanna VanDerwerker and Justin Brill perform a number from the musical HIGH BUTTON SHOES, choreographed by Jerome Robbins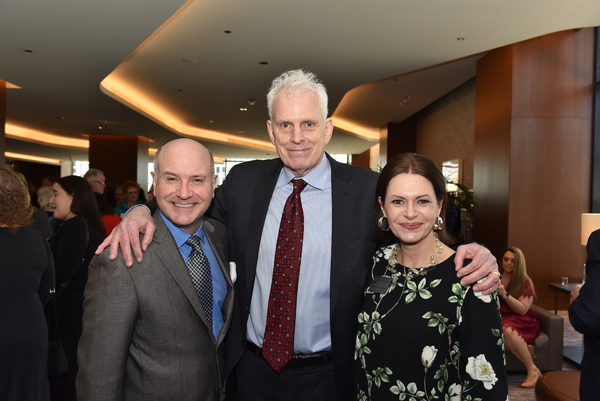 Porchlight Music Theatre Artistic Director Michael Weber, Commissioner of the City of Chicago's Department of Cultural Affairs and Special Events, Mark Kelly ,and Porchlight Music Theatre Executive Director Jeannie Lukow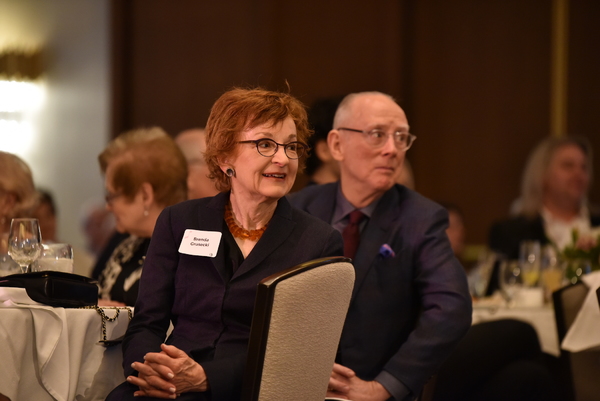 Brenda and Jim Grusecki enjoy a performance at the ICONS GALA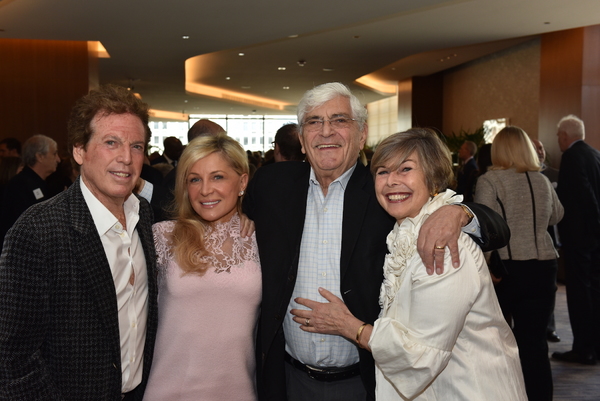 Bill Marovitz, Asia Gajderowicz, Julian Frazin and Porchlight Music Theatre board member Rhona Frazin

The Porchlight Music Theatre Board of Directors: Chuck Laff, William Gilmer, Jayne Drew, Sara Siegall, Brian Troy, Tony Gibson, James Jensen, Michelle Cucchiaro, Keith Olenik, Rhona Frazin, Steve McDonagh, and Tamara Sims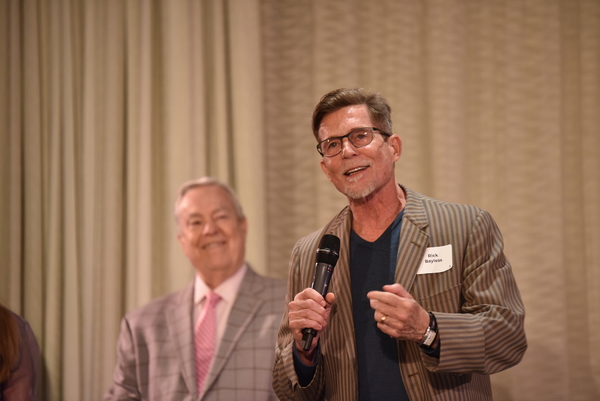 Bill Kurtis listens as Rick Bayless gets the audience excited for his exclusive live auction item.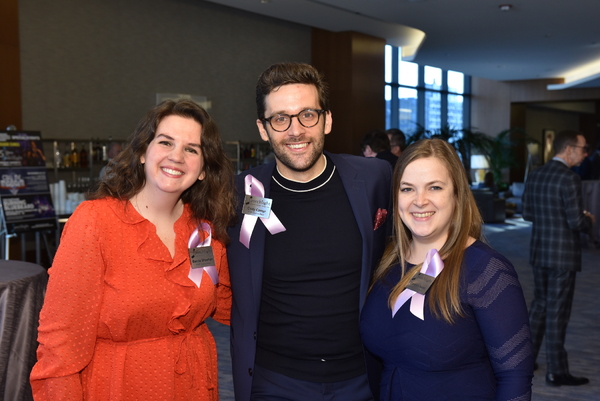 Porchlight Music Theatre Young Professionals Committee Members: Becca Sheehan, Cody Czymr and Carolyn Isaac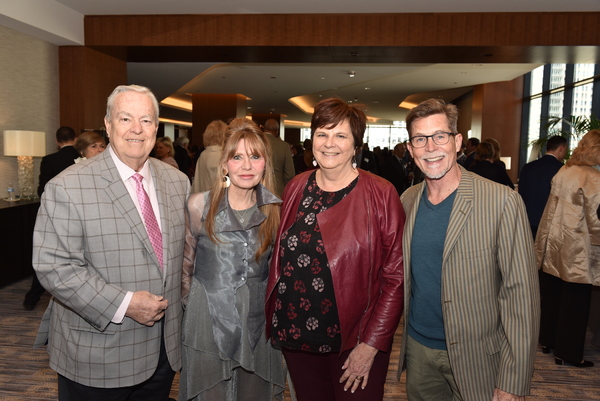 (L to R) Porchlight Music Theatre 25th Anniversary Committee Chairs: Bill Kurtis, Donna La Pietra, Deann and Rick Bayless