Photos: First Look at Chicago Shakespeare's A Q BROTHERS' CHRISTMAS CAROL
Chicago Shakespeare Theater (CST) and hip-hop sensations the Q Brothers are back at it again turning up the volume with a fresh take on a beloved classic. The Q Brothers and CST Creative Producer Rick Boynton have come together to develop A Q Brothers' Christmas Carol-a hip-hop reinterpretation of the perennial holiday favorite by Charles Dickens. Now, alongside Chicago theaters' familiar renditions of this heartwarming tale, audiences will participate in the creation of an energized, reinvented tradition. Work-in-progress performances of A Q Brothers' Christmas Carol will run in the theater Upstairs at Chicago Shakespeare, now through December 22, 2013. BroadwayWorld has a first look at the cast in action below!
A Q Brothers' Christmas Carol is being created between stops of the Q Brothers' international whirlwind tour of the award-winning Othello: The Remix, which will travel to Australia in January to be featured in the line-up of the highly regarded Sydney Festival 2014. Premiering at Shakespeare's Globe for the London 2012 Cultural Olympiad's 'Globe to Globe' festival, Othello: The Remix has toured to festival venues around the world, playing to sold-out houses of multi-generational and culturally diverse audiences in Edinburgh, Germany, South Korea and London. Its extended five-month Chicago engagement broke records for Chicago Shakespeare's longstanding CST for $20 program for patrons under 35 years of age.
Written and performed by GQ, JQ, Jackson Doran and Postell Pringle, A Q Brothers' Christmas Carol takes on the cherished holiday tale and wrestles it from its sacred roots with irreverence, an array of music styles, and a lot of heart. Just as hip-hop borrows from many genres, the story will be underscored with beats spun live by DJ Super Nova at the turntables, mashing up everything from reggae and dancehall music, to futuristic dubstep and epic rock ballads. Audiences will recognize familiar characters like Ebenezer Scrooge with his erotic passion for money, a Jamaican Jacob Marley, and the most pitiful Cratchit, Lil' Tim. The time-traveling Ghosts take Scrooge on a voyage through the hip-hop ages-decade by decade from past to present to future-documenting the still-evolving musical art form. This new holiday treat will prove to be as cheeky, intelligent and street smart as audiences have come to expect from the Q Brothers.
A Q Brothers' Christmas Carol design team includes Scenic and Costume Designer Scott Davis, Lighting Designer Jesse Klug and Wig and Make-up Designer Melissa Veal. Properties Master Amy Peter and Choreographer Anacron complete the creative team. Written by GQ, JQ, Jackson Doran and Postell Pringle and developed with Rick Boynton, A Q Brothers' Christmas Carol is presented in association with Richard Jordan Productions Ltd.
WORK-IN-PROGRESS PRESENTATIONS run November 30-December 22, 2013, playing Tuesdays-Fridays at 7:30 p.m.; Saturdays at 6:00 p.m. & 8:30 p.m. (on 11/30, 8:30 p.m. only); and Sundays at 3:00 p.m. Tickets on sale now for $20-$35; CST for $20 tickets for patrons under 35 years old. All patrons receive a 40% discount on guaranteed parking in Navy Pier garages. Recommended for audiences age 12 & up. For more information, contact Chicago Shakespeare Theater's Box Office: 312.595.5600 or visit www.chicagoshakes.com.
Photo Credit: Michael Brosilow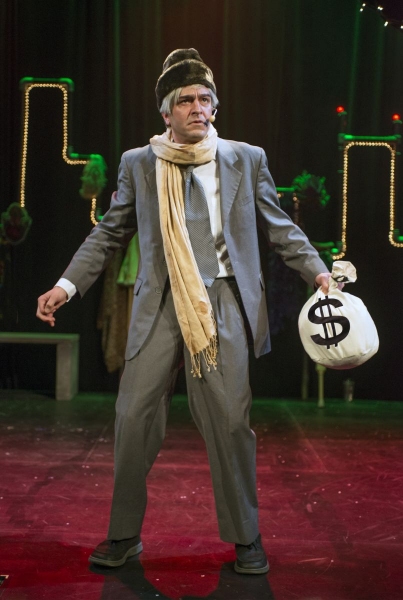 Poster child of the 1 percent, our favorite crank Ebenezer Scrooge (GQ) clutches his fortune.

No longer so tiny, the crippled but joyful Lil' Tim (JQ, at center) hip hops along with his parents, Bob Cratchit (Postell Pringle, at left) and Mrs. Cratchit (Jackson Doran).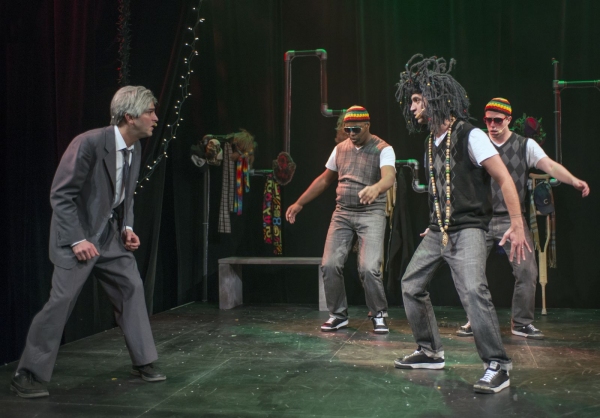 Ebenezer Scrooge (GQ) is haunted by the Rastafarian beats of Jacob Marley (no relation to Bob) and his crew of reggae spirits (left to right, Postell Pringle and Jackson Doran).

Hip-hop sensations and siblings the Q Brothers, JQ as Christmas Present and GQ as Ebenezer Scrooge, serve as writers, directors and performers in Chicago Shakespeare Theater's production of A Q Brothers' Christmas Carol.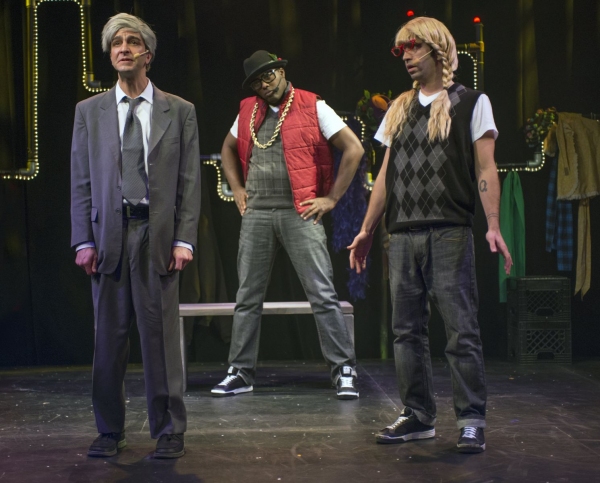 Spun back in time by the DJ's beats, Ebenezer Scrooge (GQ) is taken by the old-school Ghost of Christmas Past (Postell Pringle) to revisit his first love Belle (JQ) at Fezzi's Wig and Weave Shop.