Photo Flash: Cast of The Hypocrites' INTO THE WOODS, Now Playing at Mercury Theatre Chicago, Celebrates Opening Night
Mercury Theater Chicago, 3745 N Southport Ave., presents The Hypocrites' production INTO THE WOODS, directed by Geoff Button* with Musical Direction by Matt Deitchman, and opened on Tuesday, February 11 at 7:30 p.m., running through Sunday, March 30. Check out a look back at opening night below!
With music and lyrics by Stephen Sondheim and the book by James Lapine, The Hypocrites bring their heightened and playful sense of theatricality to the beloved musical INTO THE WOODS. INTO THE WOODS tells the epic fairytale of several Brothers Grimm characters including the Baker and his Wife who learn that they cannot have a child because of a Witch's curse. As they set off on a journey to break the curse, the couple encounters Jack of Beanstalk fame, Little Red Riding Hood and the Wolf, Cinderella and her suitors, and the Witch herself. While everyone's wish is granted, the consequences of their actions return to haunt them.
The musical is brought to vivid life on stage with revolutionary staging, a set designed by William Boles, lighting design Heather Gilbert, costume design by Sally Dolembo, sound design by Joshua Horvath and choreographed by Katie Spelman.
Founding Artistic Director Sean Graney* created The Hypocrites in 1997. It is currently run by Artistic Director Halena Kays* and Managing Director Megan Wildebour*. The Hypocrites are recognized as groundbreakers that defy the audience's expectations. The company has grown significantly in the past few years, receiving acclaim for productions at Steppenwolf Garage (Threepenny Opera and4:48 Psychosis), Goodman Theatre, Museum of Contemporary Art, DCA Storefront and Chopin Theater. The company's smash-hit production of Our Town, directed by David Cromer, transferred in 2009 to Off-Broadway, Los Angeles and Boston. Pirates of Penzance has appeared at American Repertory Theatre twice and will enjoy another run at Actors Theatre of Louisville in 2014. American Theatre Wing, best known as the creator of the Tony Awards, presented The Hypocrites with one of the 2013 National Theatre Company awards this year. The Tennessee Williams Project, also created by The Hypocrites, is currently running at the Chopin Theatre through March 2nd. For more information, please visit www.the-hypocrites.com
INTO THE WOODS runs February 6 through March 30, 2014. The press opening is Tuesday, February 11. The performance schedule is: Thursdays at 7:30 p.m., Fridays at 8 p.m., Saturdays at 2 p.m. and 8 p.m. and Sundays at 3 p.m. Individual tickets range from $22-$59, andare available online at www.MercuryTheaterChicago.com, over the phone at 773.325.1700, or in person at 3745 N. Southport Avenue, Chicago.

Renee Henley, Mike Matlock, Kevin REeks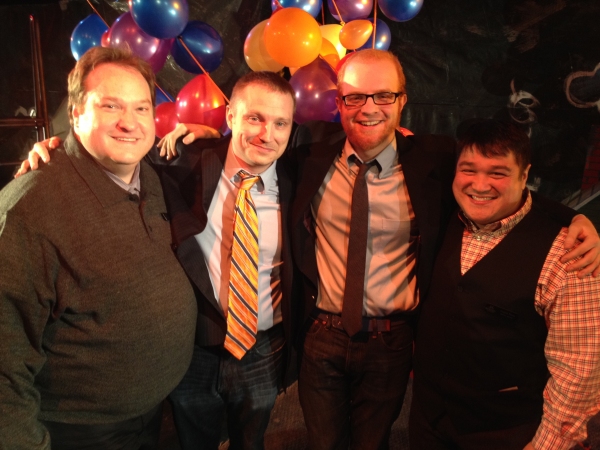 L. Walter Stearns, Geoff Button, Matt Deitchman, Eugene Dizon

Blake Montgomery, Michael Brown

Blake Montgomery, Geoff Button, Michael Brown