New Philharmonic's Popular New Year's Eve Program Returns to Ring In 2019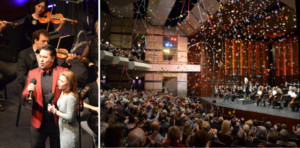 New Philharmonic's immensely popular New Year's Eve program returns to ring in 2019 with three concerts at the McAninch Arts Center (MAC) Monday, Dec. 31, 2018 at 2, 5:30 and 9 p.m.
Music Director and Conductor Kirk Muspratt will lead New Philharmonic in a celebratory program featuring classical and pop works, exciting surprises and a champagne toast. Alisa Jordheim (soprano) and Corey Crider (baritone) brought the house down last year with Alisa's surprise appearance, so New Philharmonic decided to bring them both back for this year's New Year's Eve program, which, for first time, will feature two guest artists performing individually and in duets.
New Philharmonic's 2018 New Year's Eve program will include the following:
Johann Strauss (ii)(1825 - 1899): "Unter Donner und Blitz" ("Thunder and Lightning" Polka), Op. 324. This percussion-centric piece uses tympani and cymbals to create its titular sounds.
Franz von Suppé (1819 - 1895): "Pique Dame Overture" This popular concert piece is from "Pique Dame," an operetta in two acts.
Da Summa is Umma, traditional, arranged by Lisa Taylor, featuring Taylor and Liz Deitmyer (alphorn).
Pyotr Ilyich Tchaikovsky (1840 - 1893): "Swan Lake Waltz," Op. 20, Act 1: 2, is from one of the most beloved classical ballets in the world.
Erich Wolfgang Korngold (1897 - 1957): "Tanzlied des Pierots" from the opera "Die tote Stadt" featuring libretto by Paul Schott, a collective pseudonym for the composer and his father, Julius Korngold. This arrangement for violin and piano, features guest baritone Corey Crider.
Stefano Donaudy (1979-1925) "Oh del mio amato ben." This arrangement features guest soprano Alisa Jordheim as accompanied by Pat Lee on the piano.
Johann (1825 - 1899) and Josef Strauss (1827 - 1870), "Vaterlandischer March."
Victor Herbert (1859-1924), "Kiss Me Again" from "Mlle. Modiste." Guest soprano Alisa Jordheim is featured in this arrangement by Millard Lackey.
Samuel Ward (1848-1903), "America the Beautiful," as arranged by Phillip Rothman.
Auld Lang Syne. This traditional New Year's Eve song has its origins in a Scots-language poem written by Robert Burns in 1788, set to the tune of a traditional folk song.
John Williams (1932 - ), "Adventures on Earth" from "E.T.: The Extra-Terrestrial" (1982).
New Philharmonic fans enjoyed Crider's performance in last year's New Year's Eve program, in lead role of New Philharmonic's 2011 production of "Gianni Schicci," as Scarpia in the 2014 concert rendition of "Tosca" and as Giorgio Germont in 2018's production of "La Traviata." Crider is an alumnus of the Artist Diplomas program at the University of Cincinnati College-Conservatory of Music as well as Lyric Opera of Chicago's Ryan Opera Center.
Recent appearances include Marcello in "La bohéme" with Arizona Opera and the Munich Philharmonic, Cavallere di Belflore in "Un glorno di regno" with Sarasota Opera and Escamillo in "Carmen" with Opera Lyra Ottawa. Crider is a two-time national semi-finalist in the Metropolitan Opera National Council Auditions and a finalist in Houston Grand Opera's Eleanor McCollum Competition for Young Singers.
Jordheim, who made a surprise appearance in last year's New Year's program, has been featured in New Philharmonic 2017's "The Best of Broadway: Rodgers & Hammerstein and Andrew Lloyd Webber" program and in the role of Yum-Yum in the New Philharmonic's 2017 production of "The Mikado."
Jordheim is the recipient of a 2016 Sullivan Foundation Award and 2015 Sullivan Foundation Career Development Grant. She won the 2015 Bel Canto Regional Artists Competition, took 2nd place in the 2013 Auditions Plus Classical Singer Vocal Competition - Young Artist Division, and won the Edith Newfield Scholarship in the 2013 Musicians Club of Women Music Scholarship Competition in Chicago. She was recently featured in Fred Plotkin's "40 under 40: A New Generation of Superb Opera Singers" on WQXR, New York's Public Radio station and website.
New Philharmonic, under the direction of Maestro Kirk Muspratt, presents "New Year's Eve Concert" at the McAninch Arts Center, located on the campus of College of DuPage, 425 Fawell Blvd., Monday, Dec. 31 at 2, 5:30 and 9 p.m. Tickets are $65. To order concert tickets or for more information, call 630.942.4000 or visit AtTheMAC.org.
New Philharmonic, the only professional orchestra based in DuPage County, Ill., has inspired classical music enthusiasts in Chicago and the suburbs for more than 40 years. It continues to thrive with the goal to give innovative treatment to both classic compositions and modern works while striving to make the music accessible to new audiences and youth through a variety of educational efforts. The orchestra was recently honored with the Illinois Council of Orchestras' 2017 ICO Award for Professional Orchestra of the Year.
Today, under the direction of Kirk Muspratt, recently named 2018 Conductor of the Year (Professional Orchestra) by Illinois Council of Orchestras, New Philharmonic consists of more than 60 professional musicians and performs more than a dozen concerts a year, reaching more than 7,500 from the greater Chicago area annually. Remaining performances for the 2018-2019 Season include "Die Fledermaus" (Jan. 26-27), and a concert featuring pianist Winston Choi (April 13-14).
Related Articles View More Chicago

Stories

Shows
More Hot Stories For You