Musical About Transgender Civil War Hero Albert Cashier Extends at Stage 773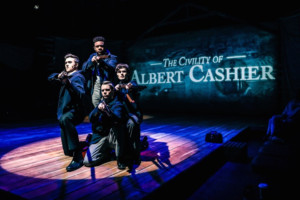 Permoveo Productions, in association with Pride Films & Plays, has announced the extension of the world premiere production of The CiviliTy of Albert Cashier now playing at Stage 773, 1225 W. Belmont Ave., through October 22, starring former Glee Project star and America's Got Talent Contestant Dani Shay.
The production is co-composed and directed by Keaton Wooden, co-composed by Joe Stevens, written by Jay Paul Deratany and is music directed by Jon Schneidman.
The regular performance schedule, running through October 22 is Thursdays at 7 p.m., Fridays and Saturdays at 8 p.m. and Sundays at 4 p.m. Tickets are $40 and may be purchased at www.stage773.com and get more information at www.albertcashierthemusical.com.
NOTE: There will be a talk back after all Sunday performances discussing the show's genesis, innovative ideas, relevance to the transgender community under the current political climate as well as time for questions from the audience.
This true story, set between 1862 and 1915, tells the astonishing, "timely, essential, insightful" and true story of "an amazing figure from [our] history" (The Windy City Times). In The CiviliTy of Albert Cashier, Albert Cashier is a Civil War soldier with a secret that resonates with today's modern world. Detailing the soldier's life fighting in more than 40 engagements during the Civil War, the musical follows Cashier through retirement and the onset of dementia, when a life-long secret was discovered: That Albert was born Jennifer Hodgers. Causing an uproar in the small southern Illinois community where Cashier lived, Cashier was prosecuted for impersonating a soldier, requiring fellow soldiers to return once again after 60 years to detail Albert's heroism and life.
Playwright/Producer Jay Paul Deratany commented on the extension of The CiviliTy of Albert Cashier, "It is always a thrill to see an audience react to one's work, however, I have been blown away by the response to Albert Cashier. In addition to the critical praise, veterans of all ages, members of Albert's home town, students and so many others have been very vocal about what this story means to them. It is truly amazing and on behalf of the whole creative team, the incredible actors and all involved, we are so grateful and honored to share Albert's timely story."
Deratany and Director Wooden worked together with acclaimed musician and trans composer Joe Stevens to translate Albert's story to music. The CiviliTy of Albert Cashier has been workshopped at The Chicago Musical Theater Festival at Victory Gardens, and The Los Angeles LGBT Arts Center. The show makes its world premiere in the same state that Albert Cashier lived: Illinois.
Cast for The CiviliTy of Albert Cashier includes: Dani Shay/they/them/theirs (Young Albert), Katherine Condits/she/her/hers (Old Albert), Delia Kropp/she/her/hers (Nurse), Billy Rude/he/him/his (Jeffrey), Cameron J. Armstrong/he/him/his (Walter) Chuck Quinn IV/he/him/his (Billy), Gabe Fries/he/him/his (Collins/Kirby), Jordan Dell Harris/he/him/his (Joe/U/S Jeffrey), Jonathan Stombres/he/him/his (John/Confederate Soldier), Roy Samra/he/him/his (Bugle Boy/Ensemble/U/S Billy and John), Josiah Robinson/he/him/his (Hearing Officer/Ensemble/U/S Joe, Collins and Kirby), Laura Ebsworth/ze/zir (Jane; U/S Young Albert, Old Albert and Nurse), Curtis Bannister/he/him/his (U/S Walter) and Wesley Dean Tucker/he/him/his (Swing).
The production and creative team for The CiviliTy of Albert Cashier includes: Jay Paul Deratany/he/him/his (writer/lead producer), Keaton Wooden/he/him/his (director/co-composer), Joe Stevens/he/him/his (lead composer), Jon Schneidman/he/him/his (music director), Derek Van Barham/he/him/his (choreographer), Robert Ulrich/he/him/his (casting director/producer), Kevin Spellman/he/him/his (general manager), Tim Smith/he/him/his (marketing and sales manager), Christopher Pazdernik/he/him/his (associate producer), David Zak/he/him/his (creative consulting producer), Manny Ortiz/he/him/his (technical director), Alexa Borden/she/her/hers (Orchestrator), Collin Henlou/he/him/hers (lighting design consultant), Jeremy Hollis/he/him/hers (scenic designer), Uriel Gomez (costume designer), G. Max Maxin IV (projections designer), Joe Palermo (sound designer), Jennifer Kules/she/her/hers (production consultant). Melissa Kay Hunter/she/her/hers (props assistant), Mary Zanger/she/her/hers (stage manager), Molly Weaver/she/her/hers (assistant stage manager/house manager) and Shain Longbehn/he/him/his (assistant music director).
ABOUT Dani Shay, Playing Young Albert Cashier
Dani Shay is a non-binary trans singer/songwriter, actor, and activist is honored to portray Albert D.J. Cashier in this poignant piece. After experiencing big waves of internet attention, then appearing on America's Got Talent and The Glee Project 2, Shay co-founded Be More Heroic, a non-profit organization geared toward helping young people cultivate more compassion and confidence. Shay has also worked with the River Phoenix Center for Peacebuilding, Epic Leaders, PeaceLove, and ASTEP: artsINSIDEOUT. Most recently, Shay started an artist commune in Los Angeles, where seven creatives, a goofy dog, and a lazy cat happily coexist. Shay's original music can be found in all the usual online places.
ABOUT JAY PAUL DERATANY, Book, Additional Lyrics and Lead Producer
A graduate of Michigan State University and then DePaul Law School, Jay Paul Deratany built a career in Chicago as one of the top 100 lawyers in the country and became a well-known human rights advocate, writing op-eds and multiple advocacy articles for legal and political journals. He then decided to pursue his passion for creative writing as a playwright and screenwriter and graduated as valedictorian with a Masters of Fine Arts from the University of California. Two of Deratany's earlier plays include Veronica, performed at Victory Gardens, and a comedy Two Grooms and A Mohel, at Bailiwick Theater.
When Deratany saw the abuses committed against the LGBTQ community worldwide, and specifically the murder of alleged gay youth he was inspired to write Haram Iran, for which he received a London Arts counsel grant, and a nomination for a GLAAD award for best theatrical writing in California. Haram Iran initially played in Chicago and went on to the Celebration Theater in LA, London's Above the Stag Theater and, most recently, at TADA in New York.
In 2012, Deratany wrote his first feature film, Saugatuck Cures, a comedy which follows the struggles between a gay brother and his right wing Christian sister, which earned acclaims: Official Selection and Audience Choice Award from the Cinema Diverse film festival inPalm Springs, Official Selection from the QFlix film festival in Philadelphia and the REELING 32 film festival in Chicago. His recent screenplay, Foster Boy, is currently in production, and is backed by Double Dutch Entertainment and Executive Produced Antoine Fuqua and directed by Youssef Delara.
Deratany's recent stage play, The CiviliTy of Albert Cashier, is a musical that has been received with standing ovations for staged readings at the LGBT Center for the Arts in Los Angeles and will be fully produced in Chicago at Stage 773 this September. Deratany continues to be an advocate for global LGBT youth rights.
ABOUT KEATON WOODEN, Co-Composer and Director
Keaton Wooden is an Emmy and Rhodes nominated writer, producer and director. Wooden's early work gained him an Emmy nomination for "Vibrations," following the Indiana School for the Deaf as they create a performing arts troupe. His next project was the feature film NightLights, at the Lifetime Movie Network. Wooden is a proud member of theatrical producing firm Chicago Commercial Collective, who remounted Chicago's biggest plays, including Ike Holter's Hit the Wall and The New Colony's 5 Lesbians Eating a Quiche, and was producer Irvine Welsh's world premiere theatrical adaptation of his novel/film Trainspotting USA. A Rhodes scholar nominee, Wooden studied Modern Literature and Critical Theory at the University of Oxford England as part of the Scholarship and Christianity in Oxford program, and has travelled the world on humanitarian missions. He has presented research on his experience in the entertainment industry and the humanities at the University of Oxford England, Kingston University, IFP Chicago, Wheatstone Academy, and the Screen Actors Guild.
ABOUT JOE STEVENS, Co-Composer
Originally from Sacramento, CA, Joe Stevens received a Bachelor of Music from Cornish College of the Arts in Seattle, WA, and has been touring and wandering the U.S.A. for the last ten years. Stevens' music rides the edge of the first wave of transgender performers to break through into the public consciousness. The social media explosion combined with shifting public opinion created the conditions that enabled trans and queer artists, a highly marginalized and isolated subculture, to connect and gain visibility. There is now a thriving community of trans and queer musicians, with new comers and folks who have been playing music all along, that is visible and growing in every corner of the world.
Between 2006 and 2012 Stevens' first band, Coyote Grace, released five well-loved albums and toured with the Indigo Girls, Melissa Ferrick, and Girlyman; sharing stages with Chris Pureka, GreenSky Bluegrass, Reverend Payton's Big Damn Band, and legends such as Cris Williamson and Lowen and Navarro. They quickly gained a strong cult following in the Folk/Americana world, taught workshops at many colleges and universities around the country and drove many a mile touring with their contemporaries and heroes.
Stevens released his first solo album "Last Man Standing" in 2014, recorded in Seattle at Empty Sea Studios and co-produced with everything-man Michael Connolly. The album has a strong focus on word craft, with folk roots and old time sensibilities, yet with subtly altered meters, progressions and content, a work that is both alternative and traditional.
"Songs of the People" was birthed in 2014; a project where Stevens writes songs based on interviews with willing folks. Creating a cohesive narrative of one's life is a way to come to terms with the past, reintegrating an often times broken sense of self and honoring the conditions that give rise to who we are is one of the gifts of art and songwriting.
ABOUT Jon Schneidman, Music Director
Jon Schneidman is a Jeff-nominated music director, composer and musician. He has worked on various projects theaters all around the Chicagoland area, including Lookingglass Theater, Mercury Theater, Chicago Children's Theatre, as well as Refuge Theatre Project's award winning production of High Fidelity. Schneidman has also been seen on stages around the country with Close to You: The Music Of The Carpenters. He is a proud Barrel of Monkeys company member.
ABOUT PERMOVEO PRODUCTIONS
Permoveo was created by Jay Paul Deratany to shed light on his professional and personal experiences with social injustices and bring awareness to the changes needed in society. Permoveo is Latin for "I move, shake up, agitate, or stir up." Figuratively meaning "I move deeply, stir or rouse up, excite or influence." Permoveo Productions is about bringing together people that are passionate for change and a greater good in society. This company is about believing in all that have a voice and telling their story through creating productions that stir up thoughts or ideas.
ABOUT PRIDE FILMS & PLAYS
Pride Films and Plays (PFP) changes lives through the generation of diverse new work (or work that is new to Chicago) with LGBTQ positive characters or themes that is essential viewing for all audiences. The company produces a four-play season of full productions, shoots one short film each year, and continues our famed play developmental projects. PFP is the principal tenant in Pride Arts Center.
Pride Arts Center, in its own right, produces events complimenting the PFP vision, including dance, cabaret, film, and more. Events can be one-night or limited run productions, or feature National Treasures like Charles Busch. PAC occupies The Broadway at 4139 N. Broadway, which has 85 seats, and The Buena, which has 50 seats at 4147 N Broadway.
Related Articles View More Chicago

Stories

Shows
More Hot Stories For You