Moss Hart Comedy LIGHT UP THE SKY to Open Citadel Theatre Season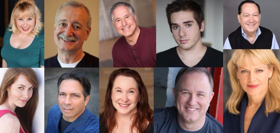 Citadel Theatre's will open its 2017-18 season with a revival of Moss Hart's 1948 comedy set behind the scenes of a Broadway-bound play during its Boston tryout.
Hart, one of Broadway's most successful playwrights and directors during the 1930s, 1940s and 1950s and co-author of YOU CAN'T TAKE IT WITH YOU and THE MAN WHO CAME TO DINNER, reportedly modeled his characters after some of the greatest theatrical luminaries of the day - among them, the actress Gertrude Lawrence, producer Billy Rose and the director Guthrie McClintic - and in doing so created an array of rich comic roles.
The action is set in the hotel suite of the temperamental leading lady, Irene Livingston, just before the play's opening night. The group of theater people preparing for the opening also includes Irene's sarcastic mother, Stella; the flamboyant director Carleton Fitzgerald; the producer with more interest in money than art, Sidney Black; Black's wife Frances, who's also an investor in the show; and the young Peter Sloan - a truck driver turned playwright whose experimental play may make or break them all.
The play's first act takes place before the play-within-a -play begins, when all assembled are being effusively loving toward each other. In LIGHT UP THE SKY's second act, the play's performance has ended disastrously and, believing the play will flop, the theater folk quickly turn on each other. In the third act, when they see the overnight reviews at 5:30 am and it's clear the play will be a hit, they frantically try to repair the damage they did to their relationships when they thought the play had failed.
LIGHT UP THE SKY will be directed by Pat Murphy, who is well-known to Citadel audiences for his performances in OTHER PEOPLE'S MONEY and LEND ME A TENOR. He directed Citadel's production of Charles Dickens' A CHRISTMAS CAROL in 2011. Pat retired from teaching after serving for 35 years as director of theater at Glenbrook North High School.
The Press Opening is Friday, September 29 at 8:00pm at Citadel's West Campus Theatre at 300 S. Waukegan Rd., Lake Forest, following a preview on Wednesday, September 27 at 7:30pm. Light Up the Sky will run September 29 through October 29, 2017 with performances Thursdays at 7:30pm, Fridays at 8pm (no performance Friday, October 13), Saturdays at 8pm, and Sundays at 3pm. Additional matinees have been scheduled for Wednesdays October 4 and 18 at 11am. Citadel Theatre (300 S. Waukegan Rd) is a 144-seat venue with a thrust stage and comfortable stadium seating. Tickets are available online at www.CitadelTheatre.org or over the phone by calling the Citadel Theatre box office at 847.735.8554. Tickets are $37.50 for Wednesdays, Thursdays and Fridays, and $40 for Saturdays and Sundays. Discounts are available for seniors, students, theatre industry professionals and groups.
Moss Hart (playwright) was one of the 20th Century's most successful writers and directors for the Broadway stage. His first Broadway hit was ONCE IN A LIFETIME (1930), a farce about the arrival of the sound era in Hollywood, written in collaboration with George S. Kaufman. The two teamed on a string of successes, including YOU CAN'T TAKE IT WITH YOU (1936), THE MAN WHO CAME TO DINNER (1939) and GEORGE WASHINGTON SLEPT HERE (1940).
Hart later worked both with and without Kaufman on several musicals and revues, including: FACE THE MUSIC (1932); AS THOUSANDS CHEER (1933), with songs by Irving Berlin; JUBILEE (1935), with songs by Cole Porter; and I'D RATHER BE RIGHT (1937), with songs by Richard Rodgers and Lorenz Hart. Hart continued to write plays after parting with Kaufman, such as CHRISTOPHER BLAKE (1946) and LIGHT UP THE SKY (1948), as well as the book for the musical LADY IN THE DARK (1941), with songs by Kurt Weill and Ira Gershwin. However, he became best known during this period as a director. Among the Broadway hits he staged were JUNIOR MISS (1941), DEAR RUTH (1944) and ANNIVERSARY WALTZ (1954). By far his biggest directorial hit was Lerner and Loewe's musical MY FAIR LADY (1956). He later directed their musical CAMELOT (1960).
Hart also wrote screenplays, including GENTLEMAN'S AGREEMENT (1947) - for which he received an Oscar nomination, Hans Christian Andersen (1952), and A STAR IS BORN (1954). He wrote a memoir, ACT ONE: AN AUTOBIOGRAPHY, which was released in 1959. It was adapted as a movie in 1963, and adapted for the Broadway stage in 2014. Hart died in 1961.
IF YOU GO:
LIGHT UP THE SKY
by Moss Hart
Directed by Pat Murphy
September 26 - October 29, 2017
Citadel Theatre
300 S. Waukegan Rd., Lake Forest
Cast: Irene Currie, Chuck Dribin, Rob Frankel, JorDan Golding, Jim Heatherly, Sarah-Lucy Hill, Geoff Isaac, Lauren Miller, Chuck Quinn, Laurie Carter Rose
Creative Team: Pat Murphy (Director), Eric Luchen (Set Designer), Sandie Bacon (Scenic Artist), Cassandra Bierman (Lighting Designer), Paul Kim (Costume Designer), Devon Green (Properties Manager), Bob Boxer (Sound), Samantha Tink (Production Manager), M.J. Dougherty (Stage Manager). Scott Phelps and Kevin Sherman are Citadel's Artistic Director and Managing Director, respectively.
Dates: Preview Wednesday, September 27 at 7:30pm
Press Opening: Friday, September 29, 2017 at 8:00pm
Closing Performance: Sunday, October 29, 2017
Schedule: Thursdays at 7:30pm (no performance Thursday, September 28), Fridays at 8 pm (no performance Friday, October 13), Saturdays at 8pm, Sundays at 3pm, Wednesdays, October 4 and 18 at 11am
Location: Citadel Theatre at 300 S. Waukegan Rd, Lake Forest
Prices: Wednesdays, Thursdays and Fridays $37.50, Saturdays and Sundays $40, Previews $20. Discounts available for Seniors, Students, and for Groups of 10 or more.
Citadel Theatre is one of Chicagoland's premier live theatres, producing hundreds of performances annually and inspiring audiences for over 14 years. Founded by Scott and Ellen Phelps in 2002, Citadel Theatre is comprised of its Main Stage performances, its On Tour programs, and its theatre acting classes for children. A proud member of the League of Chicago Theatres and the Lake Forest/Lake Bluff ArtsLink, Citadel Theatre offers a unique intimate theatre experience that transports you to another setting and leaves you feeling exhilarated and wanting more. A recognized 501(c)3 non-profit organization, Citadel can accept tax-deductible donations. For more information, ticketing, and to make a donation, visit Citadel online at www.CitadelTheatre.org or call 847.735.8554.
Pictured (top row): Irene Currie, Chuck Dribin, Robert Frankel, JorDan Golding, Jim Heatherly; (bottom row) Sarah-Lucy Hill, Geoff Isaac, Lauren Miller, Chuck Quinn, Laurie Carter Rose