Lucky Plush's THE BETTER HALF Returns as Part of Steppenwolf's LookOut Series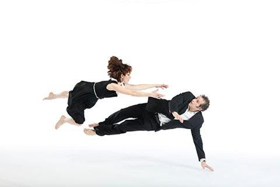 Lucky Plush Productions is thrilled to return to Steppenwolf's LookOut series this fall for a three-week run of The Better Half.
One of the company's most acclaimed works, The Better Half is a lively spin on the noir classic Gaslight that playfully captures the claustrophobia, escapist tendencies and resilience in domestic relationships, in a dance theater language full of surprising turns and contemporary resonance. The 2011 premiere was the first collaboration between now frequent creative collaborators Julia Rhoads, Lucky Plush founder and artistic director, and Leslie Danzig, formerly of 500 Clown.
Performances of The Better Life are November 2-17 at Steppenwolf's 1700 Theatre, an 80-seat cabaret-style space connected to Steppenwolf's own Front Bar: Coffee and Drinks,1700 N. Halsted St., Chicago. Show times are Thursdays, Fridays and Saturdays at 8 p.m.Press opening is Saturday, November 3 at 8 p.m. Industry nights are Monday, November 5 and 12 at 7:30 p.m.
Tickets to the November 2 preview are $25. Regular tickets are $40. Seniors 62+ and military tickets are $30. Industry Night tickets are $25. Student tickets are $15. Steppenwolf Red and Black Card holders may use their cards as per Steppenwolf policies. For tickets and information, visit Steppenwolf.org or call (312) 335-1650.
Note: Twice during the run of The Better Half - on Saturday, November 10 and 17 at
5 p.m. - Lucky Plush will also present two work-in-progress showings of Rink Life, the company's next world premiere, and recent recipient of a prestigious National Theater Project Award.
Photo: Lucky Plush artistic director Julia Rhoads with Adrian Danzig in The Better Half in 2011.