Hubbard Street Dance Chicago and Malpaso Dance Company Collaborate at the Auditorium Theatre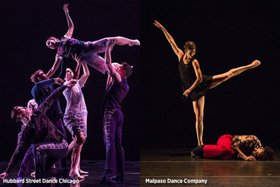 Two internationally-renowned and innovative contemporary dance companies, Hubbard Street Dance Chicago and Malpaso Dance Company, share the Auditorium Theatre's landmark stage on March 2 and 3, 2019 as part of the theatre's "Made in Chicago" 312 Dance Series.
This two-night-only engagement features two world premieres: Elemental, a work for Malpaso created by Chicago-based choreographer and former Hubbard Street dancer Robyn Mineko Williams (a video following the creative process of Elemental can be seen here), commissioned by the Auditorium; and The Windless Hold, set on Hubbard Street, choreographed by Malpaso Artistic Director Osnel Delgado, and commissioned by Hubbard Street.
The Auditorium Theatre's commission of Williams' Elemental is made possible through the generosity of Pamela Crutchfield (Lead Commissioner), with additional support from Patti Eylar & Charlie Gardner and Amalia & William Mahoney. Hubbard Street's appearance is generously supported by the Conagra Brands Foundation, Denise & John Ginascol, and Larry & Marla Gilbert.
"We are honored to present these two groundbreaking companies that are at the forefront of the contemporary dance scene in their respective cities, each renowned for its vibrant dance culture, and around the world," says C.J. Dillon, Auditorium Theatre Chief Programming Officer. "Bringing these companies together for the first time will showcase the important work that can result from cross-cultural collaboration."
"Bringing artists together to challenge and elevate our dancers and audiences here in Chicago is my focus as an artistic director," says Glenn Edgerton, Hubbard Street Dance Chicago Artistic Director. "Bringing cultures together while giving a platform for two unique choreographers to express themselves adds yet another element of commitment to these goals. It is a unique undertaking that I hope Chicago truly embraces. Welcoming Malpaso onto the Auditorium's stage with us speaks to the openness I hope for our country."
In addition to the world premieres, Hubbard Street reprises Williams' 2017 piece Cloudline, and Osnel Delgado performs his duet piece Ocaso with a Hubbard Street dancer. Cloudline, called "visually stunning" by See Chicago Dance, is set to music by Olafur Arnalds, Sufjan Stevens, Emitt Rhodes, Alice Sara Ott, and Julie London. Ocaso, which translates to "sunset," chronicles the evolution of a relationship in the aftermath of a catastrophic event and is set to music by Autechre, Kronos Quartet, and Max Richter.
Through the John D. and Catherine T. MacArthur Foundation's International Connections Fund, the Auditorium Theatre is conducting community engagement around the Hubbard Street and Malpaso performances. Community groups will participate in workshops that focus on community-building themes and attend the performances for free through the Auditorium's ADMIT ONE program. Auditorium Theatre Teaching Artists will host Power in Movement dance residencies at local public high schools in the weeks following the performances.
About Hubbard Street Dance Chicago
Hubbard Street Dance Chicago's core purpose is to bring artists, art and audiences together to enrich, engage, educate, transform and change lives through the experience of dance. Celebrating Season 41 in 2018-19, under the artistic leadership of Glenn Edgerton, Hubbard Street continues to innovate, supporting ascendant creative talent while presenting repertory by internationally recognized living artists. Hubbard Street has grown through the establishment of multiple platforms alongside the Lou Conte Dance Studio - now in its fifth decade of providing a wide range of public classes and pre-professional training - while extensive Youth, Education, Community, Adaptive Dance, and Family Programs keep the organization deeply connected to its hometown.
About Malpaso Dance Company
In the six short years since its establishment in 2012, Malpaso Dance Company has already become one of the most sought after Cuban dance companies with a growing international profile. Emphasizing a collaborative creative process, Malpaso is committed to working with top international choreographers while also nurturing new voices in Cuban choreography. The company tours with 11 dancers and is led by its original three founders; resident choreographer and Artistic Director Osnel Delgado, Executive Director Fernando Sáez, and dancer and co-founder Daileidys Carrazana. An Associate Company of Joyce Theater Productions, Malpaso has commissioned original works from a number of prominent North American choreographers, including Ron K. Brown (Why You Follow), Trey McIntyre (Under Fire), Sonya Tayeh (Face the Torrent), Cecilia Bengolea (Liquidotopie), and acclaimed Canadian choreographer Aszure Barton (Indomitable Waltz).
Tickets start at $29 and are available online at AuditoriumTheatre.org, by phone at 312.341.2300, or in person at the Auditorium Theatre Box Office (50 E Ida B Wells Dr). Hubbard Street Dance Chicago/Malpaso Dance Company is part of the "Made in Chicago" 312 Dance Series, which also includes Trinity Irish Dance Company and offers a 20% discount on tickets.