First Floor Theater's MIKE PENCE SEX DREAM Makes World Premiere February 16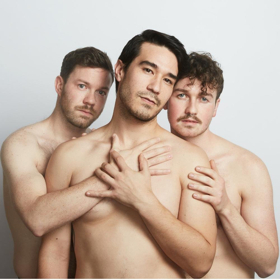 First Floor Theater continues its seventh season with the world premiere of Dan Giles' twisted and timely MIKE PENCE SEX DREAM, directed by Artistic Director Hutch Pimentel, playing February 16 - March 16, 2019 at FFT's resident home,The Den Theatre (2B), 1331 N. Milwaukee Ave. in Chicago. Tickets are on sale now at firstfloortheater.com. The press opening is Wednesday, February 20 at 7:30 pm.
MIKE PENCE SEX DREAM will feature Collin Quinn Rice, Scott Shimizu and Gage Wallace.
In the aftermath of Trump's election, newlyweds Gary and Ben have to keep each other sane and solvent. But as the country's political landscape drives Ben to his breaking point, Gary changes too -in ways that he has to keep secret from his husband. Gary can't tell Ben about the nightly seductions of a certain phantasmagorical fascist. And he definitely can't tell Ben that in the process of bringing home the bacon, he's fallen in love with a pig. From the recent past to our imminent dystopia, Mike Pence Sex Dream is a romantic travesty exploring the depths to which one man's self loathing can drag him.
The production team for MIKE PENCE SEX DREAM includes William Boles (scenic design), Uriel Gomez (costume design), Claire Chrzan(lighting design), Eric Backus (sound design), Erin Gautille (props design), Claire Stone (special effects design), Micah Figueroa (fights and intimacy choreographer), Breon Arzell (choreographer), Carol Ann Tan (dramaturg), Caitlin McCarthy (production manager) and Kayla Menz(stage manager).
About the Artists
Dan Giles' (Playwright) plays have been produced and developed with Ensemble Studio Theatre, New Light Theater Project, Next Door at New York Theatre Workshop, Amanda+James, FaultLine Theater (San Francisco), the Great Plains Theatre Conference (Omaha), the Kennedy Center (D.C.), and others. His play Breeders was a Time Out NY critic's pick and received the New Light New Voices Award and the Kennedy Center ACTF's Mark Twain Prize. Other awards include the A.R.T.'s Phyllis Anderson Prize and an Alfred P. Sloan Screenwriting Award. MFA Carnegie Mellon School of Drama. Member of Youngblood, the collective of playwrights at Ensemble Studio Theatre. dangilesplaywright.com.
Hutch Pimentel (Director) is a director and producer in Chicago. He is the Artistic Director of First Floor Theater where he has directed Polaroid Stories, Edith Can Shoot Things & Hit Them, Animals Commit Suicide, peerless, Two Mile Hollow and produced numerous other shows. During his time in Chicago, he has had the pleasure of working at About Face Theatre, American Theater Company, Polarity Ensemble, Redmoon, The Gift Theatre, The Goodman and Victory Gardens. He has worked outside of Chicago at Oregon Shakespeare Festival and The Vineyard Theatre. He is an Associate Member of SDC and graduated from Kalamazoo College in Michigan.
About First Floor Theater
Founded in 2012, First Floor Theater stages stories of individuals facing moments of radical change. Through a process of collaborative dramaturgy, FFT expands these stories to ask urgent social questions. For more information on First Floor Theater, visit firstfloortheater.com.
PHOTO CREDIT: (left to right) Gage Wallace, Scott Shimizu and Collin Quinn Rice in a publicity image for First Floor Theater's world premiere of MIKE PENCE SEX DREAM. Photo by Sam Doyle Photography.