Collaboraction Theatre announces free performance of ENCOUNTER ENGLEWOOD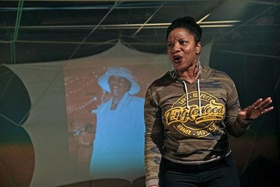 Collaboraction, Chicago's home for social-issue driven contemporary theater, will present Encounter Englewood, a free evening of live performance, one-night-only, Saturday, February 9 at 7 p.m. at Kennedy-King College Theater, 740 W. 63rd St. in Chicago's Englewood neighborhood.
Encounter Englewood, curated from Collaboraction's recent Encounter Series, is a collection of live theater, spoken word and contemporary dance, each created by artists from Chicago's South side. Tickets are free but online reservations are encouraged at collaboraction.org. For more information, email boxoffice@collaboraction.org or call Collaboraction at (312) 226-9633.
The hyperlocal-focused line-up for Encounter Englewood includes:
Folded Map in collaboration with Tonika Johnson, adapted by Brit Robinson and directed by Brighid O'Shaughnessy and Penelope Walker, is a world premiere short play about Englewood resident and Chicago Magazine 2017 "Chicagoan of the Year" Tonika Johnson.
It tells the story of her journey to becoming an artist and activist, and the stories of her first Folded Map Project "twins" - residents from North Side communities like Rogers Park and their geographic counterparts in Englewood. Johnson is also co-founder of Resident Association of Greater Englewood (R.A.G.E.) and well-known for her Englewood Rising billboards;
Missing, a seven-minute work by B.B. Browne, directed by Brandi Jiminez Lee, about black women and girls who have gone missing from the South side of Chicago;
?Spoken word from Example Setters Youth Poetry, South side Chicago teens who set the example "all day, every day," led by Collaboraction's 2017 Artist Award winner Sir Taylor;
?Of Wine and Chocolate, a contemporary dance piece about racial healing by Banks Performance Project, led by and featuring choreography by South side dance artist Elysia Banks;
Encounter Englewood will conclude with a Crucial Conversation led by Tonika Johnson, Collaboraction Managing Director Dr. Marcus Robinson and Artistic Director Anthony Moseley.
Encounter Englewood is a part of Collaboraction's One City strategic plan to produce more programming in Englewood.
"As part of our One City plan, Collaboraction is actively cultivating work and relationships in Englewood towards eventually opening a neighborhood theater that will broaden the voice and audience of Chicago theater while creating space for crucial conversations for Chicagoans to heal and transform," said Moseley. "With this incredible line-up of artists, that is what we are going to do at Encounter Englewood."
Robinson, Managing Director of Collaboraction and a resident of Englewood, added "bringing selected works from the Encounter Series to my neighborhood and working with my friends at the R.A.G.E and Kennedy-King College means a lot to me. The use of art to provoke meaningful conversation is well established. Devised theater, the sharing of time, space, truth and humanity is a powerful catalyst for deep dialogue on the issues that matters most. At Collaboraction, we believe telling real stories about the issues of oppression in ways that allow each of us to stand and walk in the shoes of others promotes empathy, understanding, and a desire to take action. In this way, Collaboraction contributes to the work of making Greater Englewood a better place to live, work and raise our families."
Collaboraction's 2019 Encounter Series was curated around the themes of equity and inclusion through open and invited submissions from more than 200 Chicago artists working in a variety of media including dance, music, spoken word, and theater. The series closed following a successful run January 15-27 at Collaboraction's home in Wicker Park, where, notably, every performance ofFolded Map was sold out.
Photo: Tonika Lewis Johnson
More Hot Stories For You