Collaboraction Announces Cast For TRIAL IN THE DELTA: The Murder Of Emmett Till
Performances run February 9-19, 2023.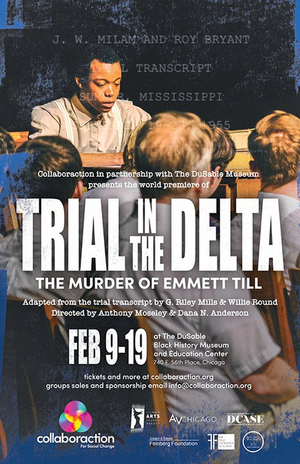 Collaboraction Theatre announces the cast and design team for Trial in the Delta: The Murder of Emmett Till, a live, fully-produced stage production during Black History Month, running February 9-19, 2023 at and co-presented with The DuSable Black History Museum and Education Center. Tickets, $30-$55, are on sale at collaboraction.org.
Collaboraction's cast for Trial in the Delta: The Murder of Emmett Till features Richard Alan Baiker as Judge Curtis Swango, Maddy Brown as Carolyn Bryant, Tyler Burke as Roy Bryant, Colin Callahan as Robert Hodges, Kayla Franklin as Mamie Till-Bradley, Darren Jones as Mose Wright, Ron David Lipski as the Clerk, Andy Luther as district attorney Gerald Chatham, Matt Miles as J.W. Milam, Lyle Miller as Chester Miller, John Henry Roberts as John Edward Cothran/Peter Hackus, Matt Rosin as George Smith, Steve Silver as defense attorney J.J. Breland, Jamie Vann as H.C. Stride and Mysun Aja Wade as Willie Reed.
The full Trial in the Delta creative team is G. Riley Mills and Willie Round, co-adaptors; Anthony Moseley and Dana Anderson, co-directors; Emmy Weldon, scenic and video design; Alexandria Richardson, costume design; Phoenix Ballentine, lighting design; Warren Levon, sound design; Shawn Wallace, original music; Mariah Bennett, props design; Dre Robinson, production manager; Isabella Noe, technical director; and, Teniyah Hall, assistant stage manager. The producer of Trial in the Delta is Collaboraction's interim managing director, Carla Stilwell.
This presentation of Trial in the Delta: The Murder of Emmett Till is made possible in part thanks to generous support from: AV Chicago, Chicago Department of Cultural Affairs and Special Events, Joseph and Bessie Feinberg Foundation, Illinois Arts Council Agency, Monahan Law Group, LLC, Rotary Club of Naperville and Pinnacle Performance Company.
Trial in the Delta plays like a live, interactive reenactment experience of the actual court proceedings that occurred in Sumner, Mississippi in 1955, using only the same words that were actually said during the trial.
Actors playing witnesses for the defense and prosecution, including Emmett Till's mother, Mamie Till-Bradley, his uncle, Mose Wright, and others will be seated among the audience, bringing the courtroom action to vivid life.
Key characters based in real life include judge Curtis Swango, defense attorney J.J. Breeland, district attorney Gerald Chatham, and J.W. Milam and Roy Bryant, the two men found not guilty of murdering Emmett Till, one of the most monumental injustices of the U.S. legal system in the 20th century.
To bring the once-hidden trial to life, Collaboraction commissioned Chicago playwrights G. Riley Mills and Willie Round to co-adapt the original 354-page transcript into a 90-page immersive theatrical reenactment of what actually occurred in that 1955 rural Mississippi courtroom. Collaboraction Artistic Director Anthony Moseley and Company Member Dana Anderson are co-directors.
"Once in a lifetime, if we are lucky, a project like this comes along and all we can do is play our part to serve the greater good of telling an important story and belonging to each other," said Moseley. "There are many plays about Emmett Till, but they are fictions created out of horrid facts that only guess at the actual language. When audiences experience how everything actually went down in that Mississippi courtroom, the impact is even more profound."
Perri Irmer, President and CEO of The DuSable, said "Trial in the Delta allows contemporary audiences to experience this flagrant and historic racial injustice of our legal system. Placed in the context of today's much-publicized trials against Black men, this new work also illuminates ways in which history repeats itself."
Trial in the Delta launches its run with a student matinee, Thursday, February 9 at 10:30 a.m. Public performances follow Friday and Saturday, February 10 and 11 at 7 p.m.; Thursday, Friday and Saturday, February 16-18 at 7 p.m., and Sunday, February 19 at 3 p.m.
Press opening night is Saturday, February 11 at 7 p.m.
Run time is two hours. Each performance will be followed by a Crucial Conversation introduced by Pilar Audain, associate director, Truth, Racial Healing, and Transformation (TRHT) Greater Chicago, housed at The Chicago Community Trust, and lead writer/performer/guide of Collaboraction's recent "healing theater" production, Moonset Sunrise.
Tickets to Trial in the Delta are $30-$55, and are on sale at collaboraction.org.