Chicago Human Rhythm Project Welcomes Artist In Residence Dani Borak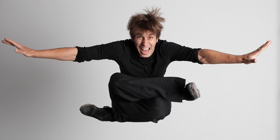 Chicago Human Rhythm Project (CHRP) has announced that world-renowned performer, choreographer and teacher Daniel "Dani" Borak is its Artist In Residence (A.I.R.). Borak's three-year residency will be longer and more expansive in scope than previous CHRP artist residencies, with his responsibilities encompassing not only performing, teaching and choreographing but also artistic planning for multiple programs, beginning this spring.
CHRP Founder and Director Lane Alexander commented, "I am thrilled Dani will spend three years with CHRP as a choreographer, teacher, performer and visionary, focusing his skills and talents on artistic planning and production. His abilities as a multi-form dancer connect directly to CHRP's first days in 1988 as a tap and contemporary dance men's duet company, which sought to cross lines and push boundaries. I can't think of a single dancer who is more suited to lead CHRP's artistic programming into its next phase of development. This is also important as it relates to the development of American tap in an institutional setting. There's almost no precedent of a tap 'company' undergoing leadership expansion. Tap dance has lived almost entirely in the commercial world, where the curtain closes and the show is over. The tap 'institutions' that exist are too young to have undergone this type of transition, which makes it new for American tap."
Borak made his first public appearances in his role as A.I.R. throughout the third annual STOMPING GROUNDS festival, CHRP's citywide series of free community performances and education programs culminating June 2 at the Studebaker Theater. Borak contributed three of his works combining choreographed and improvised material and, with other CHRP dancers, performed three classic tap works: Opus One by Harold Cromer, Laura by Buster Brown and Big Diesel Going North by Lon Chaney.
For CHRP's summer festival Rhythm World's JUBA! performance July 21, also CHRP's annual Jubalee gala benefit, Borak is collaborating with Alexander to assemble a program that includes a U.S. premiere by Borak combining hip hop and contemporary elements, an adaptation of a work he premiered with his company Tap Dan's Company rearranged for CHRP tap dancers. Borak is curating and directing three other festival performances, including the opening night concert July 17 at the Jazz Showcase, the free concert July 19 at Navy Pier's new Polk Bros Performance Lawns and the second JUBA! concert July 22 at the Studebaker Theater.
CHRP Board Chair Mike Foster commented, "We have been impressed with Dani's growth as we've watched his development at our Rhythm World festivals. The board is so excited he has joined us, bringing the energy and creativity to move CHRP forward during the next several years."
From September 21 through 23, for CHRP's return to the Dance Center of Columbia College Chicago for the first time in more than 10 years, Borak plans to assemble a program featuring the first part of a world premiere multi-part conceptual work, along with Michelle Dorrance's Push Past Break, Lane Alexander's Prisms and works from the STOMPING GROUNDS and Rhythm World JUBA! performances.
"I remember Dani when he was a teen at our summer festival doing his first solo," recalled former Board Chair Elaine Cohen. "I was absolutely blown away by his talent as a dancer and his charisma as a performer. Since then Dani has grown to be an incredible performer, director and producer. I can hardly wait to see the kinds of programs he will bring to CHRP!"
Borak has developed an extensive list of artistic initiatives he will implement throughout 2018 and 2019, which CHRP will announce later this year.
Passionate about experimenting and collaborating with a broad spectrum of performing and visual artists, Dani Borak has already expanded the concept of traditional tap dancing, creating his own blended vocabulary pointing toward the future of percussive dance and rhythmic expression. A native of Switzerland (Winterthur), Borak has performed as a soloist around the world and has won 11 gold medals in many categories (six in solo male) at the tap dance world championships in Riesa, Germany. In 2014, he collaborated on the creation of Funny Feet (by Lukas Weiss Productions), a show that fused tap dance, juggling, virtuosic foot percussion and humor. Other shows featuring his performances in 2014-15 included WINGS by Rigolo, Kilian Deissler's Kick The Square and, thanks to Regine Ochsner, Rhythm Refix by Cartier Williams. Companies and projects he has performed and toured around the world with include Stylize, directed by Sandro Minasi, which combines different dance styles including break dance and tap; DaNaTI, a collaboration with Swiss dancer and choreographer Natalie Wagner that combines tap, jazz, contemporary dance and acting; Carpe Rhythmum, a Swiss tap ensemble directed by Daniel Leveillé; tap dancer Ursina Meyer, a longtime partnership; Tap Dan's Company; projects with his mother, Liba Borak, and their dancers from Dance Studio Borak; and "Dog, Sheep & Shepherd"with the jazz duo Gabriela and Jan Pisklák. He also has taught workshops and been invited to tap festivals all over the globe. Borak first came to CHRP's Rhythm World festival as a scholarship student in 2008, returning in 2010 and 2011. In 2014 and 2015, he came back as a guest teacher, performer and director before taking on the expanded role of Artist In Residence in 2017.
For tickets and information about CHRP and its programs, visit chicagotap.org.
Chicago Human Rhythm Project (CHRP) creates community through American tap and contemporary percussive arts in world-class, innovative performance, education and outreach programs. Believing tap is to dance what jazz is to music-an American contribution to global culture-CHRP has been presenting American tap and global percussive dance for almost 30 years, evolving from a summer tap festival into the world's first, year-round presenter dedicated to foot-drumming and contemporary rhythmic expression. Central toCHRP's performance, education and community activating programs is its mission to build bridges between individuals and communities through the practice and appreciation of rhythm. Whether as part of the oldest and largest tap festival on the globe, Rhythm World; the collaborative citywide percussive dance festival, STOMPING GROUNDS; year-round education programs in Chicago Public Schools, We All Got Rhythm; or its shared dance/arts incubator, the American Rhythm Center (ARC), CHRP focuses on artistic excellence, innovation, authentic diversity and cultural pluralism. CHRP received an Emmy nomination for its PBS-ITVS documentary JUBA! Master of Tap and Percussive Dance; curated the first-ever full-length tap concert in a major theater at the Kennedy Center; has officially represented the U.S. in dance festivals in South America, Asia and Europe; and has been lauded as a pioneer in the field by the New York Times. Past students receiving great acclaim include, among many others, MacArthur "Genius" Michelle Dorrance, Broadway hoofers Karissa Royster and Lee Howard and Jazz at Lincoln Center soloist Jared Grimes.
Photo of Dani Borak by Milad Ahmadvand.

Related Articles View More Chicago

Stories

Shows
More Hot Stories For You