Click Here for More Articles on TAP - TAP
CHRP Alumni Take Tap Skills to Drury Lane's 42ND STREET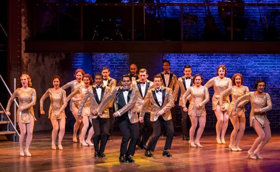 For 28 years, Chicago Human Rhythm Project (CHRP) has exposed young participants and scholarship students to the teaching and experience of masters in the field like Savion Glover, Jimmy Slyde, Dianne "Lady Di" Walker and more. CHRP alumni include many of the world's leading tap dance performers, choreographers and directors - making their mark around the world and Chicago.
Jared Grimes, CHRP student (1995-98) and soloist with Wynton Marsalis's Jazz at Lincoln Center Orchestra, has choreographed the completely reimagined 42nd Street now playing at Drury Lane Theatre in Oakbrook Terrace. Chicago Sun-Times Theatre and Dance Critic Hedy Weiss gives credit for the "downright revolutionary" production "electrifying audiences" to Grimes, "whosemarathon dance sequences rival the work of such contemporary tap masters as Savion Glover and Michelle Dorrance..." Chicago Tribune Theatre Critic Chris Jones calls it "the best show I've seen at Drury Lane in 20 years. It's absolutely not to be missed." Grimes studied intensively at CHRP's annual summer festival, Rhythm World, in the Youth Tap Ensemble Conference (YTEC) program, which emphasizes technique, improvisation, theatre-related skills and-the heart of the program-choreography.
Three other CHRP alumni are appearing in 42nd Street, including Tristan "Tapman" Bruns, Time Brickey and Davon Suttles. Suttles, who postponed his senior year as a musical theatre major at Columbia College Chicago to perform in Drury Lane's two-month run, also participated in the YTEC program for four years and represents a second generation of this internationally recognized program.
All these artists are alumni of CHRP's principal training program, Rhythm World, the largest and most comprehensive festival of American tap in the world. Celebrating its 28th year, Rhythm World takes place July 15-22, 2018 featuring programs for pre-professionals, children and teacher certification, as well as a Youth Tap Ensemble Conference, courses, workshops, master classes, nightly concerts, special events and the world's only STOMP Intensive designed by STOMP creator Luke Cresswell. For the third year of a five-year cycle, the festival's theme, Root and Branch, shines the spotlight on the talented performers, choreographers and teachers who have "grown up" with CHRP and the masters who first inspired them. Noted CHRP graduates who have returned to teach in the past include MacArthur "Genius" Michelle Dorrance, Broadway dancers Lee Howard and Karissa Royster (currently dancing with Savion Glover), Chicago Dancemakers Forum Learning Lab grantee Jumaane Taylor, Regional Dance Development Initiative recipient Nico Rubio and many others.
A complete list of 2018 faculty and programs will be available soon at chicagotap.org.
Drury Lane Theatre's 42nd Street continues through January 7, 2018. For tickets, call the Drury Lane Theatre box office at 630-530-0111, TicketMaster at 800.745.3000 or visit DruryLaneTheatre.com.
ABOUT THE ARTISTS:
Jared Grimes (Choreographer) has danced alongside legends such as Wynton Marsalis, Gregory Hines, Ben Vereen, Jerry Lewis, Fayard Nicholas, and also performed for President Obama and Ted Kennedy at the Kennedy Center. Grimes toured with Mariah Carey, under the choreography of Marty Kudelka, and danced for artists such as Common, Salt-n-Pepa, Envogue, Busta Rhymes, and the Roots. Theatre credits include: Twist (dir. Debbie Allen), Scottsboro Boys (workshop directed by Susan Stroman), Pure Country, Babes in Arms (Goodspeed), Sammy (dir. Debbie Allen), Vaudeville, and Broadway Underground (dir. by himself). Commercials credits include Coca-Cola, Subway, MTV, Chili's (choreographer). TV credits include Star Search, Showtime at the Apollo, Dance Fever, The Jerry Lewis Telethon. Choreography: Cirque du Soleil's Banana Schpeel. Film credits include The Marc Pease Experience, Little Manhattan, and First Born.
Time Brickey (Ensemble, Thug) is a tap dancer, musician, and entertainer from Chicago. He is a graduate of Millikin University's School of Music and an Apprentice Member of M.A.D.D. Rhythms, where Time is now finishing his professional training. Additionally, Time performs regularly with the Chicago Human Rhythm Project and was seen in in Dance for Life Chicago, the Stomping Grounds Festival, JUBA!, and as a soloist at the Billy Strayhorn Centennial, where he was described by the Chicago Tribune as a "Literal Loose Cannon." Recently, Time was featured tap dancing on 91.1 Vocalo with DJ Ayana Contreras for her Reclaimed Soul in The Parks event. As well as performing, Time has composed, arranged, and choreographed for his own various projects and productions.
Tristan Bruns (Ensemble) is a native Chicago tap dancer who received his training from Donna Johnson, Ted Louis Levy, Martin 'Tre' Dumas III, Lane Alexander and Sam Weber. He has performed works by Michelle Dorrance, Lane Alexander, Ted Louis Levy, Lou Conte and Daniel Borak. Tristan has served on faculty at Circle City Tap Festival (Indianapolis) and Chicago Human Rhythm Project's Rhythm World. Notable performances include: Jumaane Taylor's Supreme Love, Stomping Grounds percussive dance festival and various television appearances, including The Steve Harvey Show. Tristan is a current member of MADD Rhythms and Chicago Human Rhythm Project.
Davon Suttles (Ensemble) is an emerging performing artist from Minneapolis, Minnesota. Growing up performing in Keane Sense of Rhythm's Youth Tap Ensemble, Davon developed a love for dance, which brought him to attend Saint Paul Conservatory for Performing Artists for high school, where he also discovered a passion for Musical Theatre. From there he went onto perform in productions at The Children's Theatre Company in Minnesota and at Columbia College Chicago where he majors in Musical Theatre. Over the years, Davon has had the privilege to travel both nationally and internationally to teach and perform the art forms that he loves.
Pictured: CHRP dancer Tristan Bruns (just R of C) appears in 42nd Street. Photo by Brett Beiner.
Related Articles
More Hot Stories For You