BWW Review: THE RECOMMENDATION at Windy City Playhouse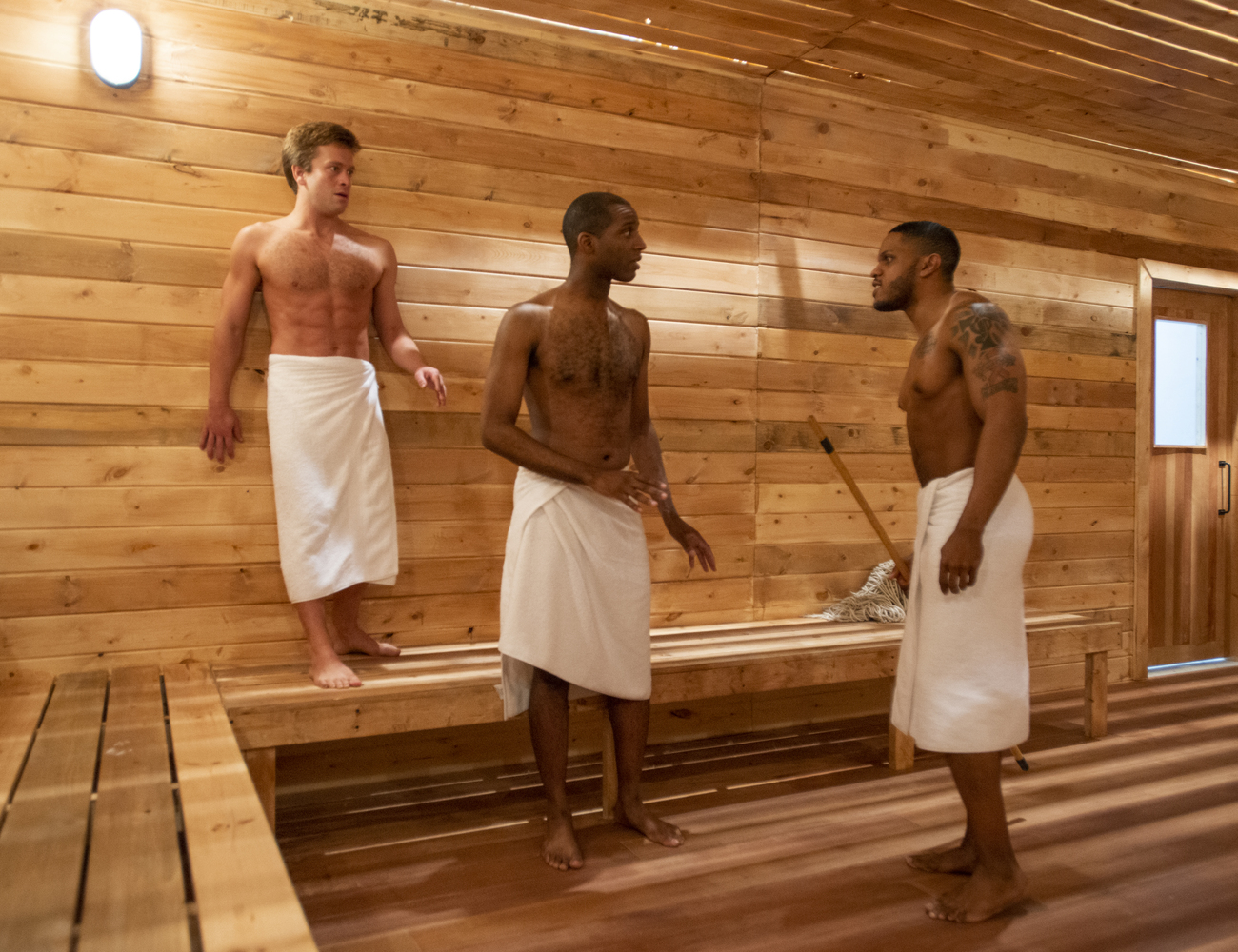 Upon arrival at Windy City Playhouse's flagship venue in Irving Park, audience members are handed an acceptance letter welcoming them to Brown University's class of 2011. Thus begins an intimate journey through the world of THE RECOMMENDATION, written by Jonathan Caren and directed by Jonathan Wilson. For its Chicago premiere, Windy City Playhouse artistic director Amy Rubenstein has overseen a revised script and a new concept that stages Caren's play in the theater's signature immersive style. Audiences follow the actors from room to room and even drink alongside them, from slurping Jello shots in a college dorm to sipping sake in a Hollywood lounge.
Beginning in the dorm, we meet Iskinder Iodouku (Michael Aaron Pogue), the idealistic and hard-working son of an Ethiopian immigrant, as he gets to know his freshman roommate and newfound friend, Aaron Feldman (Julian Hester), the son of a wealthy lawyer from L.A. Unsurprisingly, Aaron is accustomed to being handed opportunities on a platter, and as the young men approach graduation, he eagerly tries to extend this privilege to his friend by having his father write Iskinder's recommendation to law school.
Fast-forward a few years, and both men are less than satisfied with their lives. Aaron works as a film director's assistant, mostly making lattes, house-sitting his boss's mansion, and wondering why he hasn't made it further up the ladder in Hollywood. Iskinder, desiring the wealthy lifestyle to which Aaron has exposed him, takes a job with a private law firm and feels guilty about abandoning his ambition to become a public defender.
The action takes a darker turn when Aaron is arrested and spends the better part of one day behind bars. A fellow prisoner, the unstable yet entertaining Dwight Barnes (Brian Keys), becomes an unexpected ally and helps Aaron navigate his short stint in state prison. In return, Aaron promises that when he is bailed out, his lawyer father will secure Dwight's release-but will he keep his word?
This brief encounter sets the play's three characters on a fateful course, and their lives intertwine in a fashion reminiscent of JB Priestley's classic work of social criticism, AN INSPECTOR CALLS. Despite the difference in setting, THE RECOMMENDATION echoes several of Priestley's themes: the power wielded by those with privilege, the myriad ways in which lives are connected across societal divides, and the inescapable consequences of past actions. To reinforce these ideas, the play's title becomes a recurring motif as the three men wrestle with issues of privilege, class, and race.
Rubenstein's immersive concept amplifies the drama and the audience's opportunity for engagement with this production. Intense action scenes are staged only inches from viewers, and actors regularly interact with audience members. Though I've never seen it staged traditionally, I suspect that the 2.5-hour play would move rather slowly without the continuous curiosity about what the next scene will look, feel, and taste like. The dialog, which largely consists of extended, two-person conversations, could benefit from some cuts. Nevertheless, with its intriguing plot, thought-provoking themes, strong acting, and immersive staging, THE RECOMMENDATION offers a memorable and unique theatrical experience.
THE RECOMMENDATION runs through September 22 at Windy City Playhouse Flagship, 3014 W. Irving Park Road, Chicago, IL 60618. Tickets are available at 773.891.8985 or windycityplayhouse.com.
Photo credit: Michael Brosilow
Review by Emily McClanathan
Related Articles View More Chicago

Stories

Shows
Emily McClanathan works in theater administration in Chicago and holds a Master of Arts in Modern History from King's College London.