Review: THE PRODUCERS at Paramount Theatre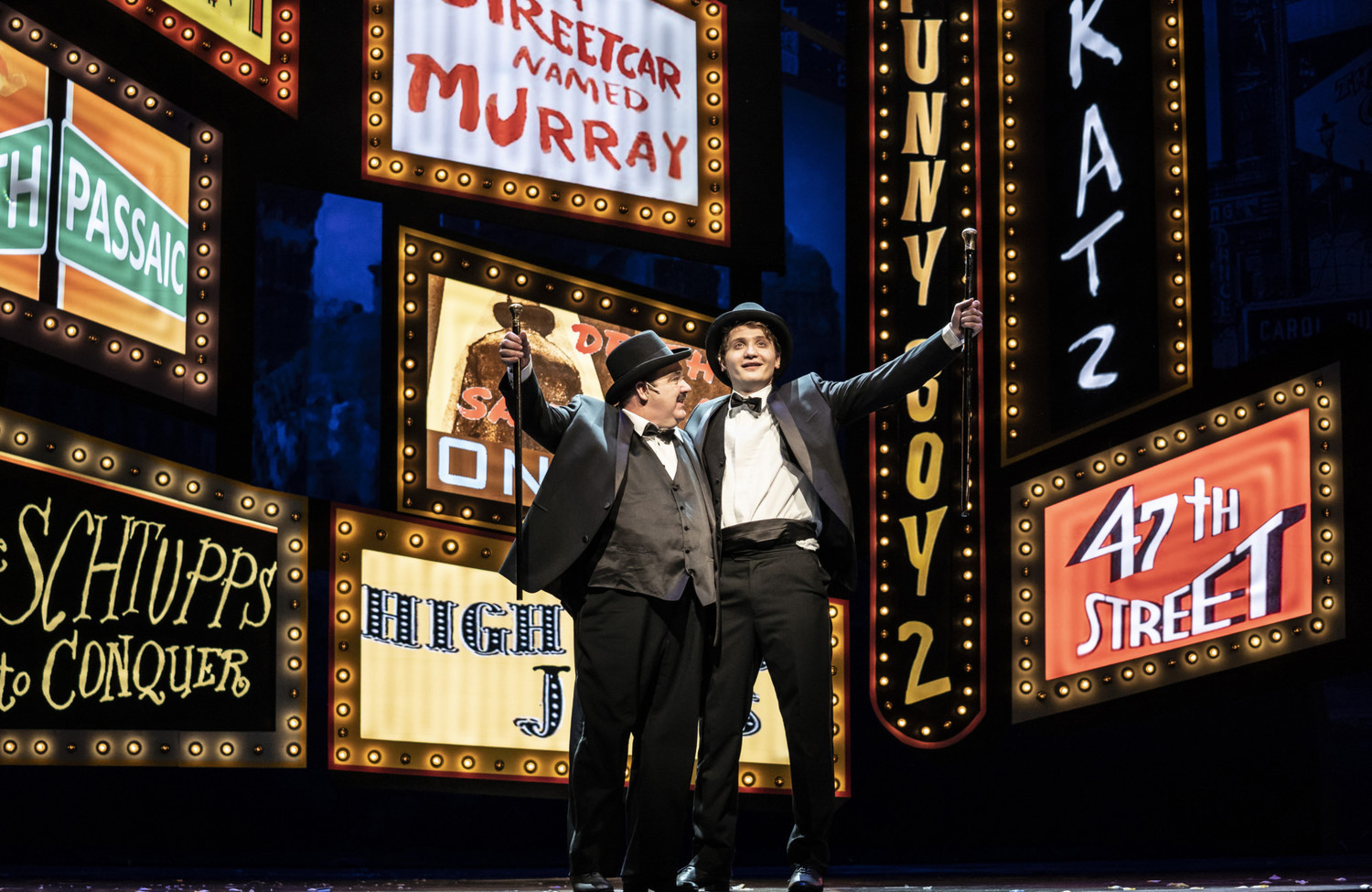 Before attending THE PRODUCERS at Paramount Theatre, I had a disturbing dream in which this production cut everything deemed offensive or politically incorrect from the original: tap-dancing Nazis, sex-crazed old ladies, grossly stereotyped portrayals of, well, everyone. "But what will they have left?" my dream-self protested. Fortunately, my fears were allayed upon seeing Paramount's production; director Jim Corti stages a madcap romp that revels in the irreverent humor of Mel Brooks.
When THE PRODUCERS opened on Broadway in 2001, it won a record-breaking twelve Tony Awards (yes, more than HAMILTON). Mel Brooks and Thomas Meehan adapted the musical's book from Brooks' 1967 film of the same title, and Nathan Lane and Matthew Broderick went on to reprise the roles they originated on Broadway in the 2005 film remake.
For those unfamiliar, the premise is simple: producer Max Bialystock (Blake Hammond), formerly 'King of Broadway,' is one flop away from financial ruin after his latest disaster, Funny Boy (a musical based on HAMLET). When his new accountant, anxiety-riddled Leo Bloom (Jake Morrissy), hypothesizes that a producer could actually make more money from a sure-fire flop than from a hit, Bialystock hatches a plan. Together, they will hunt down the worst show ever written, hire the worst director and actors in town, raise two million dollars to fund the production... and escape to Brazil with the proceeds before the ink has dried on the scathing reviews.
Broadway veteran Blake Hammond brings a strong sense of comedy to the role of Bialystock. Particularly memorable are his scenes with "Hold-me Touch-me" (Sara Reinecke) and the host of similarly nicknamed old women who fund his shows in exchange for certain... favors. Starring opposite Hammond, Jake Morrissy makes a suitably neurotic Bloom, clutching his beloved blanket to calm his hysterics when things go wrong (as they often do). The two leads are well matched, not only as comedians but also musically; Hammond's rich vocals nicely balance out Morrissy's pleasant tenor in their duets.
Embarking on their devious scheme, Bialystock and Bloom encounter a host of ridiculous characters. In true Mel Brooks fashion, any ethnicity, gender, or orientation is fair game for an exaggerated send-up. First up is Franz Leibkind (Ron E. Rains), the manic Nazi bird-lover who pens Bialystock and Bloom's designated flop, SPRINGTIME FOR HITLER: A GAY ROMP WITH ADOLF AND EVA AT BERCHTESGADEN. Sporting lederhosen and a hackneyed German accent, Leibkind coerces the producers into dancing to a Bavarian folk tune and swearing the suspicious "Siegfried Oath" before he signs over the rights to SPRINGTIME.
Rights procured, Bialystock and Bloom proceed to woo egotistical director and drag queen Roger DeBris (Sean Blake) into directing the show. Together with DeBris' partner, Carmen Ghia (Adam Fane), and his equally fabulous creative team, Blake gives a rousing rendition of "Keep It Gay." Finally, Ulla (Elyse Collier), a beautiful Swede, sings and dances her way into the cast of SPRINGTIME, sweetening the deal by doing a bit of administrative work and a lot of flirting on the side. Each of these principals delivers on the over-the-top humor to be expected in a Mel Brooks show, ensuring plenty of laughs even before Act I is over.
The highlight of Act II, the musical-within-a-musical performance of SPRINGTIME FOR HITLER, is everything one could hope for. Nathan Mittleman opens the number with the Lead Stormtrooper's soaring solo, paving the way for DeBris (Blake) to steal the show as a very gay Hitler. When SPRINGTIME proves an unexpected hit, the farcical comedy continues as the producers face the consequences of their failed conspiracy. The humor also gives way to some heartwarming moments of friendship, such as Bialystock and Bloom's duet, "'Til Him."
Fans of the original Broadway production and/or both movies should be pleased with Paramount's take on this classic, while newcomers to THE PRODUCERS will have plenty of fun meeting these zany characters for the first time. And, as Brooks himself notes, comedy can be a powerful weapon; laugh at a dictator such as Hitler, and "they can't win. You show how crazy they are."* Perhaps it's this perspective that makes this adaptation of a 1960s film feel so relevant today. When the news is continually depressing, a comedy as ridiculous as THE PRODUCERS is a reminder that good can win. Plus, it's a heck of an entertaining ride.
THE PRODUCERS runs through March 17 at Paramount Theatre, 23 E. Galena Blvd., Aurora, IL 60506. Tickets are available at 630-896-6666 or paramountaurora.com.
Review by Emily McClanathan
Photo credit: Liz Lauren
*Quoted in director Jim Corti's program notes