BWW Review: A CHRISTMAS CAROL at The Goodman Theatre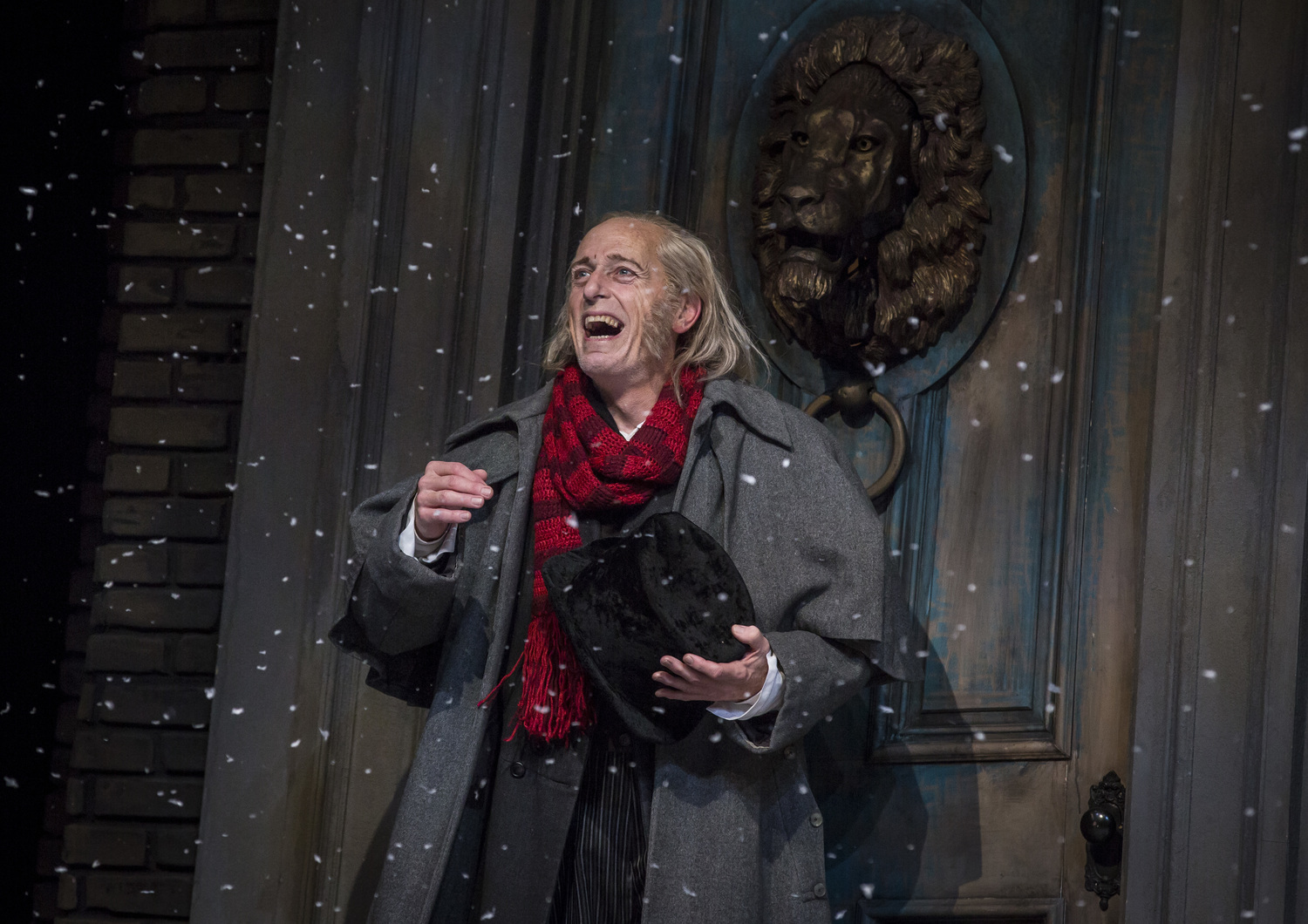 With its mixture of darkness and light, Charles Dickens' A CHRISTMAS CAROL is a long-standing holiday tradition that takes audiences on a journey of misery, revelation, and redemption. Now in its 40th year on stage at The Goodman Theatre, this tale stands the test of time, with some fresh updates that reveal room for even more.
Most of us know that story of Ebenezer Scrooge (Larry Yando, now in his 10th season in the role), the miser who despises Christmas and pretty much everyone and everything around him. He torments his only employee, Bob Cratchit (a delightful, witty Ron E. Rains) with long hours and below standard working conditions. And he pushes away his niece, Frida (a sincere, determined Ali Burch), who wants nothing more than to share the holiday with her uncle.
On a dark, snowy Christmas Eve, Scrooge is visited by the ghost of his former partner, Jacob Marley (a haunting and amusing Joe Foust), who warns him to change his ways or be forever damned. Marley's warnings are set in motion, as Scrooge is visited by three spirits who show him the error of his ways through Christmas seasons past, present, and future. Scrooge sees the light and seizes the day to reconcile with his family and spread holiday cheer to all.
The Goodman's production is anchored by dazzling visual effects (Keith Parham's lighting and Richard Woodbury's sound design), stunning sets (by Todd Rosenthal), and strong performers who work well with the text to convey engaging emotions. Yando portrays a wonderful balance of the sadness and loneliness of Scrooge, with the bliss he finds after his overnight "this is your life" experience. With just a facial expression, shift of his body, or a subtle sound, Yando can bring a tear to your eye or a smile to your face.
Rains is perfect as Cratchit, the humble, kind-hearted father of six who is always trying his best. His comic timing is on point when needed, and his warmth comes through in the tender moments with his family. As the Ghost of Christmas Present, Lisa Gaye Dixon pleasantly conveys pure joy, yet delivers harsh reality with stern directness.
It's been more than 20 years since I've seen The Goodman production. There are some updates that make it feel fresh - the past change of Scrooge's nephew to a niece, a modern looking Ghost of Christmas Past (the lively, acrobatic Molly Brennan), and the first female in the role of Tiny Tom (a charming Paris Strickland).
At times, however, Tom Creamer's adaption feels like it could use a few edits. Some of the dialogue bogs down the pacing and the scenes that should be joyous, were less so than I remember. Director Henry Wishcamper's staging works well in the smaller scenes but not as much when the stage gets crowded. In particular, the Fezziwig's celebration seems stifled due to too many actors in a limited space.
Overall, the show will stand as one of the strongest offerings this holiday season. A younger audience member behind us was clearly engaged as he softly asked questions to the adults around him. It was a treat to witness it inadvertently through a child's eyes, clearly experiencing this story for the first time. A tale that once again reminds us what Christmas is all about and how it can shape the human spirit.
Related Articles View More Chicago

Stories

Shows