Gettysburg Community Theatre's Winter Theatre Arts Classes Begin
Learn more about the lineup here!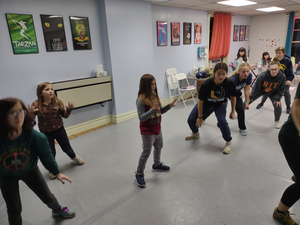 Gettysburg Community Theatre, the non-profit 501c3 organization located within the first block of Lincoln Square at 49 York Street is now in it's 15th Season of volunteer, educational, and performance opportunities year-round for all ages and abilities with 12 productions a year plus classes, improv, and musical cabarets.
"They say never judge a book by its cover", says GCT Founding Executive/Artistic Director, Chad-Alan Carr. "I say never judge a theatre from the outside or from how few seats it has. Come on in and feel the magic and the love of theatre arts for all. There is always a lot going on here."
Though GCT's front façade may look small as it was an old late 1880's house, inside the roughly 17,000 square foot building GCT operates three floors including: two offices, three studios, box office/lobby, green room, paint room, scenery shop, costume shop, props room, dressing rooms, four restrooms, and an 80 seat intimate blackbox theatre. GCT is currently in rehearsals for the plays Loving, directed by Chad-Alan Carr, Angels In America Parts One & Two, directed by Karen Land, and the musical Disney's Descendants, directed by Mathew Barninger. GCT will offer various music, theatre arts, and dance classes this semester for Kindergarten through Adults taught by Carrie Conklin, Samuel Eisenhuth, Bruce Moore, and Kristy Petruzzelli.
The GCT Winter/Spring 2023 Classes include:
Tap Classes By Broadway veteran Bruce Moore.
Beginner Level Ages 16-Adults 6-7pm Wednesdays starting February 1st and Intermediate Level Ages 16-Adults 6-7pm Wednesdays starting February 1st.
Once Upon A Fairytale
K-3rd Grade
6-7pm February 15, 22, & March 1
Once upon a time, there was a wonderful acting class for whimsical children who loved to perform. This class features your favorite fairy tale friends with a magical twist. Rewrite the storybook using theatre games, creative storytelling, and collaboration. Build your confidence as you expand your imagination and literacy skills. Bibbidi-bobbidi-boo!
Sing Out Louise!
3rd-9th Grade
6-7pm February 16, 23, & March 2, 2023
Kids are taking over Broadway in this singing-focused class. This is an all-singing venture into memorable musicals with pint-sized leading characters, such as Matilda, Annie, and more. Learn about vocal technique and how to prepare an audition song with a professional music director. Students will complete this workshop with an audition song and sheet music in hand to take their next audition.
Frozen Winter Tales
K-3rd Grade
6-7pm March 8, 15, 22
Are you still singing your favorite Frozen songs and you just can't seem to "Let It Go?" Well, come and join the adventure! "For The First Time In Forever", we'll be celebrating our friends Elsa, Anna, Olaf, and other favorites of Arendelle as we learn vocal techniques, fun dance moves, and creative storytelling in this fantastical musical theatre class. No need for mittens. "The cold never bothered us anyway!"
Shakespeare 101
6th-12th Grade
6-7pm Thursdays, March 9, 16, & 23, 2023
Speak the speech! The instructor will lead the beginner class in the basics of Shakespeare text and history. Who was Shakespeare? How do you speak his text? The instructor will help you find and understand a short monologue from one of Shakespeare's many plays and will help you with the pronunciation and understanding its meaning. This is a great class for anyone new to Shakespeare or that may be interested in auditioning for a Shakespeare play.
Just One Saturday Morning At The Theatre: Scales & Tales
K-5th Grade
10am-Noon Saturday, April 1st
Get inspired by the tales (with tails) of crazy critters from stories like Lyle Lyle Crocodile, Cat in The Hat, The Little Mermaid, and other friends. Students work together to act out new and familiar stories and enjoy games and projects to support their animal quest. Exploratory Creative Dramatics provide literature-based drama activities that promote literacy comprehension, confidence, collaboration, and creativity.
Register online today before classes are filled. Summer Camps to be announced soon.
Discounted tickets for upcoming performances can be purchased on the theatre's website for $15 when purchased in advance, and tickets at the door can be purchased for $20 if any seats are left in the intimate 80 seat theatre. Audiences are encouraged to not only order tickets in advance but also arrive early to find downtown parking and enjoy refreshments and raffles that the theatre will be selling as grassroots fundraisers before each performance. The Racehorse Alley Parking Garage is one block from the theatre just off of N. Stratton Street for paid parking available 24 hours, but there are many street meters close to GCT along York, Stratton and Middle Streets which stop at 8pm. Most tickets are now on sale at www.GettysburgCommunityTheatre.org or by calling 717-334-2692.