BWW Review: PETER AND THE STARCATCHER Keystone Theatrics At The Allenberry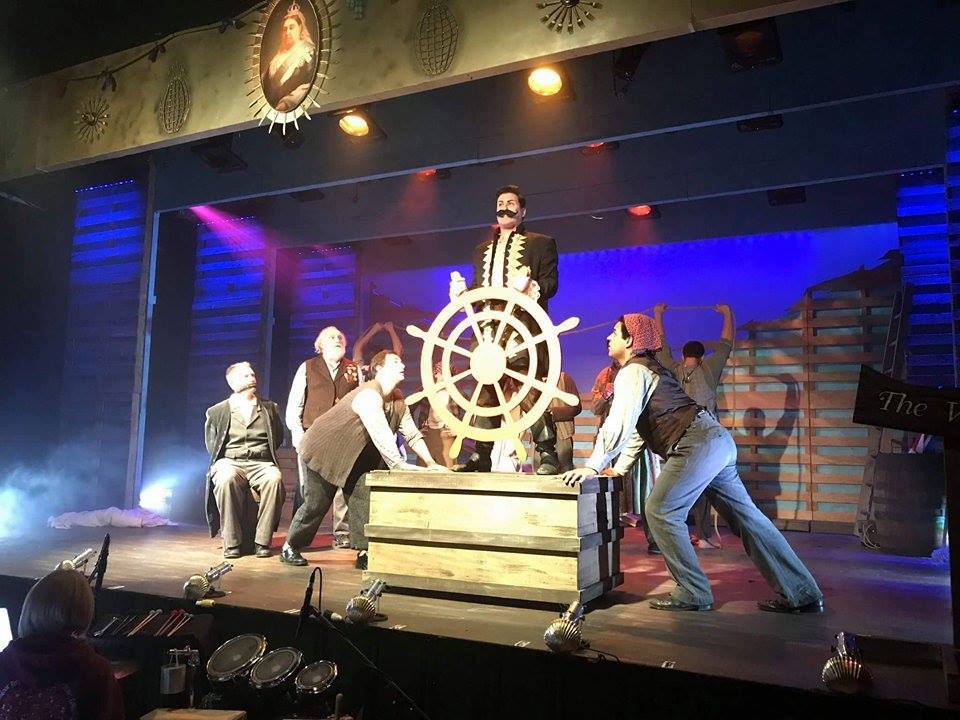 PETER AND THE STARCATCHER has landed at The Playhouse at Allenberry in Boiling Springs, with all the "starstuff" required for an imaginative feast, and performed fantastically by the talented actors of Keystone Theatrics. PETER AND THE STARCATCHER is a play which is the prequel to PETER PAN written by Dave Barry and Ridley Pearson, and adapted for the stage by Rick Elice.
Before the play begins, one takes in the intricate and intentional set design by Dave Olmsted. From the crowning glory of Queen Victoria, to the simplicity and effective use of the flats expertly standing at attention, flanking both left and right stage. The design meets center stage with the kaleidoscope of the perfectly guiding lighting design by Mike Birardi and Corey Eslinger. Adding to this marriage, is the precisely timed sound design by Nate Oakley. This production at The Playhouse at Allenberry, is sincerely one of the best, cohesive marriages of technology and workmanship in theatre that is currently running within the South Central Region of Pennsylvania.
The story of PETER AND THE STARCATCHER is loaded with innuendos, somewhat complicated storybook direction, and heaps of comedic gold for any actor. It has an intellectual wit that can only be interpreted and portrayed if talented actors are succinctly cast. Dave Olmsted succeeds in reaching this goal. It is a story rich with power; especially power over others. It comes with magic in the form of Starstuff. When this mysterious Starstuff falls from the sky, it is used, even by those least likely to be corrupted, to hold power over another. Add two ships, The Never Land, a broken-down pity of a ship on which Peter travels, and The Wasp, a pristine ship looking to carry the greatest of all treasures. And, when the two ships collide, all Hell breaks loose; or mayhem, whichever strikes your fancy. I prefer both.
The actors in The Keystone Theatrics production of PETER AND THE STARCATCHER contributed to the complexity of the many themes of the play with coordinated and polished performances.
In the role of Molly, Rebecca Schrom is perfectly endearing. Molly is the epitome of everything good in the world and wants to protect it, as well as the traveling trunk that is aboard ship. What the trunk is filled with is perhaps a mystical illusion, but that can be determined by the barometer of one's true north. Schrom makes one believe with each word she utters. She has a perfectly lovely developed character that lends itself to trust in any journey. When Molly meets Boy (Garrett Kinsley), she extends her innocence of truth to him graciously.
Garrett Kinsley plays Boy (simply named because he does not have a mother nor father) innocently enough. His strength lies in the physicality he embodies alone and then when he joins with Molly, where his vulnerability shines.
Adding ferocious comedic energy is Black Stache (Jeremy Slagle). He slams into the story like a hurricane-a-coming. Slagle's ability to throw himself - literally and figuratively - into the role of Stache is pure glee. You love to hate him and Slagle leaves you wanting more of Stache's well-honed shenanigans.
Then Act Two begins and the opening number is a visual that can't be forgotten, nor should it be. Seeing grown men dressed as mermaids, with bras adorned with everything from flip-flops to Dixie cups, and singing with enough hot air to blow some sails, is everything. The number ending in a kick line is priceless. And, mind you, just downright hilarious.
So many performances were outstanding: Rob Kopko (Mrs. Bumbrake/Teacher), left a lasting impression worthy of every student's attention; Drew Patti (Smee) was brilliant in his continuity of endearing commitment to Stache; and Matthew Mercado (Grempkin/Fighting Prawn/Mack/Sanchez) works every one of his savory parts with finesse.
As the line from the play is written, "To have faith is to have wings." Keystone Theatrics' production of PETER AND THE STARCATCHER is faithfully airborne with an ensemble of talented performers and a production of pure perfection. Don't miss an opportunity to see this production; to escape to a hilarious, fast-paced, visually nourishing, wonderfully entertaining showpiece.
PETER AND THE STARCATCHER is performing now through September 16th. Tickets can be purchased by visiting KeystoneTheatrics.com or by calling (717) 462-4401.
Photo courtesy of Keystone Theatrics