Viola Day to take place at Hoff-Barthelson on March 4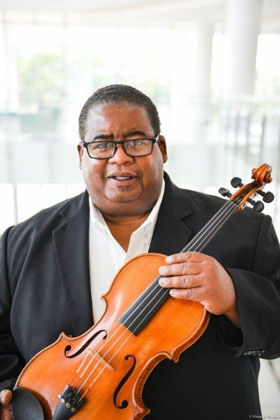 The 2017-2018 Hoff-Barthelson Music School Master Class Series continues with Viola Day! on Sunday, March 4, 2018, from 1:00 - 5:00 pm, at Hoff-Barthelson Music School, 25 School Lane, Scarsdale. The public is invited to attend and participate free of charge.
The day begins at 1:00 pm with a recital featuring internationally renowned violist Chauncey Patterson and HBMS viola faculty member Naomi Graf. The two are joined by faculty members Glen Kirchoff, harpsichord and Tomoko Uchino, piano. Included on the program are works by Telemann, Schumann and P.D.Q. Bach's "Sonata for Viola Four Hands and Harpsichord." This gem of the viola repertoire plays on the conventions of the genre of 4 handed piano pieces; in this work, the two violists each use a bow to play the same viola - a feat that is both visually humorous and technically impressive.
Luthier Robert Isley will give a brief discussion on viola construction beginning at 1:45 pm and will be available throughout the afternoon to answer questions and demonstrate instruments.
The centerpiece for Viola Day! is a Master Class with Mr. Patterson that begins at 2:00 pm. Audience members will be afforded the rare opportunity to observe Mr. Patterson as he coaches HBMS students and the School's Viola Club to new heights on pieces prepared in advance.
About Chauncey Patterson:
Education has been a major component of Chauncey Patterson's career. His faculty affiliations include The Cleveland Institute of Music, Blossom School of Music, Kent State University, Hartt School of Music, Encore School for Strings, Eastern Music Festival, and New World School of the Arts. During his 15 year tenure as violist, the Miami String Quartet garnered numerous awards and won the Concert Artist Guild New York Competition. He serves as Solo Viola of the Florida Grand Opera.
About the Hoff-Barthelson Music School Master Class Series:
Master class coaching by guest artists has been part of Hoff-Barthelson's curriculum since the School's founding in 1944. This distinguished tradition continues this season with a roster of world-class musicians and educators including theater director Laura Josepher, composer David Sisco, pianist Michael Boriskin, cellist Peter Stumpf, violist Chauncey Patterson, violinist Rachel Barton Pine, flutist Yoobin Son, jazz great Gary Smulyan and members of the New York Philharmonic.
Master classes are an enlightening experience for students and audiences alike. After months of careful preparation, students perform for, and then receive feedback and guidance from a master teacher who challenges the student to think in new and critical ways about the piece they've prepared. The results are inspiring and enlightening and serve as a catalyst for students to reach new heights in their own musical explorations. Yet the learning isn't limited just to the students who perform. In point of fact, any student-regardless of their level of development or whether or not they even play the same instrument-can learn a great deal. As HBMS voice faculty member Jenny Hayden attests, master classes can provide powerful growth experiences for everyone in the room: "Young artists need to grasp that they have everything to gain by listening to experts of any instrument or the voice. A master class is an introduction to excellence-the musical enlightenment is transferable and inspiring. Any master class is an opportunity for a transformed perception of what phrasing, intonation and expression offer to the audience."
For additional information or to RSVP:
914-723-1169, hb@hbms.org, www.hbms.org. Reservations are suggested as space is limited.
About Hoff-Barthelson Music School:
Hoff-Barthelson Music School has achieved national recognition as a premier community music school for its unsurpassed leadership in education, performance and community service. With a faculty drawn from the region's most talented teachers and performers, the School has long been one of Westchester County's most cherished cultural resources. Whatever a student's age or level of musical interest, Hoff-Barthelson's diverse offerings provide the highest quality musical education, personally tailored to his or her specific passions and goals in a supportive and vibrant community.
The Master Class Series is made possible, in part, by ArtsWestchester with support from Westchester County Government, and the New York State Council on the Arts with the support of Governor Andrew Cuomo and the New York State Legislature.
More Hot Stories For You