Site-Specific LITTLE SHOP OF HORRORS Extends for Three Performances After Selling Out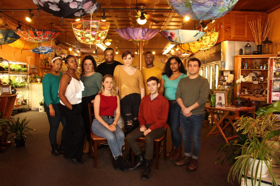 Audrey II is growing stronger! This anticipated staging taking place inside Bool's Flower Shop in Ithaca, NY has extended its run by three performances. Originally announced to run from April 24-28, the production will now play on April 29, May 1 and close May 2. After ten minutes of live ticket sales, the show sold out its' original six-performance run.
"After selling out so quickly, we knew we had to extend. This production is the first of it's kind and we want to share this unique and beautiful experience with as many people as possible," says Lead Producer Jacob Stuckelman.
There will be a student rush for every performance where a select number tickets will be sold for $15 on an in-person, first come, first serve basis to students with a valid student ID.
Stuckelman, who conceived the show's idea, formed a full creative team to help put it together, including co-producer Ben Fleischer. To date, the team has raised over $10,000 through gifts and sponsorships from local businesses. The show has received a great deal of praise and excitement from the Ithaca community for celebrating the 125th anniversary of Bool's Flower Shop. Scenic design and construction are being led by Corey Field in collaboration with Bool's owner Doreen Culver-Foss to assure that the shop will be conducive to normal sales during the day and performances at night.
Rehearsals began Monday, March 25th with a total cast of 10 actors and actresses. The cast includes Audrey Fisher as Audrey, Logan Geddes as Seymour, Amber Ward as Chiffon, Sushma Saha as Crystal, Courtney Long as Ronnette, Dharon Jones as Orin Scrivello, DDS., Kylie Heyman as Audrey II, Jaden Boyd as Mushnik, and Sami Schonberger and Tanner George as the production's understudies. They are joined by a team including director Alisar Awwad, music director Daniel Mullarney, choreographer Maria Scherer, lighting designer Chris Perrone and sound designer/mixer Rachel Kreidberg.
For those who are interested in the production but are not able to attend, please reach out via the 'Contact' page. This project is entirely self-funded and could use the support of anyone willing to give through the 'Donate' page on the show's website: www.littleshopofbools.com .