Photos: Cortland Rep Opens Agatha Christie's THE HOLLOW
Cortland Repertory Theatre presents its fourth show in the 2012 summer season with
Agatha Christie
's THE HOLLOW, opening tonight, August 1 and running through August 11, 2012. BroadwayWorld brings you photos from the production below!In the show, a romantic game of "Follow-The-Leader" explodes into murder during a party weekend at The Hollow, a quiet English summer cottage belonging to Sir Henry Angkatell and his wife. One of the guests, a philandering doctor who has no shortage of lovers, gets himself in hot water when his wife, mistress and former mistress all wind up at the cottage at the same time. Tempers flare until one unlucky soul is used for target practice! Secrets are revealed and everyone - from the upper-class relatives to the surprise guests to the servants – seems to have a motive. It's up to the local police inspector with the help of his detective sergeant to find out who the murderer is before they strike again! Directing the show is CRT's Assistant Producer Jim Bumgardner, whose previous CRT credits include two other Christie mysteries, both hits for CRT: "The Mousetrap" and last season's "A Murder is Announced", which became CRT's 3rd highest attended non-musical play in the theatre's 41 year history. Other CRT shows directed by Bumgardner include "Brigadoon", "Fiddler on the Roof", "Moonlight and Magnolias", amongst many others. Frequent CRT actor
Dustin Charles
serves as Dialect Coach for the cast as well as playing the philandering doctor, John Cristow. Stage Manager Laura Krouch leads the production staff comprised of designers with much experience at CRT, including Costume Designer Wendi Zea, Lighting Designer Shawn Boyle, Props Mistress Danielle Hodgins, Sound Designer Seth Asa Sengel and Scenic Designer Jonathan Wentz, who designed last season's "The Smell of the Kill". Patrick McGovern continues as Technical Director as does Natasha Thompson as Assistant Stage Manager.Playing the down-to-earth sculptress Henrietta Angkatell is
Melissa Herion
, seen in last summer's "Rumors". Playing the ditzy (or is she?) Lady Angkatell is
Mary Williams
, who was seen in "A Murder is Announced" and previously in "Six Dance Lessons in Six Weeks" and "I Hate Hamlet"; and as the gun enthusiast Sir Henry Angkatell is
Dale Young
, who has been seen in two other Christies - "Spider's Web" and "Ten Little Indians" along with "Gross Indecency".
Dylan Schwartz-Wallach
, as the love-smitten Edward Angkatell, makes his second appearance on CRT's stage this summer, having played Danny Zuko in the popular production of "Grease".
Charlotte Fox
also returns, to play the Hollywood siren Veronica Craye after appearing in last summer's "Chicago" and "The Smell of the Kill". Fresh from both "Grease" and "Cats" are three CRT interns, who also play crucial roles:
Avery Epstein
as the young and determined Midge Henry,
Alexa Shanahan
as the maid-with-a-secret Doris and
Chris Collins
as Detective Sergeant Penny. Making their CRT debuts are
Phyllis Gordon
as the long suffering doctor's wife Gerda Cristow,
Mark Mason
as Gudgeon the loyal butler and Brian
Alan Hill
as Inspector Colquhoun who is charged with solving the case. CRT continues the tradition of "Friday Night Talk Backs" at which a Q & A session with the actors, designers and crew take place after every Friday evening performance. Tickets are also on sale for the rest of CRT's summer season, including the upcoming award-winning comedic drama "The Drawer Boy", and the farcical comedy/thriller "The Mystery of Irma Vep". See CRT's website for details on ticketing, scheduling and more, at
www.cortlandrep.org
.Photos courtesy Cortland Rep.


Christopher Collins as Detective Sergeant Penny, Brian Allan Hill as Inspector Colquhoun and Charlotte Fox as Veronica Craye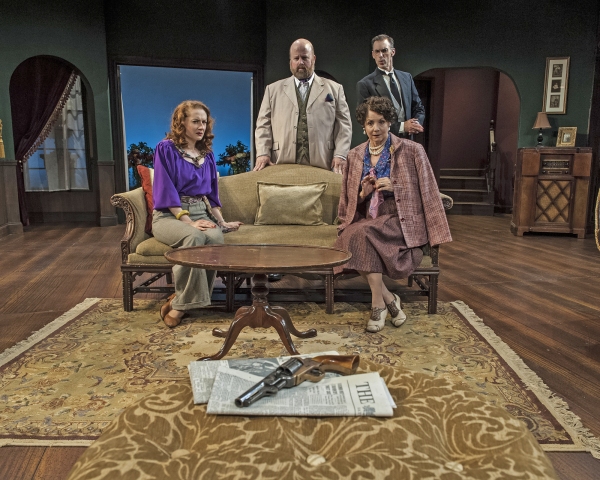 Melissa Herion as Henrietta Angkatell, Dale Young as Sir Henry Angkatell, Mark Mason as Gudgeon and Mary Williams as Lady Angkatell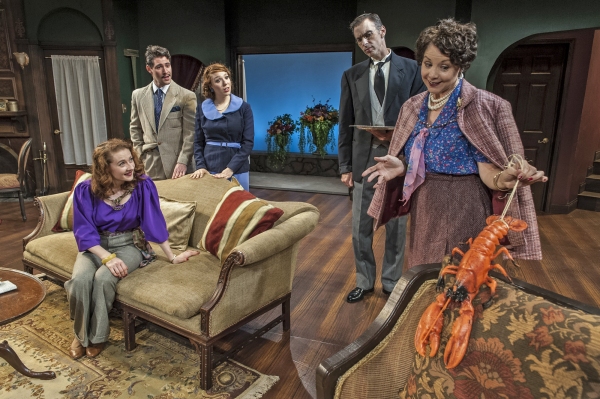 Melissa Herion as Henrietta Angkatell, Dylan Schwartz-Wallach as Edward Angkatell, Avery Epstein as Midge Henry, Mark Mason as Gudgeon and Mary Williams as Lady Angkatell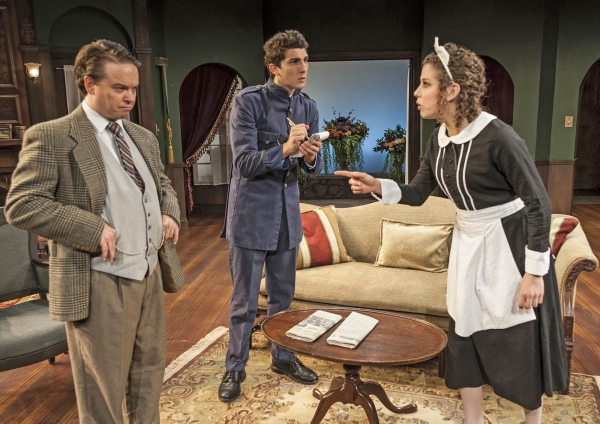 Brian Allan Hill as Inspector Colquhoun, Christopher Collins as Detective Sergeant Penny and Alexa Shanahan as Doris