Hospicare and Kitchen Theatre Collaborate on Special Event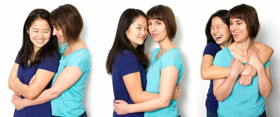 On Sunday, March 11, Hospicare and Kitchen Theatre Company are pleased to offer a special event: a reception and panel discussion on "Lesbian Love & Loss over the Lifetime." The reception will begin at 3:00 p.m., followed by a 4:00 performance of Bright Half Life by Tanya Barfield. After the performance, panelists Kate Halliday, Mariette Geldenhuys, Sue Robinson, and Carrie Stearns will moderate a discussion in the theatre.
ABOUT THE PLAY:
Bright Half Life is a love story that follows Erica and Vicky over the course of a nearly five decades long relationship. The women meet as co-workers, but soon they are much more than that to each other. The play takes us through the highs and lows of dating, marriage, and children, and it asks us to think about the way we remember our lives and what it means to be alive and in love.Barfield imbues her characters with a remarkable and universal humanity, inviting us to reflect upon our own relationships as we travel with Erica and Vicky through theirs.
Vicky is played by Shannon Tyo*, seen earlier this season as Ginny in Smart People. She is joined by another NYC actor, Jennifer Bareilles, making her Kitchen Theatre Company debut. Sara Lampert Hoover**, director of eighteen previous productions at the Kitchen Theatre, directs. Scenic and lighting design is by Tyler M. Perry, sound design is by Sergey Levitskiy, and costume design is by Lisa Boquist. The production stage manager is Jennifer Schilansky. Brendan Komala is providing technical direction.
The Show Sponsor for Bright Half Life is PPM HOMES. The Media Sponsor is SYRACUSE NEW TIMES. *member, Actors' Equity Association; **member, Stage Directors and Choreographers Society
THE PANELISTS:
Kate Halliday, LCSW, is in private practice in Ithaca. She uses a treatment model (Accelerated Experiential Dynamic Psychotherapy) that is attachment-based and relational, and believes that by harnessing the power of our emotions we "become stronger at the broken places". Because of this stance, Kate is honored to be able to work with grieving people. Loss is not just excruciating pain, it is an opportunity for expanding our humanity, and engaging with it bravely-with support-is a rare experience. As a lesbian, Kate is committed to serving her LGBTQ community in her therapy practice. She and her spouse Pat (yay marriage equality!) live in West Danby with three dogs and six chickens.
Mariette Geldenhuys has practiced law in Ithaca for twenty-nine years, currently focusing on helping clients resolve legal issues in a respectful, client-centered way through mediation and collaborative law. She was one of the four attorneys who represented the "Ithaca 50" pro bono in the action seeking marriage equality for same-sex couples in New York from 2004 to 2006. Mariette's partner and spouse of twenty-five years, pianist and composer Laurie Conrad, died in April 2016 after a brief illness. Laurie received services through Hospicare, which made it possible for her to die at home.
Sue Robinson moved to Ithaca in 1976 to live with friends from college who had purchased a farm here. One of those friends became her life partner in 1980. They raised her partner's three children together, gardened and traveled. In 1998, her partner was diagnosed with a rare form of sarcoma. For seven years, she lived quite well despite the cancer, until she died in November 2005. Sue feels that she, her partner and their children all benefited greatly from the medical, spiritual, and bereavement services offered by Hospicare. Sue spent most of her professional life in the Tompkins County Probation Department until retiring five years ago. Sue is currently a volunteer at Planned Parenthood, Friendship Donations Network, and Family Reading Partnership.
Carrie Stearns, PDHom, practices classical homeopathy in Ithaca NY. She is not a stranger to loss and grief both in her life and in her work as a homeopath. Carrie's partner Sarah was diagnosed in 2007 with Leukemia and died 5 years later. This experience of deep intimacy with death and grief has been a great teacher for her and has led to a passion for encouraging others to step in close to death and dying when it comes into their lives. Carrie practices homeopathy at the Padma Center for Natural Healing. She holds a practitioner diploma from The School of Homeopathy, Devon, England. In addition to helping people with a variety of physical health issues Carrie also works with people who are grieving, offering deep listening and homeopathic remedies that support the grieving process. In addition to her homeopathic studies Carrie has also studied with Stephen Jenkinsen, author of the book 'Die Wise' and founder of The Orphan Wisdom School.
Kitchen Theatre Company
417 W. State/MLK, Jr. St. Ithaca, NY 14850
Contact Kitchen Theatre Company to purchase tickets for the show. It is important to Hospicare that everyone who would like to attend can join us. There are a limited number of complimentary tickets available for those who need them. Contact Liz Wood at Hospicare at (607) 272-0212 to reserve these tickets.
Single Tickets Available from $15 to $45. $20 Student Tickets available at every performance.
ABOUT KITCHEN THEATRE COMPANY
Bold, intimate, engaging... Kitchen Theatre Company (KTC), now in its 27th season, is downtown Ithaca's critically acclaimed and nationally recognized year-round professional theater company, specializing in regional and world premiere plays. KTC's intimate 99-seat theater is in a beautifully renovated, LEED-certified building in the West End neighborhood of downtown Ithaca, New York. KTC is the first not-for-profit recipient of the David R. Strong Memorial "Small Business of the Year" Award from the Tompkins County Chamber of Commerce and receives public funds from the New York State Council on the Arts, a State Agency, and the Tompkins County Tourism Program. The Kitchen Theatre Company also receives general operating support from the Shubert Foundation.
Photo: Shannon Tyo* and Jennifer Bareilles in Kitchen Theatre's production of Bright Half Life
Related Articles View More Central New York

Stories

Shows
More Hot Stories For You