BST Presents THE REVENGE OF THE SPACE PANDAS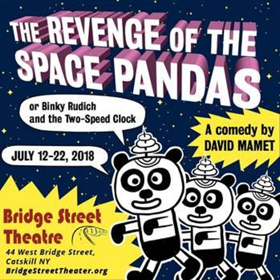 Blast off for the Planet Crestview with a 12-year-old boy scientist, his female sidekick, and a sheep named Bob!! Quake with terror as our heroes are taken prisoner by Crestview's Supreme Ruler, a preening narcissist who'll stop at nothing to become the only man in the entire Goose Nebula to own a wool letterman's sweater!! Will a nearly-forgotten film star be able to rescue the earthlings from being whacked-out with a giant pumpkin?? And will they ever find their way back to Earth?? The spirit of Ed Wood (creator of the infamously bad cult film "Plan 9 From Outer Space") lives on in this Retro-Sci-Fi adventure written by one of America's pre-eminent playwrights with kids in mind, but with plenty of sly, sarcastic, satirical humor for adults to guffaw over.
Nothing this huge (or this screwy) has ever been attempted before on the Bridge Street Theatre stage! With a cast of 16 (the largest the theatre has ever assembled), wacky, whimsical, Dr. Seuss-like sets by Rodney Alan Greenblat (of Catskill's "The Rodney Shop"), and elaborate and extravagantly zany costumes by NYC's Jennifer Anderson, THE REVENGE OF THE SPACE PANDAS or BINKY RUDICH AND THE TWO-SPEED CLOCK by David Mamet, directed by BST Associate Artist Steven Patterson, touches down for 8 performances only beginning this Thursday, July 12!
The monster cast, a terrific mix of seasoned professionals and enthusiastic student performers (all locals!), features Wil Anderson, Amara Wilson, Alexa Powell, Julia Rothwax, Caitlin Van Loan, Molly Osswald, Lily Gallagher, Isabella Truncale, Art Skopinsky, Michael Keck, Natalie Parker, David Smilow, Andrew Joffe, Phillip Levine, Piper Levine, and Steven Patterson. Production Stage Manager is Tyla Patterson. It takes a village to create something this monumental and underwriting for this production was provided by a generous grant from the Bay and Paul Foundations, with matching funds from the Bank of Greene County, Fingar Insurance, the Peckham Family Foundation, Rod and Julie McCullough, the Marine Corp League, and others. This one's a real community event!
THE REVENGE OF THE SPACE PANDAS plays Thursdays-Saturdays at 7:30pm and Sundays at 2:00pm, from July 12 - 22 on the Bridge Street Theatre Mainstage, located at 44 West Bridge Street in the Village of Catskill, NY. Adult tickets are available in advance for $22 online at pandas.brownpapertickets.com or by calling 800-838-3006. Tickets can also be purchased at the door prior to each performance for $25, subject to availability. Students pay only $10 and Kids from ages 5-10 only $5. But wait - there's more! The Thursday July 12 preview and the Sunday July 15 matinee are both "Pay-What-You-Will" performances - just show up at the door and pay whatever you feel you can afford! For more information, visit the theatre online at BridgeSt.org. Hey - don't miss this one! The kids will be enthralled and adults will laugh themselves silly!
Events and performances in Bridge Street Theatre's 2018 Season are made possible in part by the New York State Council on the Arts with the support of Governor Andrew M. Cuomo and the New York State Legislature and by Public Funds from the Greene County Legislature through the Greene County Cultural Fund, administered in Greene County by the Greene County Council on the Arts.
Graphic by Rodney Alan Greenblat