BWW: Review: Nothing Accidental About MARY AND MAX's Success at Theatre Calgary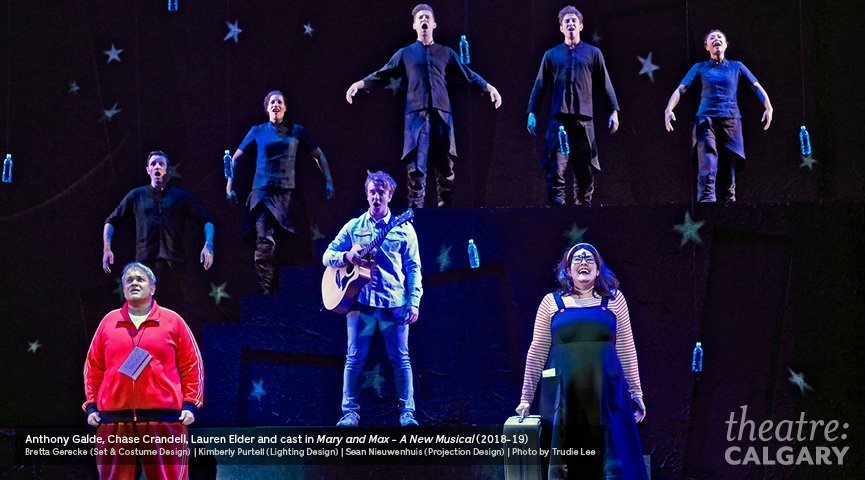 Last week marked the world premiere of Mary and Max, a touching story of friendship and the ultimate power of words. I was grateful to sit in the audience and experience the magic of opening weekend at Theatre Calgary.
Directed by Theatre Calgary Artistic Director Stafford Arima, Mary and Max is based on the 2008 claymation film by Adam Elliot, which in turn was based on a true story, of two unlikely friends who met in the 1970s over a phonebook sent by the moon (or fate).
This nearly two and a half hour production tells the tale of 10 year old Mary Daisy Dinkle in Melbourne, Australia who feels so alone that when the moon sends her a New York phone book, she picks out a name and writes a letter in the hopes of making a friend half way across the world. Max Horowitz, who is anxious and befuddled by the world - later diagnosed with Asperger's Syndrome - receives the letter and eventually writes back, starting a decade long friendship that brings them together (if not physically, than emotionally). We see what brought them to writing their letters and the people closest to them who never quite understand the importance of communication and companionship. From Mary's depressed and kleptomaniac mother, to Max's selfish and manipulative land-lady; Mary's stuttering fiancé, and Max's well-meaning psychiatrist, the world isn't black and white but it certainly is overwhelming. The two of them find comfort in each other (and fight and make-up as friends do) in a dark but heart-warming way.
There are 29 listed musical numbers but there is so much music woven into the story that I could only name a few scenes where there was silence underneath. Bobby Cronin has created a fantastic score, using the movie's instrumental theme along with brand new creations to highlight the entire cast through an eclectic but connected assortment of styles. From power ballads like "You Never Told Me" or "Mary Daisy Dinkle", to soulful diva numbers like "Bubbles & Butts" or "Chocolate Heaven", to fun and upbeat songs like "Try a New Way" or "I Found My Words Around You". There is something for everyone to enjoy.
This is a big story to tell - and writer Crystal Skillman does it well. There are a lot of plot points and intense emotions to carry across and sometimes, I felt overwhelmed by the songs; their pacing and the amount of important information I needed to comprehend. It is an unyielding musical to say the least. The only moments to breathe were during the scenes and those merely continued the moment in silence. Act one ended and I didn't realize how long I was holding my breath, anxiously engaged in the story.
On this journey, we are carried through the world by the small but mighty ensemble as well as The Moon, played by Chase Crandell. Chase remains as The Moon to observe and occasionally intervene in the lives of the people looking up at him for guidance. He is the embodiment of fate in the story, reminding us that fate is entirely what you make of it. He also plays guitar as he wanders the stage, creating a calm and folk-like atmosphere throughout the intense drama. The ensemble actors, dressed all in black by set and costume designer Bretta Gerecke, play a multitude of characters, including parents, doctors, emotions, and (my favourite) The Noblets: characters on a television show that also act as Max's guides through song and dance. Kevin Aichele, Alana Hibbert, Kelsey Verzotti, and Eric Wigston play a multitude of characters, all with unique voices, movement and energy. I don't think they stopped moving once during the 2+ hours but they maintained incredible energy throughout the show and I am so in love with this cast.
A quick shout out to Eric Wigston's unicycling mailman and Alana Hibbert's chair-wheeling psychiatrist. Little moments of extra movement kept the show fast-paced and whimsical.
Susan Gilmour and Nick Adams also take on larger roles within the storytelling as Vera (Mary's mother) and Damian (Mary's fiancé). I cannot imagine another actress playing the role of Vera after watching Susan smoking in the bathtub and shaming her daughter's appearance. Vera is such a heartless character but Crystal, Bobby, and Susan managed to find humanity in the darkness.
I will be singing the chorus of Damian and Mary's love song "I Found My Words Around You" for a while. Damian is so endearing and Nick has such great control of his physical comedy. A match made in heaven. I do have to wonder how much of Damian's stutter is written into the script and music as it was quite exaggerated for the stage.
I had an opportunity to speak with Anthony Galde before he took the Max Bell stage as Max and he spoke about truly understanding and connecting with the character. I saw that completely. Anthony has created the character of Max in such a way that I became swept up. His physicality with Max was used well, and matched with a powerful voice: I fell in love. I saw all of the love and understanding that Anthony has put into the creation of Max.
Mary Daisy Dinkle is a special character: played by two uniquely talented actresses. First played by Calgarian and Theatre Calgary debut artist Katie McMillan, and then by Broadway-alum, and seasoned Mary actress Lauren Elder. Both actresses have worked to create a very enduring character; prone to misjudgment and hope. Mary is unrelentingly hopeful - almost naïve - and both Katie and Lauren have tapped into what that means at different stages of life. The music is so well suited for their voices (medium, powerful belts) and I loved watching them use their emotions to vocally tell their story. "Accidents" in Act One (based on Mary's mother telling her she was an accident) and "You Never Told Me" in Act Two (as Mary is contemplating suicide after suffering loss after loss) both had me teary-eyed.
The three of them come together (without ever really meeting) so well; all of the actors told such a fantastic story and I was never pulled away from the action on stage.
Overall, Mary and Max is a moving story. As quick and wild as it is, it's a soft and fairly dim view of the world told by flawed and lonely people. By all accounts it should be nothing but darkness but there is something about a story of love and friendship that leaves a spark of hope. What I love about this show is that it doesn't shy away from the bad things in the world but it doesn't let them get in the way of finding goodness. Though I left the theatre in tears, I was moved by the talent and generosity of the actors on the stage and the story they were telling.
When you support new works, I encourage you to support new works that have something important to say and I think Mary and Max is just that sort of show. It must be fate. They are playing at the Max Bell Theatre until November 11th. Tickets can be purchased at theatrecalgary.com or by calling 403.294.7447