BWW Interview: Home-Grown Success Ahad Raza Mir Opens Up About Playing Hamlet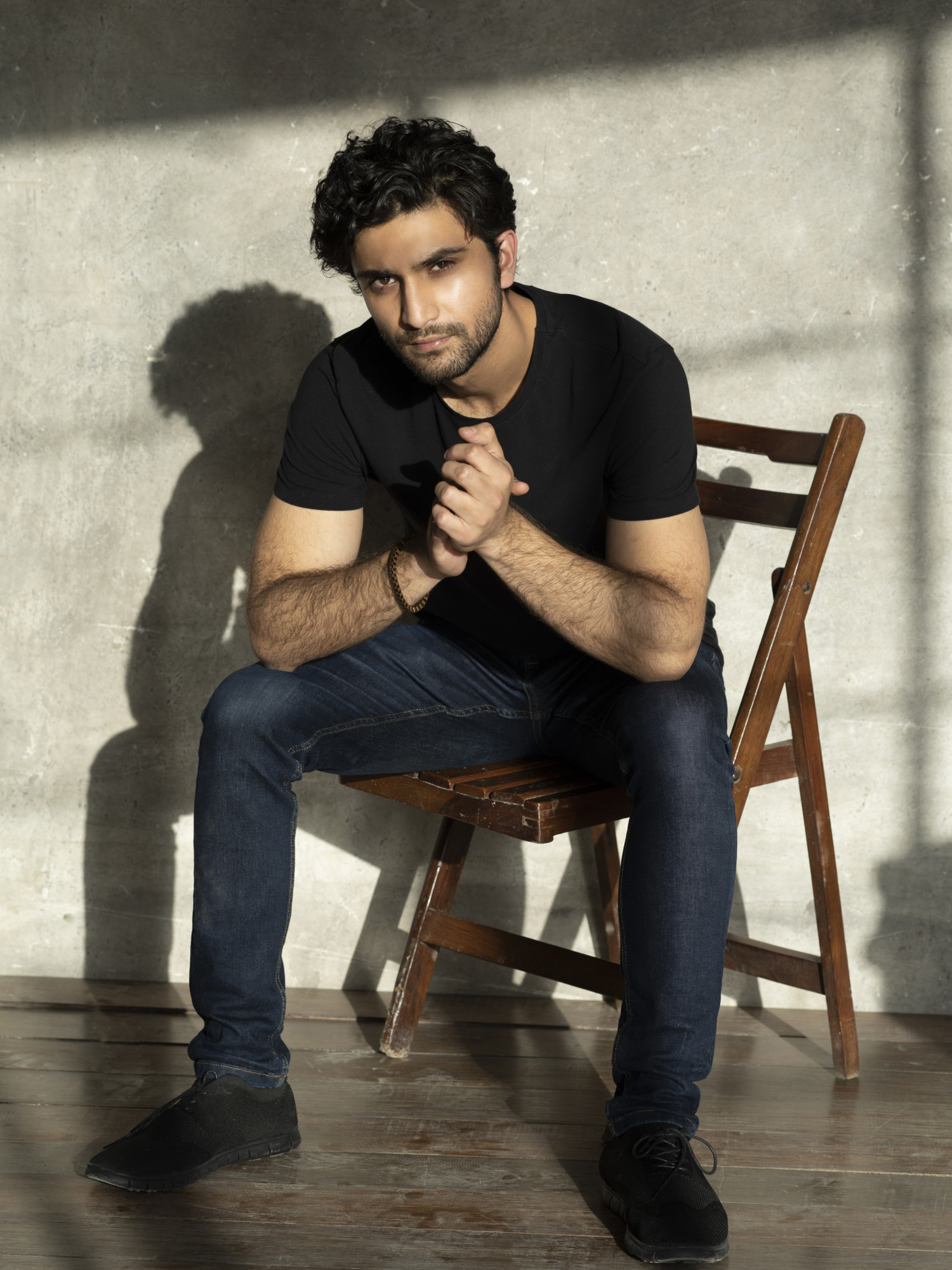 In preparation for the first preview performance of The Shakespeare Company's Hamlet: A Ghost Story, I sat down with actor Ahad Raza Mir, playing the titular character, to talk about coming back to Calgary and how he's tackling this iconic role.
After receiving a BFA from the University of Calgary and working professionally in the local theatre community, Mir made the decision to move to Pakistan (where his family lives and also works in the arts industry) to pursue a career in film and television where he found incredible success. Notably, he was one of the leading roles in the award-winning show Yakeen Ka Safar where he also won several awards for his performance as Dr. Asfandyar. Three years later, he's back with The Shakespeare Company (where he made his start) to take on one of theatre's toughest roles.
Taken from The Shakespeare Company and Vertigo Theatre: "Hamlet, as the titular prince of Denmark, seeks vengeance for the murder of his father at the hands of his Uncle Claudius. Prince Hamlet's suspicious mind and haunted nights will hold deep resonance for this Vertigo Theatre Presentation. This tale is a ghost story, detective story and revenge story all rolled into one classic plot."
Not far from opening night, I asked Mir how he was feeling. "There's days when I feel pretty good, pretty confident, and there's days when I feel like I have no idea what I'm doing but I think that's okay.
"[Rehearsals] are a mix of exploring... but also there's this kind of - not stress - but you're constantly thinking about whether you're following the text properly. And you're also thinking about the fact that you want to make Shakespeare accessible to the public. ...What I hope we can achieve is to perform Shakespeare where it's kind of humanizing. Make him the 2019 version of Hamlet (that's my biggest goal I have)."
With nearly 1500 lines in the production, whoever is taking on the role of Hamlet has a lot of text to memorize.
"I got the script well before hand so I felt that, text-wise, I was ready. But you know, when you're not in rehearsal and you're kind of memorizing things, you can get this idea of how things are going to go in your head. And suddenly you get to rehearsal and realize that none of it matters... It's the story. Everyone knows how it starts, everyone knows how it ends. At the end of the day it's the journey that people come to the theatre to see."
Although he's only back in Calgary for these rehearsals and performances before heading back to Pakistan, it still felt like coming home.
"It's nice that some places - in a good way - don't change. The people are just as welcoming. The people are the most important part of the city. Being back is also a little weird. I'm back after almost three years. Actually, I've changed a lot, my life has completely changed but at the same time it's strange coming back and I almost feel like I'm not just coming back to the city, I'm coming back to myself. In a sense, I left [one version of myself] here. So that's sort of a bittersweet thing, I know that I'm eventually going to have to go back. Both places are home. It's just been weird coming back to my old life, back to rehearsal, doing shows. I haven't been on stage in so long."
Mir got his start with The Shakespeare Company in 2014 where he played Tybalt in Romeo and Juliet. Since his departure from Calgary, Artistic Director Haysam Kadri has been trying to bring him back and finally, the actor couldn't say no.
"I always hold a lot of love for this company and this city. [And] when someone offers you Hamlet, you don't really say no. Hamlet is one of those roles that actors run from; they say 'no, I can't, I don't want to deal with that pressure.' For some actors, it's exciting and when they get into it and they go 'what have I gotten myself into?' And I'm one of those. Not so much that I've come back for this role but that I want to prove to myself, it's a rite of passage for some actors. And they called me back for Three Musketeers, King Lear, when they did 'Mackers' [Macbeth] again, and I said no every time. Whether or not it was Hamlet, the fact that I know I still have a home here, that I know that someone half way across the world still wants me to play this role, that means something. And that offer deserves some respect.
"When I was a student at the University of Calgary doing my BFA (I was [originally] a BBA student, doing my business degree). I felt at that time, [acting] is what I want to do so I called up my dad and said, 'I'm switching my major' and he said 'okay'. I come from a family background of performers. My father is an actor and my grandfather is a director, so I had supportive parents. But I think... sometimes immigrants come to Canada and they force their kids to become a doctor, a lawyer, an engineer, whatever it is. And I know so many kids just like me who wanted to do music, wanted to do dance, wanted to do whatever it was, and they had this kind of - I think a stupid pressure to do something that is a 'profession'...Calgary is doing really well with diversity on stage. But I think the issue now is the other side. And so I hope that by me being on stage, playing Hamlet...maybe there's a Pakistani kid sitting there going 'if he can do it, I can do it.' I just want to put that thought in people's minds that hey, you can do that. Just because you come from a family that maybe has pressured you to do one thing. If I can sort of be that inspiration, that's one of my biggest reasons for coming back."
Something he confided is that Pakistan's theatre industry isn't as established as Calgary's and that's something he'd like to have a hand in down the road.
"Eventually, when I'm a little older, have a bit more experience and not just being an actor but somebody who understands all aspects - I do in a technical sense but running a theatre company is a monster in itself.
"Similarly, I want to bring this show to Pakistan which might be a bit of a challenge considering the distance. I think that would be a good way to see Shakespeare how I think it should be done... So many people didn't understand why I left. There's so many things I left, so many things I didn't do that I just went 'I have to do this for me.'"
Mir has spent the last three years in front of the camera but when he first came to Pakistan, he had very little personal experience in film and television.
"It's funny, I strictly did theatre when I was [in Calgary], so doing the film/tv transition was really hard. I remember my first day on set, and I'm using my theatre voice and I literally hear the director take off his headphones and go 'you have a mic on.' Oh right, I can whisper. Everything changed... I was talking to our director Craig [Hall]: how do I fuse those two things together. Shakespeare lends itself to being big but how can I also make that big, small? So I hope my performance can capture both things because I think that film side is part of me now, so is theatre. So, I hope it'll make for something interesting."
As the first Pakistani actor to take on the classic character in Canada, there was no denying that Mir felt a certain pressure to be the example of why diversity in casting is so important.
"I do find I say no to a lot of roles that are specific to being a Pakistani person - because I find those are explored in a different way that don't interest me. When I'm playing a role like Hamlet, people have this idea that it's a white role. Even though that perception has changed, it's still there. And I think that what the Shakespeare Company has done (trusted me to do this) I also have a big responsibility not just to perform it well, but perform it well enough that people see that this is a profession - it's a solid line of work that people should get into.
"It's the same thing as when I wanted to do my bachelor's in business. I thought 'I'll get this and then I'll start my acting career.' But then I thought: 'what is the point of having a plan B?' It might as well be my plan A. If I'm not giving 110% to one thing, what's the point? I'm kind of doing a disservice to myself. I don't want young kids going to University to make that mistake. If you're going to do something: do it, commit to it. If you fail: fine, fail; do it again... Nothing is a waste of time. The business time that I spent: I learned skills that, thank god I have, being in show biz and the arts world because I need them. I think it's important that people realize that."
When I asked him what he had in the works after Hamlet, he told me that couldn't disclose any details just yet but it will be something he hasn't done before. In the meantime, Ahad Raza Mir can be seen in Hamlet, beginning March 20th and running until April 13th.
HAMLET: A GHOST STORY stars Ahad Raza Mir as Hamlet, Joel Cochrane as Ghost/First Player, Meg Farhall as Marcella/Rosencrantz/Player Queen, Karen Hines as Polonia/Osric, Allison Lynch as Horatia, Curt McKinstry as Claudius, Behrad Moshtagh as Laertes/Player King, Graham Percy as Barnardo/Guildernsten/Grave digger, Natasha Strickey as Ophelia, and Daniela Vlaskalic as Gertrude.
HAMLET: A GHOST STORY is directed by Vertigo Theatre Artistic Director Craig Hall, Assistant Director Rebecca Fauser, Set & Costume Designer Hanne Loosen, Lighting Designer David Fraser, Composer/Sound Designer Peter Moller, Fight Director Karl Sine, Stage Manager Claire Bolton, Assistant Stage Manager Chandler Ontkean, Production Manager Derek Paulich, Voice/Dialect Coach Jane MacFarlane.
Tickets are $35 and are available at Vertigo Theatre's Ticket Office, call 403.221.3708 or visit www.vertigotheatre.com.
Related Articles View More Calgary

Stories

Shows