The Green Room 42 Presents Pioneering Comedian Suzanne Westenheofer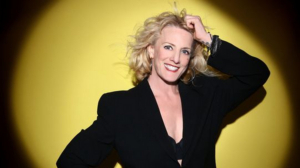 THE GREEN ROOM 42 - Broadway's newest intimate concert venue - will present pioneering comedian Suzanne Westenhoefer on Friday, August 9 at 7:00 PM. Westenhoefer, known for 25 years of groundbreaking, stereotype-shattering and brutally honest comedy, will present her new show "Fearless, Bold, Unapologetic and Freaking Hilarious" for her debut at the venue.
She was the first openly lesbian comedian with an HBO Special, which earned her a Cable Ace Award nomination, and the first openly lesbian comedian on "Late Night with David Letterman."
Suzanne Westenhoefer, the kid from Amish Country who began her comedy career on a dare, is celebrating a quarter century of out, open, no-holds-barred comedy. Suzanne tells the truth. The truth is life is funny, especially when it's fermented in Suzanne's mind. That's why she could never be in the closet, making her a trailblazer when she started doing stand-up in the 1990s.
Westenhoefer appeared on "Sally Jesse Raphael" in 1991 on a show called "Breaking the Lesbian Stereotype...Lesbians Who Don't Look Like Lesbians." She also starred as a panelist on GSN's 2006 remake of "I've Got a Secret," and her comedy special and documentary, "A Bottom on Top," aired on Logo Television in 2007. She was featured in the film Laughing Matters along with Kate Clinton, Marga Gomez, and Karen Williams. Her stand-up comedy appeared on Comedy Central's "Short Attention Span Theater." Her GLAMA Award-winning specials "Nothing in my Closet but my Clothes," "I'm Not Cindy Brady," and "Guaranteed Fresh" are all available on DVD, in addition to her most recent specials, "Live from the Village" and "A Bottom on Top."
Suzanne Westenhoefer will perform at The Green Room 42 (570 Tenth Avenue at 42nd Street, on the 4th Floor of Yotel) on Friday, August 9 at 7:00 PM. Cover charges are $20-60. There is no food and drink minimum.
For tickets, please visit www.TheGreenRoom42.com.
THE GREEN ROOM 42 recently celebrated its two-year anniversary as the theater district's premiere destination for live music, nightclub performances and special events. The space lets audiences experience shows featuring Broadway's biggest names and emerging talent up close and personal like no other space in the world. During the shows, guests can enjoy Mediterranean-inspired dishes alongside signature cocktails, craft beer and curated wine lists with no food/drink minimum. The Green Room 42 is located at 570 Tenth Avenue inside YOTEL in New York City; @TheGreenRoom42