Stars from ROCK OF AGES & More Set for EPIC Players' 'SONGS ABOUT OURSELVES'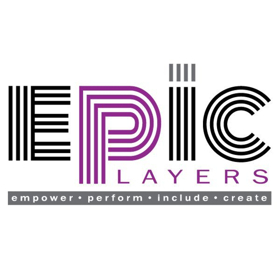 EPIC Players Inclusion Company presents their annual musical cabaret, EPIC Players Cabaret: Songs About Ourselves, on Monday, December 4 at 7:00 pm at The Triad Theater on the Upper West Side.
The evening features numerous Broadway stars and company members of the EPIC Players Inclusion Company and will showcase a neuro-inclusive cast of performers living with and without developmental disabilities, such as autism spectrum disorder.
The evening is directed and led by Broadway's Jonathan Ivie (Rock of Ages), and Amaker Smith (Priscilla Queen of the Desert), with the vocal talents of Justin Sargent (Spiderman), and Katie Ivie (EPIC Players Board Member).
Accompanied by:
· Drums - T-bone Motta (ROCK & ROLL HALL OF FAME DRUMMER FOR PUBLIC ENEMY, 2017 NYMF-A Wall Apart)
· Bass - Mike Preen (National Tours - Spring Awakening, Flashdance, The Book of Mormon)
· Piano - Jonathan Ivie (Broadway's Rock of Ages Band; Natasha, Pierre, & the Great Comet of 1812; 50 Shades! the Musical)
Join the neuro-inclusive cast of The EPIC Players as they perform Broadway & pop classics about their ambitions, loves and lives alongside Broadway greats. This special, one-night only event features the talent of Jonathan Ivie (Rock of Ages), Amaker Smith (Priscilla Queen of the Desert), Justin Sargent (Spiderman), Katie Ivie (EPIC), and EPIC Players company members. The evening includes songs from hit Broadway shows The Secret Garden, Wicked, and Hamilton, among others.
The company is rounded out by EPIC company members Travis Burbee (You're A Good Man Charlie Brown/EPIC), Gianluca Cirafici (You're a Good Man Charlie Brown, EPIC), Ben Dworken (Dog Sees God/EPIC), Samantha Elisofon (Keep the Change/TriBeCa Film Festival 2017), Meghan E. Gilson (You're A Good Man Charlie Brown/EPIC), Dante Jayce, Bree Klauser (Dog Sees God/EPIC), Gideon Pianko (You're A Good Man Charlie Brown/EPIC), and Nathaniel Tomb.
Tickets are $20.00 plus a two-drink minimum and are available at www.triadnyc.com/buy-tickets - Performance takes place at The Triad Theater, 158 W 72nd St (Between Broadway and Columbus Ave.), New York, NY 10023. Subways: 1/2/3/B/C to 72nd Street. Running time: 2 hours with intermission.
More information is available at www.epicplayersnyc.org. Follow on Facebook: www.facebook.com/epicplayersnyc, Instagram: www.instagram.com/epicplayersnyc and Twitter: www.twitter.com/epicplayersnyc.
The EPIC Players - which stands for empower, perform, include and create - is a theatre company in New York City founded in 2016 to provide opportunities for performers with developmental disabilities to represent themselves on stage and screen. EPIC seeks to use the performing arts as a vehicle to empower artists with developmental disabilities and pioneer increased inclusion in the arts. EPIC advocates for previously unexplored career paths for those living with developmental disabilities and hopes to become an inclusive social resource for performing artists living with developmental disabilities seeking to represent themselves, their community and their talent on stage and screen.
It is EPIC's hope that our mainstage performances combined with our performing arts classes will prepare our actors for a successful and enriching career within the theatre arts and foster our mission to break down the social barriers surrounding these opportunities. In addition, by working with neuro-inclusively, we hope to illustrate a new way to use the performing arts and empower artists to use their craft to build communities and become change-makers in their field.
Funds raised from this performance will directly support EPIC's free, neuro-inclusive programming to pioneer further inclusion in the arts in the NYC theatre community.