Gabi Faye, Hannah Howzdy, and Erin Leddy Will Join Tim Realbuto In Concert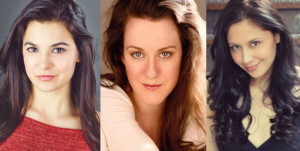 Gabi Faye (IMMORTAL; DIRTY GIRL), Hannah Howzdy (HAIR at The Hollywood Bowl; ASSASSINS at The Secret Theatre), and Erin Leddy (GHOSTLIGHT; CROSSROADS) will appear as special guest vocalists alongside Tim Realbuto in his upcoming April 18th concert at The Triad Theatre in New York City.
Newly minted film actor Tim Realbuto, who stars in the soon-to-be-released motion picture YES, will return to the concert stage after over a year long hiatus.
Realbuto previously announced that he would not do concert work for two years, but said in a statement: "I miss singing and doing concert work way too much. I couldn't hold out for longer than a year, which is much longer than most people thought I'd be able to handle, including myself. Hollywood and filmmaking is truly magical, but the stage is my true home."
After filming wrapped on YES, Realbuto was immediately cast in the Off-Broadway musical THE WRONG BOX, and is currently in rehearsals for Stephen Sondheim's ASSASSINS at The Secret Theatre.
Realbuto's 2019 return to concert work will take place at The Triad Theatre. Here's how the show is described: "Tim Realbuto returns to the concert stage after over a year long absence! Realbuto took a break from singing to play the lead role in the motion picture drama YES, based on his stage play of the same name. He stars in the film opposite Modern Family's Nolan Gould, Oscar Nunez of The Office fame, Jenna Leigh Green, and Siobhan Fallon. The film, directed by Rob Margolies, will be released soon. Now, Tim leaves Hollywood behind to return home to the stages of New York City. He is premiering his all-new show 'WELCOME HOME' at The Triad, his home away from home for the last eight years (this will be his seventh show at the venue). Come see Realbuto sing his favorite songs, including originals and covers ranging from Sondheim to P!nk (and hear a little bit of Hollywood gossip on the side). Also, expect some truly awesome guest stars." Julianne B. Merrill will play the piano and serve as the evening's musical director. The evening will be directed by Paul Mitchell Wilder.
Guest stars Gabi Faye and Hannah Howzdy are performing with Realbuto on stage for the first time, whereas he and Ms. Leddy have appeared together on numerous occasions, including their joint concert CROSSROADS last year at The Green Room 42.
Ms. Faye is known for her roles in the feature films IMMORTAL; YES; and LOVE AND COMMUNICATION. On stage, she has appeared as Amber Von Tussle in HAIRSPRAY and Columbia in THE ROCKY HORROR SHOW.
Ms. Howzdy is currently in rehearsals for ASSASSINS at The Secret Theatre, where she is playing the role of Lynette "Squeaky" Fromme (opposite Realbuto's John Hinckley). She has appeared in HAIR at The Hollywood Bowl and in productions of COPACABANA; INTO THE WOODS; CANDIDE; and GODSPELL.
Next month's concert will take place at the famed venue on Thursday, April 18th, 2019 at 7:00 PM. Tickets are priced at only $10. The Triad Theatre is located at 158 West 72nd Street in NYC. Tickets can be purchased now by visiting http://www.triadnyc.com/event/ee7318ed7f8f1dc9ec52acea2a664f9c
As usual, Mr. Realbuto will give a portion of his ticket sales to charity. This time his charity of choice is Broadway Cares/Equity Fights AIDS.
For more information on Mr. Realbuto, please visit www.TimRealbutoOfficial.com