EPIC Players Inclusion Company Presents A New Cabaret EPIC4AUTISM: Songs From The Spectrum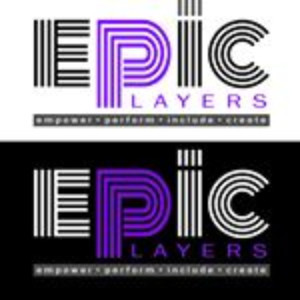 EPIC Players Inclusion Company is pleased to announce their Spring Cabaret Benefit, EPIC4AUTISM: Songs from the Spectrum, will take place on Autism Awareness Day on April 2 at the HBO Theatre in Midtown. A pre-show cocktail hour with hors d'oeuvres starts at 6:00 pm with the cabaret show starting at 7:00 pm. The evening is being generously sponsored in part by HBO's Corporate Social Responsibility Division. Proceeds will go towards funding EPIC Players upcoming season including their next production, William Shakespeare's The Tempest.
In addition to EPIC's upcoming Benefit and production of The Tempest, EPIC's Artistic Director, Aubrie Therrien, and EPIC Company Member, Samantha Elisofon, will speak at the United Nations Headquarters in New York for World Autism Awareness Day which will be observed on Thursday, April 5, 2018. This year's theme will focus on empowering women and girls with autism.
EPIC4AUTISM: Songs from the Spectrum is a musical celebration to benefit the neuro-inclusive company members of the EPIC Players, creating opportunities for artists on the spectrum. In honor of Autism Awareness Day, Songs from the Spectrum will feature performers across the autism spectrum singing songs about empowerment, identity and the human condition alongside Broadway greats and rock legends. The evening will also feature an open bar cocktail reception, passed and stationed hors d'oeuvres, and a silent auction.
More info is available at www.epicplayersnyc.org
The evening features the talent of many Broadway performers and acclaimed musicians including:
Musicians/Singers
· Jonathan Ivie (Broadway's Rock of Ages Band; Natasha, Pierre, & the Great Comet of 1812; 50 Shades! the Musical)
· Singer Katie Ivie (EPIC Board Member, performed at EPIC's Winter cabaret at The Triad/Song About Ourselves)
· Singer Jay Klaitz (Broadway's Rock of Ages & the upcoming Broadway musical Getting the Band Back Together - previews start July 2018 at the Belasco Theatre)
· Rock legend Lord Graham Russell (singer-songwriter, founding member of Air Supply/music & lyric writer for A Wall Apart/2017 NYMF - co-written with EPIC board member Sam Goldstein, PH.D.)
· Amaker Smith (Priscilla Queen of the Desert on Broadway, SMASH/NBC and Millenniums/Hulu)
The cabaret includes performances by EPIC members Miles Butler, Samantha Elisofon (Lead actor in Keep the Change/Tribeca Film Festival), Dante Jayce, Melissa Jennifer Gonzalez, Nicky Gottlieb, Bree Klauser, Nick Moscato, Jason Moy, and Gideon Pianko. Carly Hayes and Anton Spavick round out the cast.
Tickets and reservations can be made at www.epicplayersnyc.org - There is a suggested, tax-deductible donation of $55 to reserve a seat which includes an open bar, hors d'oeuvres and access to the silent auction. Cabaret running time: 2 hours with intermission. The musical benefit will take place at HBO Headquarters - HBO Theatre, 1114 6th Avenue, New York, NY 10036.
About The Tempest
The third production of EPIC Players 2017-18 season is a neuro-inclusive adaptation of William Shakespeare's The Tempest. The play will run for 10 performances between May 31st and June 10th at The Flea Theater, The Siggy (named after founder Sigourney Weaver).
The Tempest, Shakespeare's last play exploring themes of revenge, social hierarchy, inclusion and exclusion, tells the story of Prospero, the Duke of Milan usurped of his position and power by his brother and banished, along with his young daughter Miranda, to a magical island full of mysterious creatures. For 12 years, Prospero waits, uncover magical powers inside himself, until a sail appears on the horizon, with a ship carrying his past enemies. Creating a magical storm, he wrecks the vessel and washes those who have wronged him - and some who have saved him -- upon the shore. When they wake they find themselves lost on a fantastical island where nothing is as it seems.
Aubrie Therrien and Travis Burbee will co-direct The Tempest with Meggan Dodd serving as assistant director. The creative team includes lighting design by Zach Weeks, scenic design by Michael Lewis, costume design by Sarah Lawrence, properties design by Talia Eapen, sound design by Megan Culley, and original music by Paolo Perez. Kyle Hogrefe provides stage management with assistant stage manager Carol Hoverman.
The Tempest cast features Nick Amodio (Trinculo), Max Baudisch (Stephano), Whitney Blythe (Ariel), Yotam Braunshtein (Ariel), Miles Butler (Ariel), Kim Carter (Ceres), Gianluca Cirafici (Alonso), Danielle Coles (ensemble), Samantha Elisofon (Hera), Melissa Jennifer Gonzalez (Sebastian), Carly Hayes (Miranda), Dante Jayce (Antonio), Andrew Kader (Caliban), Jessie Lanza (Juno), Zach Lichterman (Francisco), Nick Moscato (Iris), Jason Moy (Boatswain), Gideon Pianko (Adrian), Cassidy Rahman (ensemble), Ari Sloan (Ship Master), and Anton Spavick (Prospero).
The Tempest runs May 31st to June 10th with shows scheduled for 7:00 pm on Thursdays, Fridays and Saturdays, and matinees schedule for 2:00 pm on Saturdays and Sundays. Tickets will go on sale April 2nd at www.epicplayersnyc.org - Performances take place at The Flea Theater - The Siggy, 20 Thomas Street (between Broadway & Church Streets), New York, NY 10007. Subways: A/C/E/1/2/3/J/M/Z to Chambers Street, N/Q to Canal Street, and the R/W/4/5/6 to City Hall.
About EPIC Players
The EPIC Players--which stands for empower, perform, include and create--is a theatre company in New York City founded in 2016 to provide opportunities for performers with developmental disabilities to represent themselves on stage and screen. EPIC seeks to use the performing arts as a vehicle to empower artists with developmental disabilities and pioneer increased inclusion in the arts. EPIC advocates for previously unexplored career paths for those living with developmental disabilities and hopes to become an inclusive social resource for performing artists living with developmental disabilities seeking to represent themselves, their community and their talent on stage and screen.
It is EPIC's hope that our mainstage performances combined with our performing arts classes will prepare our actors for a successful and enriching career within the theatre arts and foster our mission to break down the social barriers surrounding these opportunities. In addition, by working with neuro-inclusively, we hope to illustrate a new way to use the performing arts and empower artists to use their craft to build communities and become change-makers in their field.
Partial funding for this project has been made possible through the Alliance of Resident Theatres/New York Creative Space Grant. EPIC is a resident theatre company that is proud to be an Anchor Partner of The Flea.
Facebook: www.facebook.com/epicplayersnyc
Instagram: www.instagram.com/epicplayersnyc
Twitter: www.twitter.com/epicplayersnyc