Courtney Bassett, F. Michael Haynie, Natalie Weiss and More Set for HUMAN FIRST Fundraiser for School in Tanzania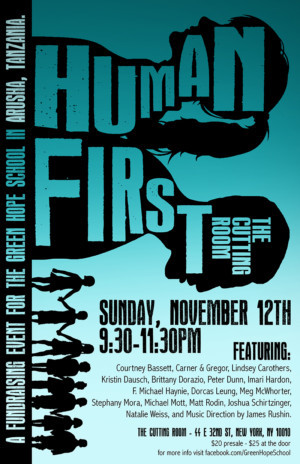 After a successful first run back in August, Brittany Dorazio, New York artist and VP of Green Hope School in Arusha, Tanzania is bringing back the cabaret series, "Human First" - this time with some of New York's finest storytellers.
Human First is a fundraising event raising money for Green Hope and exploring what it means to be a Human First in New York City.
We all know the struggles we face with getting ahead in this wild city and the titles we attach to ourselves, but what are the things that give us great joy? What are the things that give us authentic inspiration to be ourselves? Through song and dialogue, these artists will take you on a journey through their vulnerable and joyful human experience.
Featuring Courtney Bassett (Great Comet), Sam Carner and Derek Gregor of Carner & Gregor, Lindsey Carothers (Bring it On, Wicked), Kristin Dausch (Funny Girl), Peter Dunn (GAYS: The Series), Imari Hardon (Avenue Q), F. Michael Haynie (Charlie and the Chocolate Factory), Meg McWhorter (The Last 5 Years), Stephany Mora (Echoes of Etta), Michael Mott (In the Light, Abandoned Heart, Where the Sky Ends), Matt Rodin (Red Carpet Challenge. BROADway), Joshua Schirtzinger, and Natalie Weiss (Everyday Rapture, Wicked, Breaking Down the Riffs).
Accompaniment by James Andrzej Rushin with Dave D'aranjo on bass and Chris Carroll on drums.
Proceeds go to the Green Hope School in Tanzania. Green Hope is a nursery school located in Arusha,Tanzania. It was founded in June 2011 by a local teacher, Harriet Joel. The school currently accommodates over 60 children and is equipped with three classrooms. Green Hope aims to provide the children with a solid pre-primary education, as well as proper nutrition and a safe place to go during the day. Green Hope is committed to providing a local solution with a long-term goal of self-sufficiency. We firmly believe that in order to succeed, a solution must come from the community itself. Click here for more info on donating.
Human First will take place on November 12, 2017 at 9:30pm at the The Cutting Room at 44 E 32nd St, New York, NY 10010. b/t Park and Madison. $20 presale, $25 at the door. Visit www.eventbrite.com/e/human-first-tickets-38978387406.
Flyer by Nate Bertone.