Birdland presents Joe Lovano, Us Five, and More Next Week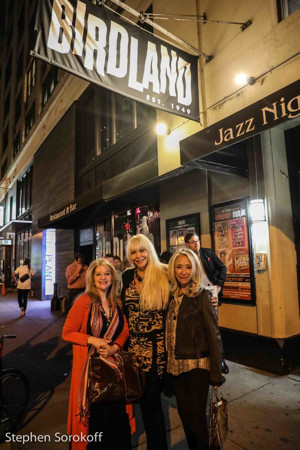 Birdland will kick-off their great week of programming with the following acts:
February 5 (Monday) at 7:00PM
Fleur Seule is an authentic jazz band straight out of the 1940s. With the swingingsounds and glamorous fashion of the Big Band era, this young band of old souls will have your feet tapping in no time. Bandleader Allyson Briggs, The Glamour Girl of Jazz, sings in 7 languages to give a wide variety of repertoire to an infectious sound. She leads the band with feisty swinging sounds, contrasting those warm, intimate moments of musical discovery.
All tickets $30, $10 food/drink minimum
February 5 (Monday) at 9:30PM
Jim Caruso's Cast Party
Jim Caruso's Cast Party is a wildly popular weekly soiree that brings a sprinkling of Broadway glitz and urbane wit to the legendary Birdland in New York City every Monday night. It's a cool cabaret night-out enlivened by a hilariously impromptu variety show. Showbiz superstars, backed by Steve Doyle on bass, Billy Stritch on piano and Daniel Glass on drums, hit the stage alongside up-and-comers, serving up jaw-dropping music and general razzle-dazzle.
All tickets $30, $10 food/drink minimum
February 6-10 (Tuesday-Saturday) at 8:30PM and 11:00PM
Joe Lovano Us Five featuring James Weidman, Peter Slavov, Otis Brown III, Francisco Mela
Cleveland native saxophonist Joe Lovano combines eclectic taste in conceptual projects with his own distinctive sound. His current recording, "Bird Songs" has become one of the most celebrated recent jazz recordings because it breaks the mold for Bird tribute records (Birdland's namesake Charlie "Bird" Parker). It's a thrillingly adventurous, thoroughly modern, and uniquely personal look at one of the most influential figures in jazz history by one of the most important voices in the music today. And Lovano's dynamic young band, Us Five, is the perfect vehicle for this exploration with James Weidman on piano, Esperanza Spalding on bass (Wed 2/7 - Sat 2/10), Peter Slavov on bass (Tues 2/6), Otis Brown III and Francisco Mela on drums, and Joe Lovano on reeds.
All tickets $40, $10 food/drink minimum
February 7 (Wednesday) at 5:30PM
David Ostwald's Louis Armstrong Eternity Band
Inspired by the noble jazz pioneers Louis Armstrong, Bix Beiderbecke, Duke Ellington, Jelly Roll Morton and their colleagues, David Ostwald's Louis Armstrong Eternity Band breathes life and passion into America's own great art form. Now in its 14th year of residency at Birdland, the weekly post-workday engagement is the city's best musical bargain! Tuba player David Ostwald leads a rotating lineup that features talents such as clarinetist Anat Cohen, trombonist/vocalist Wycliffe Gordon, pianist Ehud Asherie, drummer Marion Felder and more!
All tickets $30, $10 food/drink minimum
February 8 (Thursday) at 6:00PM
Rio-born Brazilian jazz composer, singer and pianist Luiz Simas has been described as "gorgeous, sparkling, virtuosic" and "sassy, clear, vibrant, yet understated." His voice has been touted as having a "wind-swept, deliriously romantic croon" "at times coming across as a Brazilian Frank Sinatra, but Ol' Blue Eyes never had backing music as thrillingly exotic as this." He'll be joined by top musicians Itaiguara on bass, Mauricio Zottarelli and Adriano Santos on drums, Joe Deninzon on violin and Paul Lieberman on sax and flute. A celebration of Luiz's 70th birthday, this concert will also have many illustrious special guests, such as mandolin player Marilynn Mair, singer Kenia, singer Julia Haughton and several others. The program will include many of Luiz's infectious original tunes and improvisations, as well as his own brilliant arrangements of beloved Brazilian music standards reaching beyond the Brazilian pop base and into jazz, world and bossa nova.
All tickets $30, $10 food/drink minimum
February 9 (Friday) at 5:15PM
The Birdland Big Band
Founded by drummer and musical director Tommy Igoe, the Birdland Big Band features the finest musicians in New York! Celebrating 10 years at the club, the BBB roars into action every Friday, playing the finest Jazz, Latin and Brazilian music from the world's best arrangers. After work or before a show, drinks or a great dinner, come hear one of the world's best drummers driving the hardest swinging band in New York. Experience why the BBB is the must-see weekly jazz event in New York and kick off your weekend with what critics are calling "the best live music bargain in all of NYC!"
All tickets $30, $10 food/drink minimum
February 10 (Saturday) at 6:00PM
Singer/pianist Eric Comstock has been called "a song's best friend," and the jazz and pop songbooks are in great hands when he is onstage at Birdland. Whether the song is by Rodgers and Hart or Ellington and Strayhorn, Paul Simon or Bob Dylan, you'll hear the lyric as if for the first time. Joining Eric will be eminent bassist/composer Sean Smith -- in all, a perfect winter Saturday supper!
All tickets $30, $10 food/drink minimum
February 11 (Sunday) at 6:00PM
Melanie Stace "The Look of Love"
"The Look Of Love" will feature some of her original songs, together with other songs from some of the writers who have influenced her: Caro Emerald, Burt Bacharach, James Taylor, Harry Connick Jnr, Billy Joel and the Late Leon Russell together with some other classics from the Great American Songbook.
All tickets $30, $10 food/drink minimum
February 11 (Sunday) at 9PM & 11PM
The Afro Latin Jazz Orchestra
Grammy Award winning pianist, composer and educator Arturo O'Farrill -- leader of the "first family of Afro-Cuban Jazz" (NY Times) -- was born in Mexico and grew up in New York City. Son of the late, great composer Chico O'Farrill, Arturo was Educated at Manhattan School of Music, Brooklyn College Conservatory and the Aaron Copland School of Music at Queens College. He played piano in Carla Bley's Big Band from 1979 through 1983 and earned a reputation as a soloist in groups led by Dizzy Gillespie, Steve Turre, Freddy Cole, Lester Bowie, Wynton Marsalis and Harry Belafonte.
All tickets $40, $10 food/drink minimum
TICKET INFORMATION:
Purchase tickets at: www.BirdlandJazz.com
For more information and reservations call 212-581-3080.
Ticket prices will vary by performer.
At the tables, there is a $10 food/drink minimum per person in addition to the music charge.
At the bar, the music charge will include one complimentary drink with no additional minimum.
ABOUT BIRDLAND JAZZ CLUB:
Named for alto saxophonist and jazz pioneer Charlie "Bird" Parker who dubbed it "The Jazz Corner of the World," Birdland opened on December 15th 1949. For 60 years it has been home to jazz legends, from Parker, John Coltrane Duke Ellington and Count Basie to Oscar Peterson, Hank Jones, Diana Krall and everyone in between. The original 52nd street location was a cultural barometer and meeting place, inspiring the songs "Birdland" and "Lullaby of Birdland," and serving as a regular haunt for celebrities and cultural figures. The modern incarnation is a state of the art nightclub featuring award winning Southern and Cajun cuisine, first rate sound and lighting and a who's who of contemporary musical artists, 7 nights a week.
315 West 44th Street (between 8th & 9th Avenues)
New York, NY 10036
DISCOUNTS AND SPECIALS:
Students (with current ID) & Broadway Theatre-Goers (with Broadway ticket stub from same day of performance): 50% off music charge at 11PM shows only.
Related Articles View More Cabaret

Stories

Shows
More Hot Stories For You