Review: THE BILLY STRITCH TRIO Brings the Jazz Back at Birdland
Billy Stritch Returns to Birdland in an Evening of Gorgeous Jazz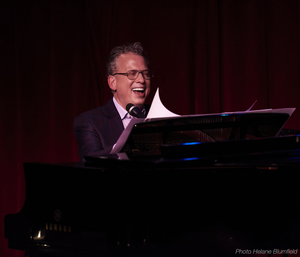 Billy Stritch is best known as one of New York's premier jazz pianists and as "accompanist to the stars." His collaborations with Marilyn Maye, Liza Minnelli, Linda Lavin, Christine Ebersole, Paolo Szot, and other Broadway luminaries have produced albums, shows, and many magical evenings. His arrangements have been heard in cabaret rooms and concert halls around the world.
But the pandemic has been a time for Stritch to concentrate his attention on his solo career. He used the time to create Billy's Place, an online streaming party that airs each Thursday evening on Facebook. Billy Stritch is front and center on Billy's Place. He plays piano, sings, tells stories, and acts as host and raconteur. The online program proved so popular that his record company, 44 Records approached him about doing an album of songs he played on the air. The resulting album is also called BILLY'S PLACE.
Last night he celebrated the release of that album when he opened a new live show at Birdland with the Billy Stritch Trio. Birdland has been his performing home base for nearly 20 years and so it is only right they are featuring The Billy Stritch Trio on the main stage as part of their return to in-person performances. It is a joyful return for this world-famous jazz venue.
Billy Stritch has always embodied a suave elegance that evokes another era before tuxedos were replaced by ripped jeans and before cocktail hour was replaced by Netflix binges. His encyclopedic knowledge of The Great American Songbook is prodigious. He not only knows all the songs, he knows the history of them all. He is as stylish as the great pianists of that era: Oscar Peterson, Marion McPartland, Teddy Wilson, Art Tatum, and Dave Grusin. He is the upholder of a tradition that includes Ella Fitzgerald, Tony Bennett, Frank Sinatra, Barbra Streisand, Doris Day, and Mel Tormé.
His program tonight included songs by some of the biggest names in American songwriting. Barry Manilow, Johnny Mercer, Hoagy Carmichael, Rodgers and Hart, Bobby Troup, John Latouche, Bruno Martino, Frank Loesser, Jimmy McHugh, Marvin Hamlisch, Dorothy Fields, and Sammy Cahn all were featured, as well as a couple of songs by Billy Stritch himself.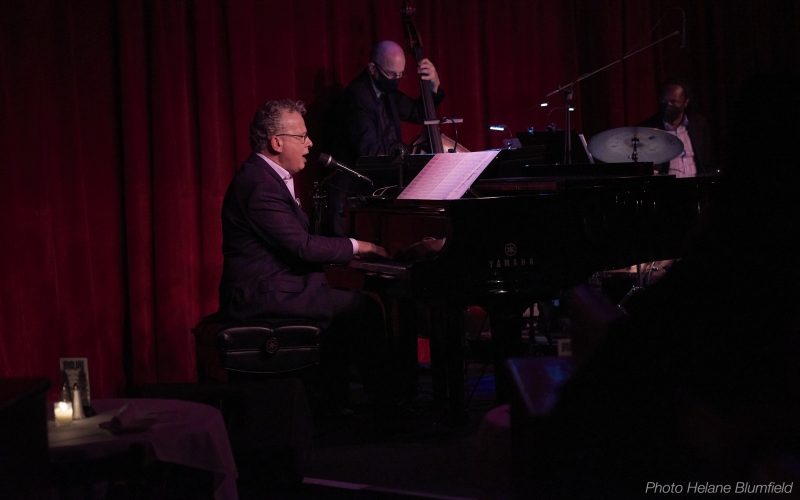 It would take more space than I have to enumerate each of the individual numbers here, but I would be remiss if I didn't point out some highlights. He opened his evening with "Meet Me, Midnight," an uptempo jazz number by Barry Manilow. I was particularly impressed with his beautiful reading of the standard, "Skylark." He gave poignance to "Planes" by Peter Allen and Carole Bayer-Sager. "They've Got a Lot of Coffee in Brazil" was a samba-flavored crowd pleaser. He gave us an exotic and beautiful medley of "A Lazy Afternoon" and Bruno Martino's "Estate." It was mysterious and ravishing. The centerpiece of the concert was a quartet of songs by Jimmy McHugh. His own song "Since You Left New York" was a heartbreaking love song written with Sandy Knox. And he ended the show with a brassy version of Sammy Cahn's "Teach Me Tonight."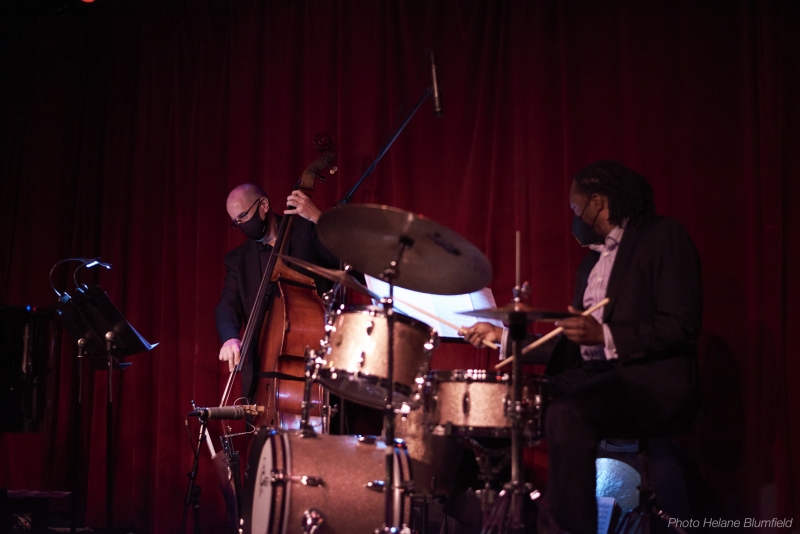 Billy Stritch was supported by his hugely talented trio, Tom Hubbard and Mark McLean. They were particularly well featured on the Jimmy McHugh medley. One could not ask for two more gifted and sensitive side men. The three made an encore of Marvin Hamlisch's "Ordinary Miracles" with a lyric by Alan and Marilyn Bergman. It was an inspiring and rapturous finale to an evening of beautiful jazz. The Billy Stritch Trio has given us a wonderful reminder that Birdland is one of America's premier jazz clubs. We are lucky, indeed to have it back.
The Billy Stritch Trio plays two shows on Friday and Saturday evenings. To get tickets, go to birdlandjazz.com. To learn more about Billy Stritch, visit billystritch.com.
Photos by Helane Blumfield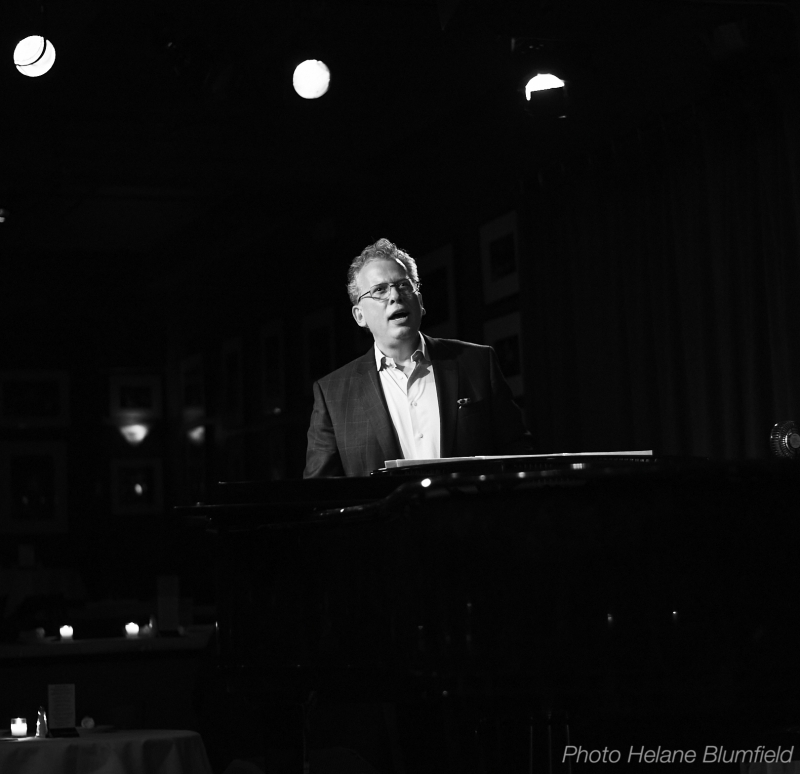 ---
Join Team BroadwayWorld
Are you an avid Cabaret fan in NYC? We're looking for people like you to share your thoughts and insights with our readers. Team BroadwayWorld members get access to shows to review, conduct interviews with artists, and the opportunity to meet and network with fellow theatre lovers and arts workers.
Interested? Learn more here.
---
Ricky Pope is a very busy actor/musical director/vocal coach who has toured the country with the national tours of ANNIE, ALL SHOOK UP AND TITANIC. He has worked in regional theatres in 49 states i... (read more about this author)
Review: SUSAN MACK Delivers an Introspective Evening in YESTERDAYS at Birdland

November 15, 2022

We all love to reminisce. A trip down memory lane is highly satisfying. In fact, for those of us who are devotees of The American Songbook, reminiscing is sort of our gig. Susan Mack has made it the theme of her evening, SUSAN MACK: YESTERDAYS, which opened yesterday at Birdland. And Ms. Mack is, indeed a singer worth remembering. She has a voice as full-bodied as honey, with impeccable pitch and delicious taste in music. She put together a program of classy, often rueful tunes about days gone by, both hers and ours. As she points out, the beauty of calling a show YESTERDAYS is that you can sing anything written before today.
---
Review: JOHN PIZZARELLI & JESSICA MOLASKEY: EAST SIDE AFTER DARK Lights Up the Night at Café Carlyle

November 10, 2022

There is one place on the modern East Side where that world of NY cognoscenti is as alive and vibrant as it ever was. Café Carlyle is the perfect setting for John Pizzarelli and Jessica Molaskey's show EAST SIDE AFTER DARK. They serve up tune after tune from that 50s and 60s scene where life didn't begin until after sunset and jazz was the currency of the smart set. Pizzarelli, son of jazz great Bucky Pizzarelli, is a world-class guitarist who has worked with a long list of luminaries including Rosemary Clooney, James Taylor, and Paul McCartney. He has recorded 20 solo albums and has appeared on at least twice that number for other artists. Jessica Molaskey, a Broadway baby if ever there was one, has appeared in a dozen or more hit shows including Sunday in the Park With George, Cats, Crazy For You, Chess, Oklahoma!, City of Angels, Parade, A Man of No Importance, and Songs For a New World to name only a few.
---
Review: GOLDIE DVER: SWEET BEGINNING Is a Reason For Thanksgiving at Laurie Beechman Theatre

November 7, 2022

Ms. Dver looks great, sounds, great, and breezes through her treatise on gratitude with a light and confident touch. She is, as Cole Porter would say The Hostess With the Mostess' on the Ball.
---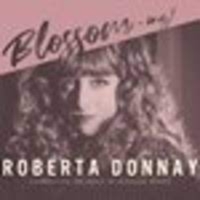 ALBUM REVIEW: Roberta Donnay BLOSSOM-ING! is a Delightful Way to Spend a Rainy Afternoon

October 29, 2022

Roberta Donnay has turned her attention to the legacy of Blossom Dearie for her 10th studio album BLOSSOM-ING!, subtitled 'Celebrating the Music of Blossom Dearie.' And it is a celebration indeed. Throughout her 3 decade career, Donnay has explored the many sounds and genres of the 20th century. She is a stylistic shape-shifter who is equally at home in rock, folk, and jazz. For this album, she accentuates the wispy quality of her instrument to match the ethereal nature of Dearie. She has captured Blossom Dearie's gift for playful storytelling and interplay between vocalist and instrumentalist. Her album is a joy to listen to from start to finish.
---
Review: RIAN KEATING SINGS JACQUES BREL is a Rich Dessert at Don't Tell Mama

October 27, 2022

Ricky reviews Rian's JACQUES BREL night at Don't tell Mama.
---