Click Here for More Articles on NEW YORK CITY
BWW Review: Nikka Graff Lanzarone Steps into the Spotlight, Paying Tribute to Her Role Models in HERO WORSHIP at Feinstein's/54 Below
"Nee-kuh Gra-af Lan-zuh-rone-ee"
If Nikka Graff Lanzarone was going to make sure of one thing through her Feinstein's/54 Below debut show HERO WORSHIP on February 23, it was that her audience would leave knowing how to properly say her name, damn it.
That insistence evoked another woman who famously made sure both the pronunciation and spelling of her name were never minced and Lanzarone, fittingly, began the show paying tribute to her. With cunningly reworked lyrics by Kevin Jaeger, "Liza with a Z" became "Nikka with an A," and the tone of the evening was immediately set forth.
Lanzarone, a true-blue triple threat who most recently starred in the Off-Broadway production of SWEET CHARITY, comes from a long line of show business royalty. She, like anyone born and raised on performance, wholly acknowledges the influence of her predecessors (both within and outside of her family) on her genetic and performative makeup. Thus emerged the concept of her solo show. Using the sentient direction of Robbie Rozelle, Lanzarone pieced together through songs and video accompaniment a stroll through her life and burgeoning career, filling the show with exuberance and laughter, vocal prowess and, unexpectedly, a few tears.
The show was formatted into distinct segments: show tunes ("to satisfy the gays") and songs from the realm of pop which have had a profound impact. "Nikka with an A," the original version of which was written by Kander and Ebb, then, was followed by Irving Berlin's "Mister Monotony" and a profoundly moving mashup of Stephen Sondheim's "What Can You Lose?" (from the 1990 film DICK TRACY) with the always-poignant "What I Did for Love" from A CHORUS LINE. Lanzarone, a strong belter, is entirely in her element singing theater standards, the music that is in her blood. She demonstrated, however, that she is as equipped to take on more contemporary or pop-skewing music, as well.
The Oasis song "Wonderwall," inescapable for the latter half of the 1990s, was tinged with Broadway through Lanzarone's fervent vocals and the relatively grand accompaniment of the large band. Those skilled musicians, under the musical direction of Brian J. Nash (also on piano), included Alexa Tarantino (reeds), Jeremy Yaddaw (drums), Lily Maase (guitar), Lorenzo Wolff (bass) and Geoff Packard, who made a special guest appearance on the trombone.
The evening's proverbial showstopper came in the form of a medley, though one unlike you've ever heard before. Discussing her affinity for background singing, Lanzarone described how growing up and beyond, she'd be engrossed by the background vocals while listening to music. Additionally, her grandfather had an illustrious career as a background recording artist. Paying tribute to her grandfather and everyone else who spends their life "20 feet from stardom," she crafted a medley billed as "a short selection of songs I will never learn the words to because I am too distracted by the backup vocals." Moving at a quick-fire rapidness through tunes which included everything from Queen's "Bohemian Rhapsody" to Tom Petty's "Free Fallin'" to Beyoncé's "Countdown," the bit was both an eye-opening demonstration of the intricacy of backup vocals as well as an impressive show of Lanzarone's impressive and extensive musicality.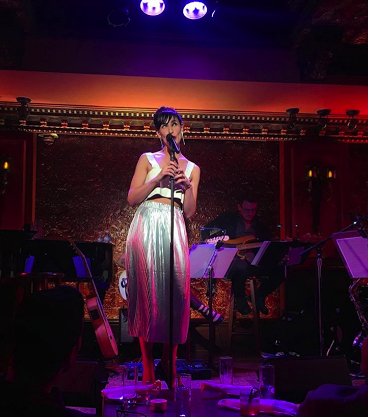 And finally, those tears. It's no stretch to say these wrought times have created an intensified emotional vulnerability, one which artists (if they're smart) may use to create a more enriched product. That moment during HERO WORSHIP came in the form of the Ani Difranco tune, "32 Flavors," which Lanzarone performed alongside a slideshow of women throughout the centuries who have, nevertheless, persisted. These women included show business legends, of course: Barbra Streisand, that Liza, again, and more modern emblems like Tina Fey, Amy Poehler, and the late Carrie Fisher. But the slideshow expanded far beyond just performers to feature the likes of Senator Elizabeth Warren, Michelle Obama and, the kicker, Hillary Clinton, whose face elicited a collective exhale of wistfulness enhanced further by the song's melancholy.
The montage exemplified what so many know to be true: when executed with skill and thought, there is nothing more powerful than the confluence of music and visual performance. Lanzarone knows this, too, of course, and if her solo concert debut was an indication of the career that still lies ahead of her, it would be no stretch to imagine she herself will one day be honored in someone's own hero worship.