BWW Interview: Matt Redmond Directs 54 SINGS 1776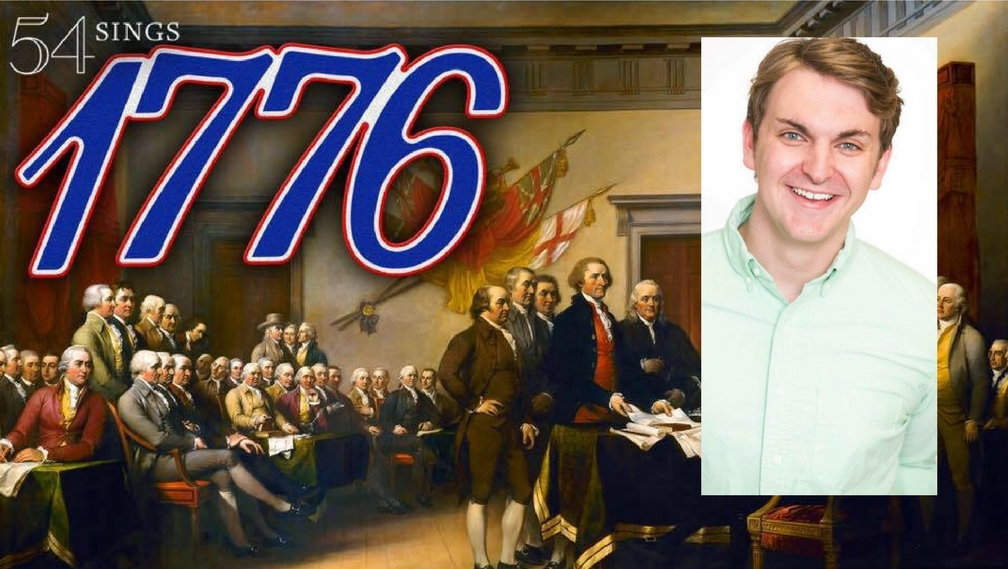 FEINSTEIN'S/54 BELOW, Broadway's Supper Club, presents "54 Sings 1776" on July 3 and July 4, 2017. The Fourth of July meets Broadway in the fourth annual concert staging of the beloved musical, 1776, at Feinstein's/54 Below. Featuring Broadway stars like Carrie St. Louis (Wicked/Rock of Ages) and Kyle Scatliffe (Les Miserables/The Color Purple) you're sure to feel patriotic watching this beautifully staged concert.
I was lucky enough to sit down with director Matt Redmond, a recent graduate of Oklahoma City University, to hear about his experience moving to the Big Apple and working on "54 Sings 1776".
Christopher Castanho: Why don't you start by giving us a little bit of your background, where you're from and where you went to school.
Matthew Redmond: I'm from St. Louis, Missouri and was really lucky to grow up in an environment that supported and honored the arts. I started doing theatre in middle school, and really haven't stopped. I graduated from Oklahoma City University last year with degrees in acting and directing, where I directed many plays and served as the Artistic Director of their Student Run theatre company. Growing up in St. Louis, The MUNY was always a home to me, and I spent last summer Assistant Directing productions of Aida and Mamma Mia!. I worked as a Production Assistant for PENN AND TELLER ON BROADWAY and recently just finished working as the Artistic Intern at Manhattan Theatre Club, through the rest of their season including this year's Tony-Winning JITNEY and THE LITTLE FOXES. This will actually be my directing debut in NYC!
CC: How'd you book the gig?
MR: I did a summer internship two years ago with 54 Below (now Feinstein's/54 Below). I got connected for the internship through a friend from home who I'd known since I was in middle school. I worked in the Programming Department under Jen Tepper, and I credit so much of what I know in this business to her and my time at 54 Below. I was really lucky to get to do a lot of hands-on work with the department, but Jen and the team there are proof of what watching and learning can do.
CC: What's been your favorite part working on this production?
MR: I've loved putting so many different people together in a room and just seeing what happens. I joined the concert after it had been partially cast, and then proceeded to work with the producer and music director to cast the rest of the production. I really wanted to focus on giving the opportunity to younger artists who don't easily get exposure to a New York stage, so it's been exciting watching my peers work with some of Broadway's finest talents. It's really something special to see these people who don't know each other at all come together for four rehearsals and throw something together. It's an obvious lesson in how important it is to be an adaptable and positive member of an ensemble.
CC: How does a concert staging of this show led itself to the overall theme and story?
MR: It's interesting putting this show in concert form, because of how little music there actually is in comparison to the scenes. The total time for music is about 45 minutes, but a fully staged production of 1776 is definitely two and a half hours. To me, it shows just how important that music is. The reason a character sings on stage is because spoken words aren't enough for them in that moment, so concerts are interesting to explore (what should be) the most important and heightened moments that characters are experiencing in any piece. 1776 is obviously about how the Declaration of Independence came to be, but a concert staging exposes us to the moments we musically meet these characters outside of the book. It focuses less on what they are doing (trying to establish or stop independence), and more on who they are and why their stories are important.
CC: What does the story of 1776 mean to you?
MR: We revisit musicals and plays from the past because of what the subject matter has to say today and what we can take out of it that audiences years ago couldn't. A production of 1776 means something entirely different today than it did 30 years ago, or even 3 years ago. For me, 1776 is so relevant today because it's giving us insight to the people who made important decisions for our country. It shows us who wanted our country to succeed and who wanted their party to succeed, which is obviously a relevant topic of interest in our society today. Transparency is so important, and I think people assume we live in such a transparent social and political world because we can get any piece of news at the click of the button. But with the advancement in technology also comes advancement in security and privacy. There is so much that happens that we don't know about because we can get so distracted with the latest article, but in 1776 they didn't have any of that to distract the people. Obviously not everyone knew everything, but I'm going to guess it was a lot easier to figure out if Ben Franklin wanted independence than it currently is to figure out if Donald Trump does or does not believe in Climate Change. It also reminds us that the voices of women and children need to be heard, and makes you wonder where we'd be as a country today if women had been involved in the writing of the Declaration of Independence.
---
The cast for both nights includes Kyle Scatliffe (The Color Purple, Les Miserables) as John Adams, Carrie St. Louis (Wicked, Rock of Ages) as AbiGail Adams, Julian Decker (Sunset Boulevard, Les Miserables) as Benjamin Franklin, Ryan Vona (Paramour, Once) as Richard Henry Lee, Tally Sessions (War Paint, Falsettos) as Thomas Jefferson, Michael McCorry Rose (Wicked, A Gentleman's Guide To Love and Murder) as John Dickinson, Kim McClay (I'll Be Home for Christmas World Premiere) as Martha Jefferson, Wade McCollum (Ernest Shackleton Loves Me, Wicked) as Edward Rutledge, and Alex Prakken (Newsies National Tour) as The Courier.
Additional casting includes Connor Deane (Les Miserables at the MUNY, Broadway Method Academy Executive Director) as Roger Sherman, Michael Hull (Avenue Q, That Golden Girls Show) as Robert Livingston, Ben Biggers (Elementary on CBS, Aida at the MUNY) as John Hancock, Nathan Goodrich as Charles Thomson (The Fantasticks Off-Broadway), Jordan Jacobs (Peter and the Starcatcher at Oklahoma CityRep) as James Wilson, and Sam Hartley (The Lightning Thief: The Percy Jackson Musical, Beauty and the Beast National Tour).
"54 Sings 1776" plays Feinstein's/54 Below (254 West 54th Street) on July 3 and July 4 at 7:00 and 9:30 each night. There is a $25-$40 cover charge and $25 food and beverage minimum. Tickets and information are available at www.54Below.com. Tickets on the day of performance after 4:00 are only available by calling (646) 476-3551.