BWW Interview: JOSH FRANKLIN at The Green Room 42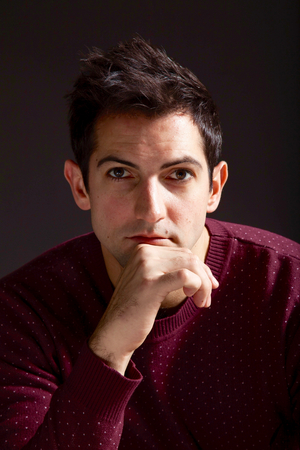 There's a force of nature at work in New York City, one so big that it can barely be contained, and the force's name is Josh Franklin. An accomplished actor, singer, and dancer with several Broadway credits, Mr. Franklin's talent is so immense that it has been channeled into the writing of scripts, creation of lyrics and the composition of music. Oh, yes, he plays instruments, conducts and directs, too. There aren't enough hours in each day for the amount of creativity issuing forth from this multifaceted artist, so when it came time for him to showcase songs from his three (yes, three) new musicals, several of his close friends from The Broadway jumped at a chance to present his artistry for Manhattan, and a special night of musical cabaret was planned.
When Josh Franklin hits the stage at The Green Room 42 on August 18th, it will not be to sing his songs from the musicals The Consoling Mechanism, Royal Blood, or Jack: A Moral Musical Tale. That happy pleasure will belong to Tony nominees Caitlin Kinnunen and Christopher Sieber of The Prom, and a bevy of Broadway performers like Alysha Umphress, Alison Luff, Nathan Lee Graham, Brian Sears, Mariah Lyttle, Nick Martinez, Bronwyn Tarbaton, Kaylin Hedges, Jaron Barney, Matthew Hydzik, and Nivaan Pal. Mr. Franklin will be on hand to host but, for the most part, the Maestro will be watching as his music and lyrics debut to an audience about to discover Royal Blood, a musical comedy about vampires and politics in 18th century France, The Consoling Mechanism, the story of a girl struggling with the reality of her new life in a wheelchair and Jack: A Moral Musical Tale - a poignant story concerning bullying.
Already a fan of Mr. Franklin's work onstage and in the recording studio, I asked to speak with him about all the areas of his creative acumen, his attachment to nature and his love of his canine family members. Before that, though, I reached out to his castmate from The Prom, Christopher Sieber to ask him to tell me something about Josh and his music. In true Sieber form, I received this message: "Josh Franklin is a wonderful composer of great, quirky, hilarious musical theatre songs...he's also very handsome, tall, still believes in Santa Clause, and is also a litterbug. But his music!"
Let's see what the man himself had to say.
This interview has been edited for space and content.
Josh, Spent is one of the five CDs I play any time I have company over.
(Laughing) Oh my gosh! That is amazing!
It IS amazing, I'm doing everything I can right now to not fanboy over you.
Oh, fanboy! Do it! Do it!
The first time I played it around the house, my husband said: "What is this music?! It's really, really good!" I love both of your CDs but Spent is just something that works perfectly when you have company over.
Thank you so much! That album was really special. I did the whole thing in Colorado, took proper time off, it was a treat.
When you made the cd were you inspired by something to create all the songs or did they come up over a period of time?
It was definitely over a period of time. After the first album... you know, I write songs like a madman so I knew that I had plenty of songs to record another album, and I had a specific place in Colorado (where I'm from) that I wanted to record it, and it certainly grew as we started recording and I tinkered with things. Definitely wrote those songs over the course of several years.
Your sound is incredibly unique. Is that a sound you cultivated or did it just spring forth from you naturally?
I would say that it's certainly been refined over time, but when it comes to the pop music side, not necessarily the theater writing, that was something that was pretty organic. I remember in Junior High picking up a guitar and learning it pretty quickly, and some of the songs that I write today sound like that first song I wrote in seventh grade. Hopefully a little more sophisticated.
The music on Spent is not your theater work.
It's not. I recorded that album and then shifted gears at the request of Nathaniel Shaw - he was the first person, he's now the artistic director of Virginia Rep, who came to me - he'd gone to all of my gigs in New York and he was a fan of my music. He said to me "You've GOT to do a musical, I will do whatever it takes to help develop it". And he stayed true to his promise, with The Consoling Mechanism - we're spending a lot of time developing it, and it's set for a world premiere (at) Virginia Rep!
On August 18th, when your The Green Room 42 show plays, it's all music from musicals that you've written - Royal Blood, The Consoling Mechanism and Jack: A Moral Musical Tale? Which play came first?
I would say Royal Blood is the one that I've been working on the longest. It's a hilarious, set in 18th century France, musical comedy with hip hop and vampires... And the whole thing is based on actual events! It's really disturbing and terrifying and poignant, with our current political climate. Recently I shifted my focus and attention onto The Consoling Mechanism, but I've been meeting with my writing partner on Royal Blood weekly for the past several months. We've picked that project back up and it's really so good. It's a big show, a bit of a hard sell because it's so off the wall. I think that the first step is getting (the work) in front of people and there's no denying that when they see all these crazy songs from Royal Blood... about vampires... and Christopher Sieber singing the song called "Vampires are Real" - they'll quickly see how funny and fun a show like that could be to produce, I hope.
In this concert, we get to see all three shows represented?
A little taste from each!
So you've got these three musicals, ready to go. How do you decide where to place your focus?
It kind of depends on what's being produced. The Consoling Mechanism has been my primary focus in the past year because Virginia Rep has done all these wonderful things for me. We had a reading in New York last fall with Diana DeGarmo that went so well and inspired me to keep working really hard on the project. I took a week off from The Prom to go down to Virginia Rep to do a week of development with a group of actors down there, primarily focused on the script, which I also wrote - I did music, book, and lyrics for The Consoling Mechanism, which was a huge undertaking. With Jack: A Moral Musical Tale I was brought on for a couple of years to re-write what was... The concept was there, there was a loose thread of a show, and I was brought on board to re-write it, write some new songs, write the new book and direct it, which was huge; and a huge success. That was fascinating because it's very poignant and moving. It started out as an effort to raise awareness on bullying and suicide prevention. The whole county got involved, and the whole city of Colorado Springs got involved in this tremendous effort to go to underprivileged schools and present a twenty-minute version of the show in an effort to create the conversation on bullying and teach kids how to communicate with each other and what to do, and teach them that they have value and that nobody can take that away. It ended up being just a beautiful experience.
And while you're doing all this work on all these musicals, you're continuing to work as an actor.
(Laughing) YEAH! I'm just that insane. It's a lot. And there were times this year that certainly were stressful but SO worth it! I think the craziest thing I ever did was agree to do that reading of The Consoling Mechanism in the fall while I was in tech for The Prom. I don't think I've ever slept so little in my life but it was completely worth it on both sides! Obviously, it's so lovely and things are happening with these shows of mine. I guess I've just been saying "Yes!" to the universe.
So, what can audiences expect to see at your show on August 18th at The Green Room 42?
It's a huge show, we have a six-piece band - we have strings! We have about 14 singers, there are some group numbers, there are solos... they'll get a taste of each of these shows and how special they are. It's going to be a huge undertaking. I would say that the majority of the songs are comedy, it's certainly not going to be boring. It's going to be such a good time, and people are going to be shocked at the level of talent that's on that stage.
This is the first time a lot of these songs will be heard in the city - it must feel like you're giving birth.
It's daunting.
I once heard Carly Simon say that there is never not a song being created in her head. Is that a statement you can relate to?
100 percent. To the point that people probably get annoyed with me. Cause I will just turn anything into a song, usually for comedic effect. Stylistically there certainly is, there are songs in these musicals that people have said: "That is a classic Josh Franklin song" - so it's not like I've completely abandoned my sound for all of these musicals. That's part of why I love writing for the theater because I can approach a song from a character's point of view and what their style would be, and that's really fascinating for me. I get a little more freedom to play.
As a songwriter, what does it look like for you, letting go of a song so another artist can interpret it?
It's thrilling, honestly, I think because I've been on the other side of it so often. I'm certainly not afraid of somebody taking the reins and running with it. I am slightly ... everything is notated down to a 30-second note in the music, so it appears on paper that it is locked in, and there's no room for adding your own personal flair to it. Diana DeGarmo certainly gave her own spin on "Valerie" in The Consoling Mechanism and I loved every second of it. I'm not afraid as a songwriter for a different interpretation at all, I think that's thrilling - especially in theater - everything should be a collaboration, and that's what I strive to do.
Are there musical theater composers that have influenced you?
I would say that musically I'm more influenced, as we all are, by the music we grew up with, which wasn't necessarily musical theater writers - so I have a strong appreciation for them. It's hard not to be influenced when you perform in Broadway shows for a living.
What came first for you, the acting or the songwriting?
Probably the songwriting, and being an instrumentalist. As a young kid... my mom loves to tell the story that out of nowhere I just sat down at the piano and started playing along with my Little Richard cassette tape and from there ... well, music came first, and then the songwriting followed. Shortly after, I fell in love with acting; but music has been a part of my life since birth.
Do you play a lot of instruments?
I would say I am quite good at three instruments, and then I can play around on most instruments. I was the drum major, which is the conductor of the marching band, for three years and it was my goal because I was leading the band, to learn the concert b-flat scale on every instrument, which is what I did in High School. So at least at some point, I could play one major scale on every instrument. I'm not claiming to be able to do that anymore!
Josh, what was the first album you ever bought with your own money?
With my own money... I couldn't answer that question but I do know the first cd I received was Elton John Live in Australia, and that recently came back into my life because I found it on Spotify and I couldn't believe it. Listening back, those orchestrations are unbelievable and I think a lot of my tastes came from that time in my life - I must've been fifth or sixth grade and that album, listening to every single french horn part, and timpani, and guitar and every little detail - I was obsessed with it! I would conduct it in my room, I can't believe I'm admitting this to you!
That's right, you conduct as well.
Yeah, I did in High School with the marching band.
You're a musical prodigy.
(Laughing) I don't know if I would go that far!
Josh, you're from Colorado. New York is a big change from that. Do you miss nature?
The older I get the more that I am drawn to the mountains and hiking - I've been fortunate enough to be back quite a bit, back to Colorado Springs, where it's close to hiking and the most amazing dog park you'll ever see - with a river running through it and a hike involved. At first, I was that teenager that couldn't wait to get out of the house and move to New York but the longer I was away the more I missed the incredible view of Colorado Springs and that mountain that takes your breath away, it's so majestic.
Josh tell me about your dogs.
(Laughing) These dogs.... Sooky I've had for ten years now. She was a rescue, she had a lot of issues when I first got her, she needed a lot of love and I've been giving to her every day for ten years. She goes with me everywhere, she goes on tour with me. I think if I do another album it will be entitled Sooky. I'll just write an entire album about a day in the life of Sooky. She's a very emotional dog, she's very protective but very sweet. And recently Brooklyn came into our lives. She's one and a half, a little chihuahua mix, I'm not quite sure, so cute. And Sooky loves her, they're sisters.
You've been working on Broadway in the wonderful musical The Prom. Tell the truth: who's the biggest cut up backstage?
Backstage or onstage?! Onstage it is definitely Brooks - there have been shows where I think his main goal is to make everybody onstage laugh -- and he succeeds. He is a hoot. Everybody backstage - I've never met a more ridiculous, silly and lovely group of people in my life. It's just been pure joy from day one.
Who is the musical artist that you'd most love to hear interpret your songs?
Oh, wow. Hmmm. I think Rufus Wainwright doing a night of Josh Franklin would be cool because I trust he would bring a symphony with him, and orchestrate the whole thing. It would be stunning. Honestly, though, part of the reason I wanted to do this concert is I do have so many incredibly gifted friends who are donating their time and energy to my music. I couldn't be more thrilled. I mean it's nice to dream about some pop star doing your stuff but to have successful really talented friends that I've known for years immediately say "YES. 100 percent! Sign Me Up, I'm there, what do I get to sing?" That's the biggest compliment.
So your show's in about a week... are you nervous?
(Laughing) I am completely stressed out! Really, really excited. I wouldn't say I'm nervous only because my job is getting everything together leading up to it, and so much of the work, I've been working on for years and years. I've orchestrated everything myself, I've written the string parts and the drum parts - that's all ready to go. As of yet, I'm not singing, I'm hosting the night. I think If I were to be singing I would be nervous but mostly I'm just completely thrilled and excited about the group we've put together. I think people don't quite understand what I've been doing for the past several years, and I can't wait to have people be shocked and hopefully moved. And laugh a lot!
---
Josh Franklin will play The Green Room 42 August 18 at 9:30 pm Josh Franklin Tickets The Green Room 42
For more information on Josh Franklin and to buy his music visit Josh Franklin Website
| | | |
| --- | --- | --- |
| | Donations | Arts Orgs |
Related Articles View More Cabaret

Stories

Shows