BWW Cabaret Conversation: Tammy Faye Starlite on Character Creation and Pushing the Boundaries of Art and Life
Tammy Faye (neé Tammy Lang) is a luminary on the downtown NYC performance art scene. Long before I met her, I'd heard her name spoken with reverence by many artists and musicians I met when I first came to the city in 1999.
The first time I saw her perform was a couple of years ago at Theater for the New City in the East Village where she was doing a run of her show NICO: UNDERGROUND. I was captivated by the masterful and hilarious way she inhabited the character of the legendary singer and icon Nico, as well as impressed by the sharp structure of the show, which was based on a real life radio interview Nico gave to an Australian journalist.
I was somewhat intimidated by Tammy Faye's aura. Tiny, big eyed, platinum blonde, beautiful, magnetizing, and highly intelligent, she seems like a fragile, exotic flower growing out of a crack in the city sidewalk. She has the patina of celebrity and the wisdom of an artist who has surfed the downtown art scene as it has morphed and transformed over the past 20 years.
In Tammy Faye's next show, MARIANNE CABARET, she transformed herself into Marianne Faithfull, a ferocious, filthy, bitter performance. Her improvisational rants between songs were mesmerizing.
I subsequently met Tammy in passing a few times when the two of us were involved in the same show. Her offstage persona was jarringly demure, sweet, and gracious, in sharp relief to the solipsistic, troubled women I'd seen her portray so powerfully on stage.
Recently I saw the performer in her current show, HOLY WAR 2016: THE NEW REGIME at Pangea, in which she returns to her well-known original character Tammy Faye Starlite, a twisted conflation of Tammy Faye Bakker, Tammy Wynette, and then some. Tammy Faye Starlite brings a perverse, amoral, politically adjacent evening of song and signature improvised unhinged patter, which arises out of such an "unacceptable" yet earnest point of view that the minds of the audience members are set free to wander in a vast desert of uncertainty, outrageousness, and catharsis of an unknown nature. It was an exhilarating and delightfully uncomfortably confounding place to be.
I wanted to talk with this extraordinary performer to learn about her particular vision and creative process. Seeking to reconcile the performer Tammy Faye with the woman Tammy, I discovered a humble, down-to-earth, curious woman immersed in an ongoing critical examination of our culture---both pop and high---as well as the media and the political landscape we are mucking around in these days. Tammy also comes across as a serious, ambitious artist, pushing to present her work and be a part of the cultural conversation.
We met at a cozy macaron shop in Chelsea on the day of the train crash in Hoboken. Tammy, coming from her home in Hoboken, was able to take an alternate route via bus into the city and keep our appointment, a decidedly un-diva-like move, which I found endearingly respectful. She and I spent over an hour talking about her work over the years, this shit show of an election, and the underlying question about the place of femininity and women in our culture at present.
This interview has been edited for content and length.
---
RB: You started as an actress? Actor?
TF: I still like saying actress; it's prettier. It's all I wanted to do since I was little. I would write plays and act them out for my parents. And then did school plays. Then I had one semester at Tisch School of the Arts at NYU and I hated every second of it.
[After switching to the Creative Writing Program and studying acting on my own] I decided to do the downtown comedy thing. Everybody was doing a bunch of characters; I wanted to just focus on one. I picked Tammy Faye Starlite because Tammy Faye Bakker was in the news, and my name's Tammy, and the white supremacists were hot then, and I thought, "I can't be a real country singer, but I can be a fake one." I loved country.
I'd watch [The Nashville Network] and there were ads saying, "Go to Opryland, present your songs to professionals, and get feedback." It just cost a certain amount of money. I said I want to do that with Tammy Faye Starlite songs. Lauren Agnelli, from the Washington Squares, who was a good friend, went down with me and we stayed at Opryland, which was insane, but I loved Nashville. I had this big Loretta Lynn-style ball gown and I had painted my face---I don't know why---kabuki white with black lipstick. Somebody said, "Oh, you look pretty," and I thought, "Oh, I am home."
RB: What material did you present?
TF: I did "God Has Lodged a Tenant in my Uterus" and a few others, and these cowboys in the hallway were shouting, "Play that uterus song again!" I thought, "I'm home."
RB: Were the cowboys conflicted abouT Loving you and your songs?
TF: Ultimately we were too blasphemous in the South, even in New Orleans, where we got a great review in the Times-Picayune and I sold out. They wouldn't have me back because i was too dirty. Then I stopped doing that and wrote the Nico play in 2010.
RB: How did you come up with the structure for that?
TF: I wrote it with my friend Jeff Ward in mind. He played the interviewer. I wrote it based on an actual interview that she did.
RB: That interview--- Some of the things she said were so crazy!
TF: Some of that she didn't say in the interview but she said other places, and some I made up. But some she did say, and she would talk in non-sequiturs. If you see her in interviews, she---(In her Nico voice, a low German accent) her whole affect---there's a motor going on there, but you have to know it and not show it.
RB: My understanding was that the way you worked in the music was that whatever song she was talking about in the interview, then you would go to the band and do that song
TF: Exactly. All the songs they were talking about were the songs I wanted to do because most of them were covers.
RB: I loved when you did [The Doors'] "The End."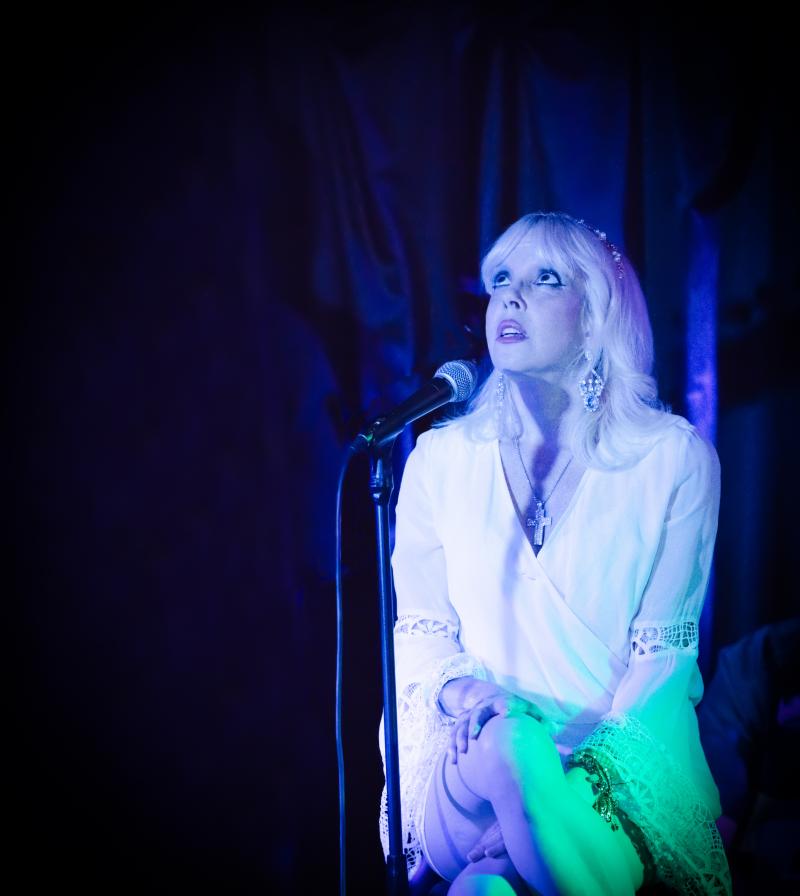 TF: That's John Cale's arrangement, which is brilliant---it's like avant jazz---and the band was so great with it. It was my least favorite to listen to but my favorite to do. Then there was "Chelsea Girls," and Nico was harping on that flute---
RB: That was such a wild, funny moment in the show. Did you write that or was that original Nico?
TF: She did say, "That flute, oh my god," and I thought, "This song is really, really long, so let's break it up. Let me attack the flute player." And it just escalated.
RB: When did you revamp it?
TF: I did it for years. I started in 2010. I did it at Joe's Pub.
RB: I saw it at that theater in the East Village.
TF: That was the original version, which we'd done at The Duplex. We did it in LA and people loved it and the LA band had Pete Thomas, Elvis Costello's drummer, which was so much fun, and then we did it at the Warhol Foundation.
RB: So at some point you revamped it? Why?
TF: I wanted Mark Russell of The Public Theater to see it, and he finally came and he said, "I want you to meet this director." The director came and said, "Yes, I'd like to work with you," and Mark Russell said, "This is the only way you can get into Under the Radar, if you work with this director..."
RB: Under the Radar is an important theatre festival?
TF: It's very big and influential. The new director told me to have the interviewer off stage. He erased all the Australian and he neutralized him, and then Ward was being underutilized, so he left. We did it at Joe's Pub and the director read the role offstage! I walked on stage to nobody, and I thought, "I'm talking to nobody. This is weird for me. Alright, this is weird for Nico, too," so I integrated it, and the people who hadn't seen it before really liked it.
RB: But you didn't think it worked?
TF: Danny Fields, who'd seen it a lot, said, "That was horrible. You have to go back to the other version." I wrote to Penny Arcade, whose career I admire because she is true to herself. She's underground but also known and known for the quality of her work and the integrity. I knew her peripherally. I said, "Can I meet with you?" She said, "The first time I saw it, I loved it. Then it was awful. You have to go back and get your guys back--- your original director, etc. I will get you a theater. You have to have the Times review it. We pushed and pushed for Christopher Isherwood to come and he did and it changed how the show went. It changed the audiences--- From eleven people to full houses, so...
RB: When did you create the MARIANNE CABARET show?
TF: Marianne came about because I always bug people. I Lucy Ricardo my way into things. I ended up meeting her longtime collaborator and guitar player Barry Reynolds and we did a version at Lincoln Center Target Thursday. I know Marianne [Faithfull] doesn't like it. I know that. I let it go.
RB: And then you decided to bring back Tammy Faye Starlite. How did she resurface?
TF: I wanted to do something new at Pangea, and I knew the election was coming up. I started bringing back Tammy Faye Starlite in bits and spurts. We did this benefit for the Brady Bill, anti-gun violence. The NRA singled me out for being offensive! That was so much fun.
RB: And that was the birth of HOLY WAR 2016?
TF: Yes. I still have work to do on that opening monologue. Even though it doesn't have to make sense, it has to make logical sense to me.
RB: How are you working on it?
TF: I'm listening to different pastors.
RB: Your improvised monologues--- I don't understand how you do that.
TF: They become codified after a while, but you can always put more stuff in. This one, I still don't have anything too set, so there are things I find during the week and I'm thinking, "Don't forget this, don't forget this, don't forget this," so hopefully I won't forget to put them in.
RB: And sometimes things pop out that surprise you?
TF: That is the fun. The audience knows what's canned and what's not canned.
RB: Only a really seasoned performer can do that well.
TF: It's just kind of fun, seeing what's around there and what you can do with it, and then when nothing comes then you can go into space-out mode... And that's kind of fun, too.
RB: Do you always have somebody in the audience to play off of, someone sitting in that spot at the front table, someone you know?
TF: No, whatever happens... I never like to plan too much of what's going to happen, other than I know what songs are coming up. Other than that, I try not to manipulate too much.
RB: That's daring. Is that why you don't like to rehearse too much? So things are fresh?
TF: No, that's just [laziness].
RB: You have the most amazing musicians (Eszter Balint on violin, Keith Hartel on bass, and Richard Feridun on guitar).
TF: Yes! I know! They can do anything.
RB: Did you study music?
TF: I study voice, but no, I can't read music. I can play a few chords--- That's it.
RB: So you surround yourself with really good players.
TF: Exactly. And I say to them, "Am I in the right key?"
RB: You study voice with Barbara Maier.
TF: Yes. Debbie Harry and I go to the same voice teacher. I met Debbie Harry and even sang with her once. [She] is the nicest, so down to earth. I did a song with Steve Earle. He played "All Tomorrow's Parties" at the St. Mark's Poetry Project annual New Year's Eve reading. Patti [Smith] stayed and watched me, only because Steve was playing. I decided to go up to her afterward, and she said, "(In Smith voice), "Very good, very good. I saw you at the Apollo tribute," and I said, "Oh, Patti, I wasn't there," and she looks and she goes, "Very good, very good," and she walks away. I caught a picture of her back. Danny [Fields] is the one who brought them to Max's [Kansas City]. He saw them sitting out there and said, "Why don't you just come in?!" That wasn't in the book.
RB: It's interesting how people present themselves and how they really are, and how those two versions match or not, and if it's deliberate or delusional misperception...
TF: And that's like Trump. Does he really think he is what he is? Is it such complete insecurity that you just can't get to the real person?
RB: It's really hard to tell. They say this is the post-factual presidential election. And maybe that's part of Tammy Faye Starlite's resonance--- She's post-fact, post-coherent ideology---
TF: It's almost like she's empty. Nothing deeply affects her. I never really thought about her inner life!
RB: That makes me think about that profile of Trump that was in The New Yorker several years ago but started resurfacing when he was first running for president. The gist of the article is that the writer is searching for Trump's inner life and he never finds one. So Trump is not conflicted.
TF: No, there's nothing to stop him from doing anything.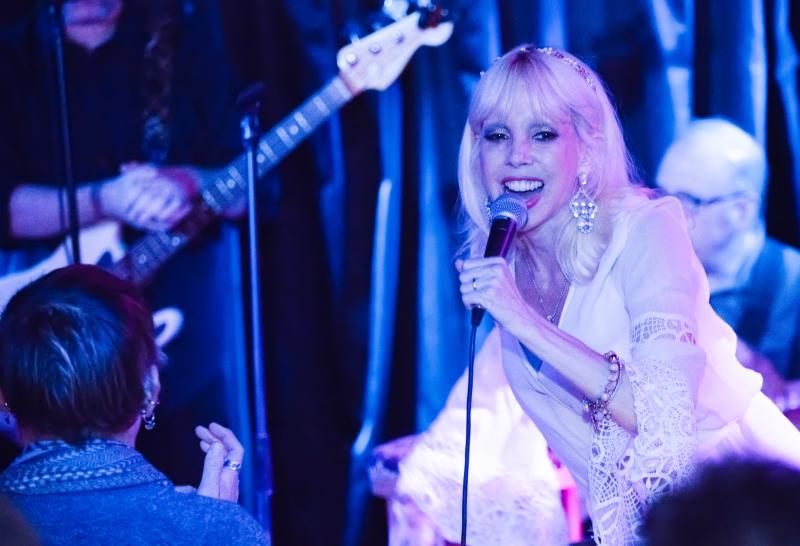 RB: Speaking of Trump and HOLY WAR 2016, I wondered, what does it feel like to hold the character so earnestly, and what are you hoping to induce in the audience? Especially when you probably imagine that most people there were like-minded politically? There is still that tension...
TF: I guess I always had a streak of wanting to be... subversive. That might be too high-minded. I always wanted to cause a little trouble, even when I was a little. I was never a bad girl. I didn't do drugs, I didn't do sex, I didn't do anything, but I would always get in trouble for saying the wrong things. In the late '80s, I listened to Howard Stern a lot. I remember him talking about having a conversation with Arnold Schwarzenegger on the phone, and it was right when [Schwarzenegger] had shaken the hand of Kurt Waldheim, who was a Nazi. Howard, after this nice interview, says, "Say hi to Kurt Waldheim for me," and Arnold got mad and hung up, and Howard said, "I always do that. I always push it too far." And that's what I love!
RB: What do you love about pushing things too far? Tammy Faye Starlite always pushes things too far, maybe without even realizing it.
TF: It is a release, because we all have bad thoughts, or thoughts we think we shouldn't have. I want to create room where all thoughts are acceptable. I am not a fan of the theatre where the enemy is obviously the enemy. It's not interesting to me.
RB: Does anyone ever get pissed off at you?
TF: Yeah.
RB: Even in New York?
TF: Yeah, they have.
RB: During the show?
TF: Yes.
RB: Is that fun?
TF: Sometimes it's fun, and then sometimes if it goes on too long, if they're in the audience and they stay and keep talking, then you just want to shut them up because it's not our show.
RB: Does it ever feel threatening?
TF: For some reason, I'm not scared of people. In doing the Stones band, the Mike Hunt band, when we've done these Labor Day weekend shows--- As Mick Jagger, I say, "You know, we appropriate all the Negro songs." One time, the bouncer comes up on stage, this big guy, and he takes the mic and throws it down and goes, "Don't you fucking say that!" I was like, "[In Jagger voice] Alright, man, it's just a joke! Let's everybody just cool out." I have had that kind of stuff. Then afterward you just say, "Oh, I'm so sorry."
RB: It's funny because when I've encountered you offstage, you are the most sweet, lovely person, and then on stage you're like this raging tiger.
TF: That's where I let it all come. Nico's my favorite because of her lack of affect---or seeming lack of affect---you don't have to be ON. Marianne is ON and Tammy Faye is ON. Still, you want to start from neutral and not talk in the stage voice. I like to start with a slower song and ease in, let my own nerves play in, and settle, or do whatever they want to do. Let's just ease everybody in here. If you're doing rock shows, you want to start with a big blast. The Blondie band we had, we'd always start with "Hanging on the Telephone" into "One Way or Another." I always said, "We have to do that one right in to the other."
RB: What are you going to do after HOLY WAR?
TF: I'd love to do more Nico stuff. Do her album Chelsea Girl in its entirety. I love it.
RB: That's the one with "The Fairest of the Seasons?"
TF: Jackson Browne. She was the first one to record Jackson Browne's songs. The Dylan song "I'll Keep it With Mine," a lot of Lou Reed. One John Cale song
RB: Nico, but not Marianne?
TF: I'm putting Marianne away for a while.
RB: How are feeling about the end of this run of Tammy Faye Starlite?
TF: Luckily, this material is only for this time. I'm glad it ends right before the election so I don't have to deal with the aftermath.
RB: How do you feel about the state of women in the world these days?
TF: We are better than we were, but we're not where we could be. With Hillary, it would be a paradigm shift. Finally a woman. A shift in consciousness. I'm hopeful, but I don't know.
RB: I'm hopeful, too.
---
Tammy Faye Starlite performs in HOLY WAR 2016: THE NEW REGIME on October 28 at Pangea (178 2nd Avenue). For tickets and reservations, visit www.pangeanyc.com or call 212-995-0900.

Related Articles View More Cabaret

Stories

Shows
Remy Block (performer, writer) is a Brooklyn, NY based singer, writer and educator. Recent cabaret performances include her new solo show On a Lonely Road…Travelin' (read more...)