BAZAZZ! - A SEQUINED VARIETY Welcomes Nancy Witter and Miss Molly Pope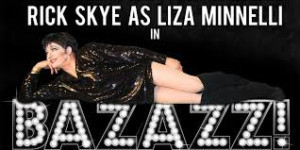 Rick Skye, who won the 2017 MAC Award for "Best Impersonation," welcomes Cabaret Sensation Molly Pope and Comedian Nancy Witter to "Bazazz! - A Sequined Variety" along with Kit Kat Boyz Ryan Lind, Diego Sayao and David Ballard on Saturday, February 24th at 8:00PM at Don't Tell Mama (343 West 43rd Street). There is a $20.00 Cover Charge and 2 drink minimum and reservations can be made by calling 212-757-0788 or visiting www.donttellmamanyc.com. The Huffington Post called the show "Energetic, high energy...loaded with talent, laughs...and BAZAZZ!".
Skye is well-known in London and New York for having written and performed in a series of outrageously comic, award-winning shows including The Flip Side ofNeil Sedaka, which earned him a Bistro Award, A Slice O'Minnelli and The War of the Mama Roses. His show Its Madame with an E! played Atlantic City and Las Vegas and brought him to television where he appeared on Watch What Happens, Live! With Andy Cohen and Celebrity Apprentice as well as Fox & Friends and the WB. His most recent success was Judy and Liza Together Again which closed after an unprecedented seven-year run at Don't Tell Mama's and garnered two MAC Awards.
He has performed in many shows as Liza Minnelli in a number of hit shows that played internationally. He co-starred with Steven Brinberg in the London production of Barbra and Liza LIVE! which played the Dublin Gay Theater Festival and he toured with Liza LIVE! playing the New Players Theater in London and many spots in England. A Slice O' Minnelli enjoyed successful seasons at the Apollo Theatre in London's West End, The Dublin and Edinburgh Festivals, and from cities New York to Chicago. Critics called Skye "Masterful...Astonishing...Brilliant (Chicago Sun Times) and the show earned him the 2006 MAC Award for Best Impersonation, the "Best Achievement in Performance" Award at the Dublin Theatre Festival and the Terrier Award at the Edinburgh Fringe.
Rick Skye is a multi-award winning performer who has enjoyed international success. Training with the Joffrey Ballet and the famed Stella Adler, Rick toured the US with Ann Reinking and Sandy Duncan in "The American Dance Machine Show" and in the Kennedy Center Production of "Miss Liberty". He acted with Dorothy Louden in a role written especially for him by Paul Zindel in "Danny and Della". He did a stint on "All My Children" and appeared in the film "The Cater Waiter" starring David Drake. His friendship with Neil Sedaka led to his writing and starring in "The Flip Side of Neil Sedaka" which earned him a nomination as 'Best Newcomer' by The Manhattan Association of Cabarets. His revue, "MaCabaret - a tabloid fable" ran for nine months in New York and in 2008 he created a new revue entitled "The War of the Mama Roses - the Ultimate Audition for GYPSY" starring some of the world's foremost impersonators and which enjoyed a successful run in New York. He joined forces with the legendary "Madame" of "Wayland Flowers and Madame" fame and toured the U.S. with Its Madame with an E! which he wrote and starred in. The duo played Resorts International in Atlantic City, the Suncoast Casino in Las Vegas, The RRAZZ Room in San Francisco as well as Feinstein's at the Regency in New York City. He was a contributing writer and performer of Bawdy! - Off Broadway's Biggest Little Vaudeville and most recently won acclaim for creating and directing Sacred Monster a hyperemotional evening of song, drama and comedy starring Billy Lykken.
Molly Pope is a critically-acclaimed cabarettist and actor whose shows have played Joe's Pub, Feinstein's/54 Below, Feinstein's at the Regency, Ars Nova, The Eugene O'Neill Theater Center, OBERON (A.R.T.), Teatro ZinZanni (Joe's Pub Seattle), and the Adelaide Cabaret Festival in Australia. Hailed as "One of downtown cabaret's most adventurous performers" by the New York Times, she is the recipient of both the 2016 Bistro Award for Creative Cabaret Artistry and the 2016 MAC Award for Musical Comedy. She has been named a Time Out New York "Top Ten Cabaret Act of 2008" and 2012 and a Village Voice Best of NYC 2011 for "Best Singer To Turn Life Into A Cabaret." Most recently she recorded her first album, "An Audience with Molly Pope", live at Joe's Pub. She has also performed at The Cafe Carlyle ("Tales From The Jazz Age"), the Afterglow Festival in Provincetown, The Amber Zone at Sid Gold's Request Room, "Our Hit Parade" at Joe's Pub and as a resident artist at The Kimmel Center (Philadelphia) and The Orchard Project. Stage credits include FOUND (Atlantic Theater Co, Philadelphia Theater Co), Horseplay, or the Fickle Mistress (LaMama ETC/Theatre Askew), Dan Fishback's The Material World (Dixon Place). www.mollypope.com
Nancy Witter is a 3-time MAC Award-winner for outstanding female comedian. She also won a MAC Award for her one-woman show "Dignity Check Please." Nancy has a new one-woman show called "Growing Up McDougal ... Happy, Hopeful and Hungover."