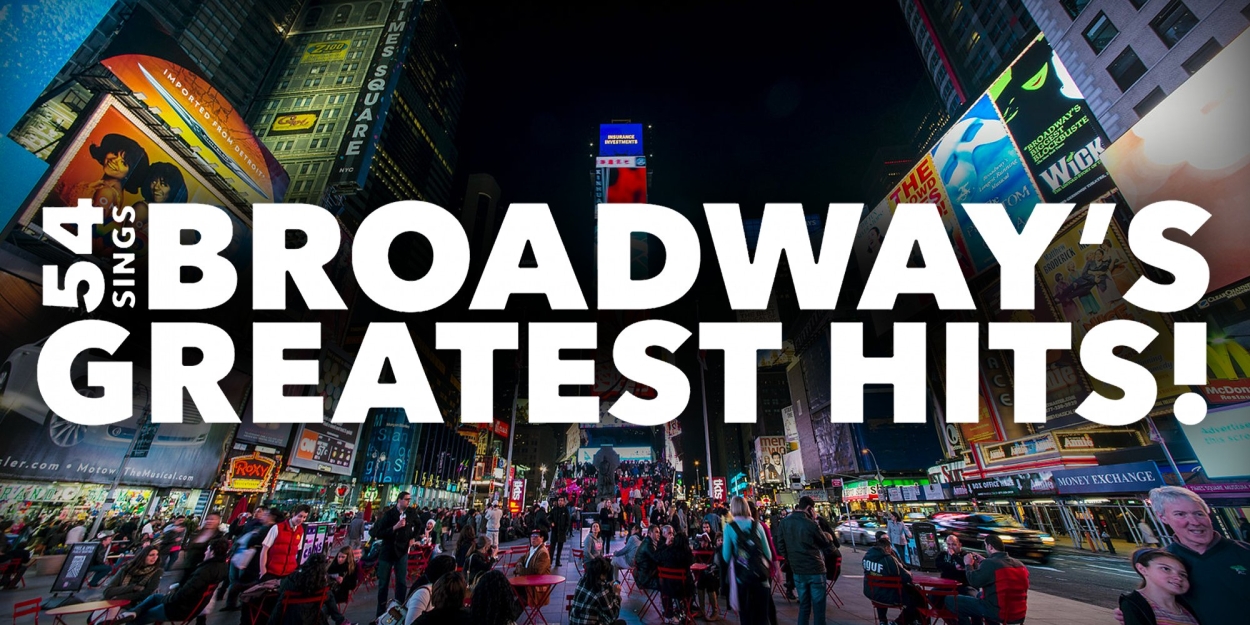 54 SINGS BROADWAY'S GREATEST HITS to Celebrate 100th Performance in February
If you skip through cast albums just to hear the very best songs in each show, this is the nightclub concert event for you.
54 BELOW is set to mark the landmark 100th performance of 54 Sings Broadway's Greatest Hits! The ongoing series is one of the club's most popular events, each one featuring a uniquely curated set list of beloved musical theater anthems sung by a rotating cast of Broadway veterans. For reservations and information, visit Click Here
If you skip through cast albums just to hear the very best songs in each show, this is the nightclub concert event for you. If you love the classics of the Great White Way, come and hear the songs that made Broadway great, that made your heart soar, that you used to sing (maybe still do) in the shower! But at 54 Below, you will hear the greatest Broadway songs of all time performed by today's greatest stars, singing them straight up, the way you want to hear them! And now we're going to do it again, for the 100th time, with a brand new line-up of 54 Sings Broadway's Greatest Hits!
And who better to produce/direct/host this show than the creator of Town Hall's critically acclaimed Broadway by the Year series, Scott Siegel, creator of more than 200 major concert events centered on Broadway music! 54 Sings Broadway's Greatest Hits! will be a thrilling night that you won't forget... Music direction by Andrew Bourgoin.
This special 100th edition will feature Rose Chamblee, Stella Katherine Cole, Stephen DeRosa, John Easterlin, Willy Falk, Jared Goodwin, Kylie Heyman, Garrison Hunt, Kendrick Jones, Ryan Knowles, Sophie Rapeijko, Brian Charles Rooney, Jenny Lee Stern, and Michael Winther.
54 Sings Broadway's Greatest Hits! plays 54 Below (254 West 54th Street) on February 4 at 9:30pm. Cover charges are $40-$50 ($45.50-$56.50 with fees), with premium seats for $80-$85 ($87.50-$95 with fees). There is a $25 food and beverage minimum. Tickets and information are available at Click HereTickets on the day of performance after 4:00pm are only available by calling (646) 476-3551. All online and phone ticket purchases are subject to fees of 10% of ticket price, plus $1.50 facility fee.
MORE ABOUT 54 BELOW
54 Below was founded as a place for the Broadway community to celebrate Broadway performers, both established and new, who sing not only the music of Broadway and the Great American Songbook, but also new material intended for Broadway and off-Broadway stages. The club features fine dining and superb scenic, lighting, and sound designs entirely imagined by Broadway designers. For performers, writers, musicians, and more, 54 Below gives opportunities to advance their craft, expand their repertoires, and develop their voices in a way that is more personal, making them stronger as artists.  It gives Broadway fans an opportunity to see their favorite artists in a different way, deepening their relationship and understanding of their talent. 
A recipient of the 2022 TONY AWARDS® Honor for Excellence in the Theatre, 54 Below celebrates Broadway musicals and writers of the past and present, promoting an ongoing engagement with their work. It is also a place for innovation in musical songwriting and performance. Collaborations born at 54 Below give rise to and help develop new theatrical projects and new musicals. In addition, its popular streaming video activities and audio recordings support these activities, helping to build a new Broadway audience worldwide, both in age and geography.
54 Below is one of the most in-demand performance venues in the city, presenting over 700 shows each year. Unique in its mission, it has become an indispensable member of the Broadway ecosystem, providing a place for seasoned and emerging artists to hone their craft, try out new work, grow their fanbases, and gather as a community. The management team includes Proprietors and nine-time Tony Award®-winning Broadway producers Steve Baruch, Richard Frankel, and Tom Viertel, Creative and Programming Director Jennifer Ashley Tepper, and restaurant General Manager Mandisa Boxill.
Located at 254 West 54th Street, the club presents live shows at 7pm and 9:30pm. Tickets and information at 54below.com.