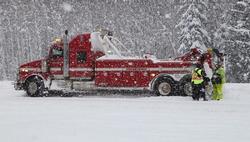 The Coquihalla is one of the most treacherous major highways in the world. Rising through the steep mountains passes in British Columbia, it is a gauntlet of brutal weather and white knuckle driving. The "Coq" is also the main artery between east and west, with thousands of semis crossing every day. Many don
Latest Tweets from NatGeoChannel
8/11 @ 2:00 PM

NatGeoChannel - The women rangers of Akashinga risk their safety, their lives, and threats of violence to protect vulnerable elepha… https://t.co/KlXxrZwd5b

Retweet | Reply | Original Link
8/11 @ 11:54 AM

NatGeoChannel - While playing with a pile of rocks near his home in Chile, 7-year-old Diego Suarez found a previously undiscovered… https://t.co/tHgDPuqvZs

Retweet | Reply | Original Link
8/11 @ 9:00 AM

NatGeoChannel - Founder, former Australian special forces soldier, and anti-poaching leader @damienmander gives an inspirational sp… https://t.co/Qb86YtPtmM

Retweet | Reply | Original Link
8/11 @ 5:00 AM

NatGeoChannel - Mother nature makes the rules, and you better follow them if you want to survive. The new season of #LifeBelowZero… https://t.co/WnzKFo1ll9

Retweet | Reply | Original Link
8/10 @ 4:00 PM

NatGeoChannel - This underwater bait ball attracts the likes of whales, sharks, and even birds. #Sharkfest https://t.co/ApscZV7qej

Retweet | Reply | Original Link
Latest Articles About Highway Thru Hell on National Geographic Channel

The Rolling Stones' Upcoming Release The Studio Albums Vinyl Collection 1971-2016 Now Available for Pre-Order
by BWW News Desk - April 25, 2018
Whenever The Rolling Stones do anything, they do it with quality and gravitas. Having defined rock'n'roll in the '60s, The Rolling Stones entered their imperial phase in 1971 with Sticky Fingers. What followed is a run of albums that couldn't have happened at any other time, by any other band: the d...

CTV's New Original Music Series THE LAUNCH Begins Production
by BWW News Desk - August 31, 2017
CTV announced today that production has begun in Toronto on the inaugural season of its new original music series and international TV format THE LAUNCH....
BWW Review: A Hysterical UMPO HOCUS POCUS Carries You to the Divine
by Gil Kaan - October 21, 2016
Executive Producer Kate Pazakis has done it again with her latest UMPO production THE UNAUTHORIZED MUSICAL PARODY OF HOCUS POCUS. Director Tye Blue effectively corrals his vocally gifted cast in gloriously performing re-purposed pop tunes in between delivering Pazakis and John Flynn's cleverly writt...
Bush Alaska Murder Mystery Finalist for Crime Fiction Award
by BWW News Desk - July 29, 2016
The most recent novel in a mystery series by R.E. (Ruth) Donald is one of the finalists for the inaugural Whistler Independent Book Award in the Crime Fiction category. The series features a long haul trucker who was once a homicide investigator for the Royal Canadian Mounted Police. Sundown on Top ...
Vancouver Opera Presents DON GIOVANNI, Now thru 3/9
by BWW News Desk - March 01, 2014
Audiences be warned: a dangerously attractive aristocrat will be in Vancouver when VO's Don Giovanni hits the Queen Elizabeth Theatre stage in just a few weeks. The serial seducer will captivate audiences for five passionate performances only, tonight, March 1 to 9, 2014. Based on the captivating fi...