Bush Alaska Murder Mystery Finalist for Crime Fiction Award
The most recent novel in a mystery series by R.E. (Ruth) Donald is one of the finalists for the inaugural Whistler Independent Book Award in the Crime Fiction category. The series features a long haul trucker who was once a homicide investigator for the Royal Canadian Mounted Police. Sundown on Top of the World takes place in the Yukon and bush Alaska, and was praised by a reviewer for the Alaska Dispatch News as a "finely crafted [story] driven by well-defined characters and strong sense of place." Donald, who calls her series "The Highway Mysteries," worked in the transportation industry for over twenty years and names each novel after a highway that her hero travels during the story.
"I wanted to write traditional mysteries - sometimes called whodunits - with a uniquely North American setting," says author Donald. "With a hero who's always on the road, I can use various locations. Much of my second novel, Ice on the Grapevine, is set in and around Los Angeles. The third one, Sea to Sky, is set primarily in the mountain resort community of Whistler, B.C., which happens to be where the award winners will be announced during the Whistler Writers Festival this October. Using new locations for each book takes a lot of research, but it keeps the scenarios fresh and interesting for readers." The novel that launched the series is Slow Curve on the Coquihalla, named after the highway featured in Highway Thru Hell on the National Geographic channel. As one of the new breed of independent author-publishers, Donald founded Proud Horse Publishing, looks after both book publishing and promotion, and mainly targets the growing market of e-book readers, although all her books are widely available in trade paperback editions as well. "My books have sold in Europe, South America and Australia as well as in North America and the UK. It's very gratifying to have complete strangers thousands of miles away contact me to say they love my books and can't wait for the next one. I may never become a household name, but my fan base grows with each new book," says Donald. In the fall of 2015, a German translation of Sea to Sky was released, and award-winning translator Ingrid Könemann-Yarnell is now working on the translation of Sundown on Top of the World. (Könemann-Yarnell, received the Readers Choice award from Amazon Crossing during the 2015 Frankfurt Book Fair for her translation of a book by another Canadian author.) Donald is at work on a fifth novel in the series and Proud Horse Publishing hopes to have it available for readers later this year.
More Hot Stories For You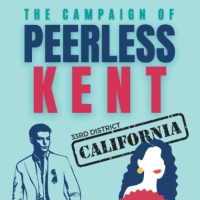 Erik Hengstrum Releases New Humorous Novel THE CAMPAIGN OF PEERLESS KENT

November 23, 2022

Author Erik Hengstrum has released his new novel, The Campaign of Peerless Kent.  Take a break from the heavy politics in the news headlines and join Peerless Kent on a bumpy campaign trail.
---
Fumiko Takahashi Releases New Book HIROSHIMA TWINS

November 22, 2022

Fumiko Takahashi has released her new book, Hiroshima Twins. Released by Tenbosha Publishing on November 1, 2022, the book was translated by award-winning writer and director, Paul Kyriazi.
---
Bryan Cole Releases Thrilling Tale Of Heroes And Foes In BEGINNING OF ARROGANCE

November 22, 2022

A fantastical story set in a world where paladins are heroes and the champions of the gods finds itself in the shadow of a looming threat. Their only choice? To rely on the services of an uneducated, incapable and stubborn paladin named Krell, whose adventures we follow in the fantasy novel 'Beginning of Arrogance' by Bryan Cole.
---
Gitte Tamar Releases New Children's Book For The Holidays – HUMBUG DAY

November 18, 2022

Author Gitte Tamar has released her new children's book, Humbug Day. Just in time for the holiday season, this work is a unique take on a child's Christmas book.
---
New Biography ROBERT PRESTON - FOREVER THE MUSIC MAN Out Now

November 17, 2022

Robert Preston - Forever The Music Man chronicles the life and career of the enigmatic Hollywood and Broadway actor, and original Music Man star, Robert Preston.
---